Baylor Bears
HCS Mailbag: Big 12 Officials, Team Rankings, and Bedlam Twice in One Year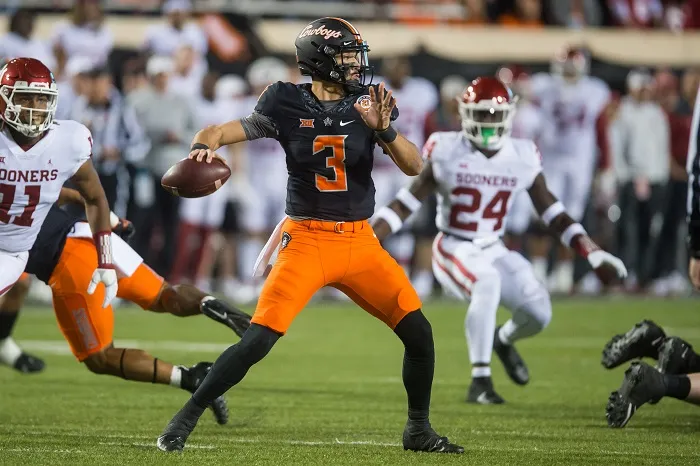 Welcome to the HCS Big 12 mailbag. This mailbag is for all you football junkies out there who root for a Big 12 school who not only have questions about your team but other teams in the conference as well. So, join me, grab a cold brew or your favorite drink and relax as I answer all your Big 12 questions in my mailbag. This week I took some questions from Twitter and Facebook for the mailbag.
I want to thank each one of you who submitted a question this week and for tonight's drink of choice? You'll just have to see for yourself.
@wiggitwiggit asks: Why are our refs so bad and I'm talking over years not just this weekend. Lack of proper training? Young refs with little experience? Big 12 just does not pay well for good refs? Something needs to change.
Duke: I have talked about officiating in Big 12 games for years and you are right something needs to change. Ever since I started covering this conference officiating has been extremely poor and at some point and time, your team got the short end of the stick. Every team goes through it in this conference which is sad to say but it's true. What we are seeing now is new faces. Over the last couple of years, experienced refs (not always good ones) have left to other conferences or even to the NFL. You are going to see some new refs and sometimes they get a little too whistle happy to show everyone they know the rules better than anyone else. Hopefully it gets better as the season goes on, but that first half of the Iowa State/Baylor game was rough to watch.
@strawny asks: Rank the Big 12 teams.
Duke: This is a really tough thing to do right now considering how wide-open the conference is but here is how I see the Big 12 currently.
#1 Oklahoma State, #2 Baylor, #3 Kansas, #4 Kansas State, #5 Oklahoma, #6 Iowa State, #7 TCU, #8 Texas Tech, #9 Texas, #10 West Virginia
@Shroudedllama asks: Which Big 12 team is most likely to lose their head coach, not to a firing but to another job? Aranda, Leipold, and Klieman should all get offers.
Duke: Always great to hear from you my friend and great question. Right now, I would have to go with Dave Aranda. Everyone wants him and everyone should want him because he is one of the best coaches in all of college football. He's already won a Big 12 title and a Sugar Bowl in just two full seasons at Baylor. Not only can he build a program, but he can develop talent. On top of that, he is just a great man. Sometimes he feels more like a mentor than a football coach which is kind of a breath of fresh air these days. Dave is an extremely smart and I have said this before, but he was put on this earth to be a great football coach.
@flip0413 asks: What's the chance of having Bedlam twice this year?
Duke: It's still early in the season so it is tough to say but I wouldn't be shocked at all to see a Bedlam rematch for a Big 12 title. Last season, that game determined who would go to Arlington and that could very well be the case again this year. I said earlier that the Big 12 is wide open this season and I truly believe that any team in this conference has a shot right now. Oklahoma and Oklahoma State are top five Big 12 teams in my eyes at the moment so I would give a 25% chance that we see a rematch between these two schools. If that ends up happening, what a scene it would be in Jerry World.
@caseybourke1 asks: How many wins will it take to get to the championship game this year with everyone beating each other up?
Duke: Nine or ten wins should be good enough for a Big 12 team to have a legitimate shot at making it to Arlington in December. I keep repeating myself, but this conference is truly competitive from top to bottom. Look at all ten teams and you tell me the difference between the top team and the last place team. There's not a huge gap like there is in other conferences. Week in and week out these teams are going to beat up each other. Imagine an old school WWF Royal Rumble every single week because that is what it feels like. It's just nonstop action and in the end, it's going to be two schools left standing and one of them will be crowned a winner. But instead of a ring, it will be played at AT&T Stadium.
@BearcatMta asks: Are you excited to come to Cincy next year and eat the greatest chili on earth?
Duke: You know I was actually talking with the HCS staff before the season talking about visiting every new Big 12 school next year. I am going to Utah in December for a vacation so I will drive by BYU's stadium, and I have already seen the stadium at UCF and Houston. The only one I will not have seen after the year is over is Cincinnati so I may end up going there next year or Houston just because I live in south Texas. So, if it's not me going to Cincinnati then it will be another staff member. With that said, I am excited to go up there and I would probably go a few days before a game to get a feel of the city as well. Thanks for asking and welcome to the Big 12!