Kansas Jayhawks
Lance Leipold on Kansas OC Andy Kotelnicki: 'Don't Write Anything About Him'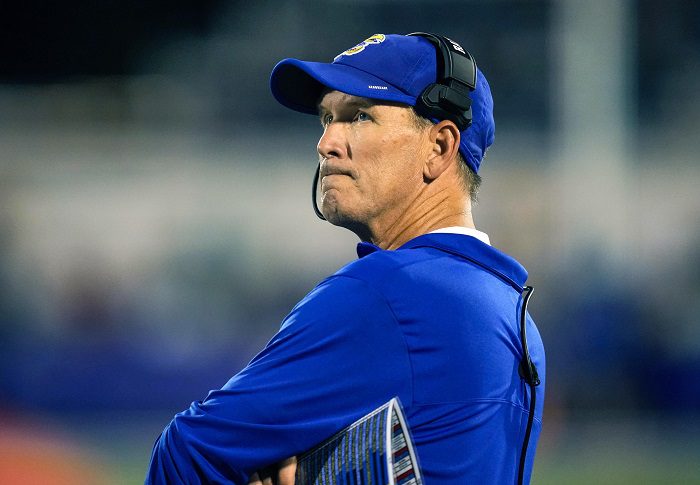 When you take a team that hasn't topped four wins in more than a decade and start 4-0 with them in Year 2, it's going to cause a stir and Lance Leipold knows that.
However, Leipold and the Kansas Jayhawks aren't shying away from success as they are set to host Iowa State this weekend where they will try and start conference play off with a 2-0 record and hope to join the company of the "elite:" the AP Top 25.
KU's offense has been electric through four games, and the biggest reason for their success to this point. Offensive coordinator Andy Kotelnicki has been the brains behind that operation, helping the Jayhawks to the nation's fourth-highest scoring offense heading into the heart of their schedule.
Kotelnicki, just 42 years old, is but a spring chicken in coaching years and will certainly be a hot name on the market after that kind of start in Lawrence, but Leipold would like to hang onto him, if possible.
"Don't write anything about him," Leipold urged to the media following Saturday's 35-27 win over Duke. "He needs to stay right here. Don't give him some $2 million [coordinator's] job."
It's probably a bit late coach, I think the nation is aware of what you've built in Lawrence in such a short time.
"I really would like a month's worth of just focusing on our football team," Leipold said Saturday. "We've got to try to get this thing in good [shape]."
It won't be long before Kansas brass are in a full on battle to keep their coaches, but that is just the way of the world. Success in college football gets noticed, and wheelbarrows of cash soon follow.
"We're not going to sit idle," Kansas athletic director Travis Goff said. "We're not going to take things for granted. We're going to keep building this thing. Basically, we're not going to let some other situation dictate what's best for the University of Kansas."
As of now, what Goff and KU are contractually obligated to pay Leipold may not be enough, with the final year of his contract (2027) earning $3.5 milllion. That's not much when teams like Nebraska are reportedly sniffing around.
It will take a concerted effort from both coach and administration, but here's to hoping that KU can keep Leipold, and his staff, around for a while.