Big 12 News
No. 1 Overall 2023 DL David Hicks Shocks Sooners, Commits to Texas A&M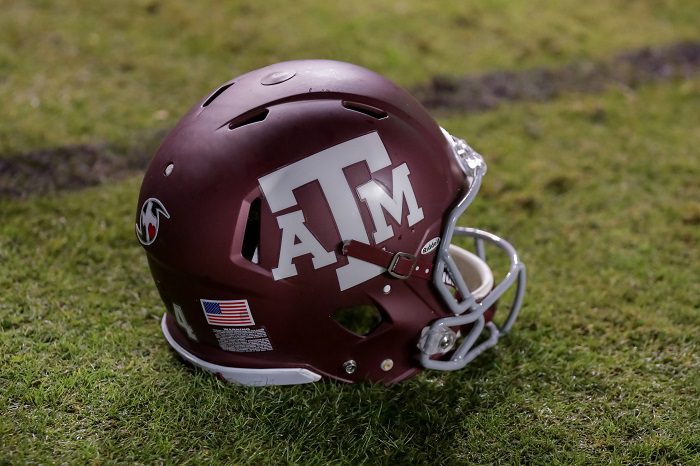 The first recruiting class under Brent Venables and his staff at Oklahoma is quickly becoming stuff of legend, as the Sooners have brought in elite defensive talent to Norman, something that was previously deemed impossible.
On Wednesday, the Sooners expected the top overall defensive lineman and No. 9 player in the class of 2023, five-star DL David "DJ" Hicks.
However, Hicks shocked the Sooners, and the rest of the recruiting world for that matter, and chose Texas A&M as his home for the next four years.
How shocking was this? SoonerScoop's Carey Murdock says that, as far as the Oklahoma staff knew, Hicks was coming to Norman as of Wednesday.
Listed at 6-4, 270 pounds, Hicks is a ready-made SEC-level defensive tackle that will push for a starting role the moment that he steps on campus in College Station.
A senior at Paetow high school in Katy, Texas, Hicks holds offers from 39 D-I programs, including schools like Alabama, LSU, Notre Dame, Ohio State, Texas, Oklahoma, Miami, Oregon, and USC.
Here is what 247Sports recruiting analyst Gabe Brooks had to say of the projected future first-round pick.
"Owns all the requisite physical traits, from height / weight to plus length to large hands. Wears mass well and likely owns frame space to get to 300-pound neighborhood if desired. Exceptional strength at the point of attack. Flashes powerful, jarring punch with consistent stack-and-shed ability. Uses efficient economy of hand violence that enhances technique effectiveness. Displays impressive downhill pursuit juice relative to size and role. Early senior season snaps include multiple three-man spots i.e. 0-, 3-, and 5-techniques. Could fit myriad personnel looks given physical tools and functional athleticism...
"Stout, disruptive interior force with athleticism of an edge player in the body of a traditional four-man 3-technique. Again, fits numerous roles and schemes. Combination of physical specs, three-sport athletic profile, and on-field performance provide particularly high long-term ceiling with potential to become a high-round NFL Draft pick."
Although they didn't land Hicks, Oklahoma still holds the No. 6 overall class in the nation, behind the Alabama (309.14), Georgia (289.81), Texas (286.90), Ohio State (284.63), and Notre Dame (284.62) That puts them three spots behind of the Texas Longhorns, giving OU the second overall 2023 class for the time being.
The Sooners haul along the defensive line is still loaded, even without Hicks. With five-star EDGE Adepoju Adeboware, four-star DL Derrick LeBlanc, and four-star EDGE Colton Vasek, the Sooners have a trio that is good as any for the class of 2023 and should help make the Sooners defensive front formidable for years to come.
The Sooners class also shows a sign of change about their roster: eight of Oklahoma's top 12 recruits will play on the defensive side of the ball. That goes without saying that the Sooners have locked up one of the top quarterbacks (Jackson Arnold) and wide receivers (Jaquaize Pettaway) in this class as well.