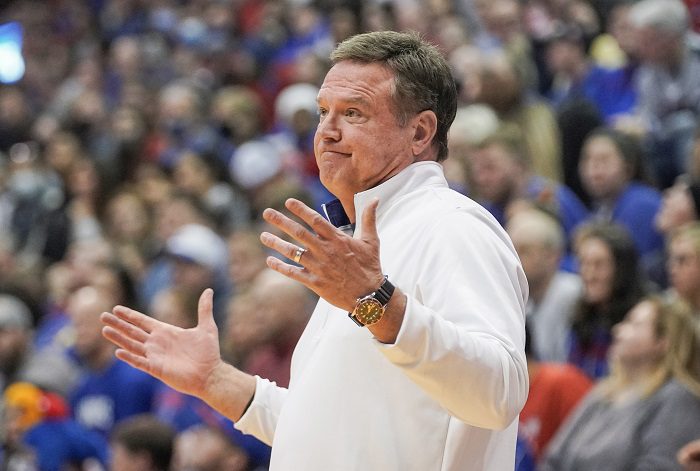 The Memphis Tigers received their punishment from the NCAA's IARP board on Tuesday, signaling that the Kansas case may be closer to a resolution.
But what exactly will that resolution look like?
Memphis was facing four Level I violations and two Level II violations after an 18-month probe, and head coach Anfernee Hardaway was facing a Level I violation and two Level II violations.
What happened? Well, the IARP board (Independent Accountability Resolution Process) found no wrongdoing on Hardaway's part after it concluded that he didn't violate NCAA rules when he provided benefits to three prospective student-athletes because of his long-standing philanthropy in Memphis. Plus, the IARP concluded Memphis committed four Level II violations and five Level III violations, far below what it had been accused of previously.
Matt Norlander of CBSSports.com and other basketball writers participated in a call with the IARP leadership, which told them that the violations were more a failure of university and athletic administration and not the coaching staff.
But Norlander gleaned other pieces that could be relevant to Kansas. One was that the IARP doesn't want to enact punishment on current players. It's also clear that the IARP has to wrap up its work by the spring, which means punishment is coming for Kansas.
But, again, what type of punishment?
It's difficult to glean much from one case. But I'll try below. Here's what I think the Memphis resolution tells us about what COULD happen to Kansas.
NO POSTSEASON BAN (PROBABLY)
If the IARP doesn't want to punish current student-athletes, then Kansas is unlikely to get a postseason ban as part of its punishment. That won't make the folks at Oklahoma State happy, as the Cowboys were banned from the tournament last season after waiting a year to have their appeal heard for punishment for something that happened four years ago. When you look at what Kansas is accused of and how long ago it happened, it makes little sense to punish a roster that doesn't have a single connection to it.
Norlander projected that Louisville and Arizona might get its rulings before Kansas. If so, that might give us more to work with.
EXPECT A LOSS OF SCHOLARSHIPS AND OPERATING BUDGET
The easy punishment here is to strip away some of Kansas' scholarships and operating budget. The IARP did some of that with Memphis. The Tigers were placed on three years probation through Sept. 26, 2025, and fined $5,000, plus 0.25 percent of their men's basketball budget. That seems like nothing. But when you consider all of the Level I violations went away, it's hard to justify scholarship reductions. From a Kansas standpoint, it probably stands a better chance of dodging scholarship losses if the Level I violations go away. But I would expect a more significant fine and/or loss of operating budget, or both. Speaking of which…
A REDUCTION OF VIOLATIONS (IN SOME WAY)
To review: Kansas is accused of five Level 1 violations, which are the most severe, while Kansas was also cited with lack of institutional control. There is also a head coach responsibility charge. Memphis was dealing with four Level I violations and saw them all either reduced or done away with. This is where I will be interested in what the IARP does to Louisville and Arizona, if indeed those schools are next. If they were to see a reduction in violations, that might signal that Kansas might see the same treatment. Remember — the IARP's decision is final. There is no appeal. But Kansas has made it clear it intends to fight. The IARP may wish to reduce the final charges and resolution in an effort to ensure Kansas doesn't appeal and protract this.
WHAT ABOUT BILL SELF?
That's the big question, isn't it? Self and Kansas became entangled in the FBI's sting of college basketball. One attorney, Michael Schacter, arguing in the T.J. Gassnola case (the Nike handler who turned over texts between him and Self during the case) said the following:
"The evidence, I submit, shows that Kansas' head coach knew of and asked for a payment to be made to Silvio De Sousa's handler. More than that, Coach Self requested just the kind of help that Mr. Gassnola arranged as a condition for Coach Self to permit Adidas to continue their sponsorship agreement with the University of Kansas."
That's a pretty damning argument, which Heartland noted in a piece in 2019 (yes it's been that long). That's a long way from Hardaway's players potentially benefiting from what appears to be legitimate philanthropy.
Self has a lifetime contract with Kansas now. But, the Jayhawks also took the step of taking him off the recruiting trail, along with assistant coach Kurtis Townsend, in June and July of this year as a self-imposed sanction, knowing that a ruling was likely coming.
So what happens to Self? For those hoping that it will lead to his firing or his ban from the game, you can keep dreaming. It seems more likely that he'll received some combination of the following — a personal fine, some sort of show-cause agreement that keeps him off the recruiting trail for a period of time and a multi-game suspension he would likely serve next season.
If you believe Self did everything he's accused of, you're likely to never agree that the punishment fits the crime. But, for those that have been following this case for four years, it appears we are a bit closer to resolution.
And, thanks to Memphis, we finally have some tea leaves to read.
You can find Matthew Postins on Twitter @PostinsPostcard.