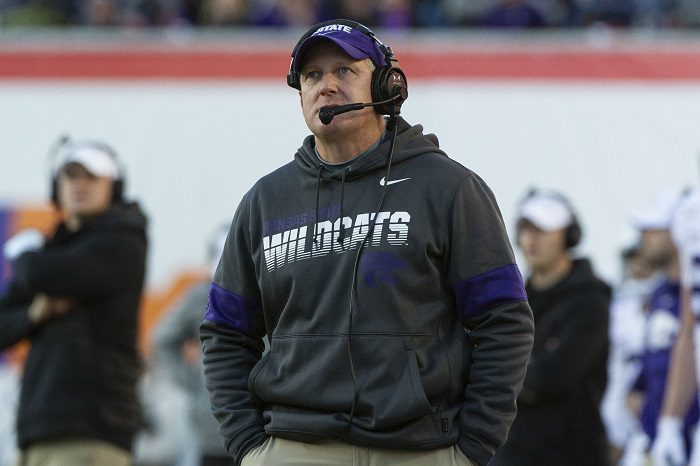 Kansas State is set to host Texas Tech on Saturday following their monumental win over Oklahoma last week.
Back in the confines of Bill Snyder Family Stadium K-State will try to stretch its Big 12 record to 2-0 under the bright lights, er, wait. No, actually the game won't require stadium lighting, as the sun will be almost directly overhead for the 11:00 a.m. kickoff. But why? Well, that's how Wildcats' head coach Chris Klieman wanted it.
After FOX and ESPN both declined to broadcast Texas Tech vs. Kansas State on traditional television networks, K-State was free to pick their kickoff time for the contest. While the 11:00 a.m. window is strictly used for television purposes, that is when Klieman prefers to play.
"Mainly the 11 a.m. kick is what Chris preferred," K-State athletic director Gene Taylor told the Kansas City Star. "Since we did the first game at 6:00 and the Tulane game at 2:30 we wanted to give him his preference on this one."
While fans may moan and groan about 11:00 a.m. kickoffs, there are actually some benefits for the teams when games start that early. Players love 11:00 a.m. kickoffs because it gives them a Saturday night during football season to do as the please, plus they don't have to spend half of their day in a team hotel before heading to the stadium.
"They get up, eat and go to the stadium," Taylor said. "It also gives coaches a little extra time that night for film break down."
K-State and Texas Tech both come into this game with identical 3-1 (1-0 Big 12) records, but the Wildcats are favored by 8.0 points as the home team. If you haven't already, be sure to check out our preview on the game.