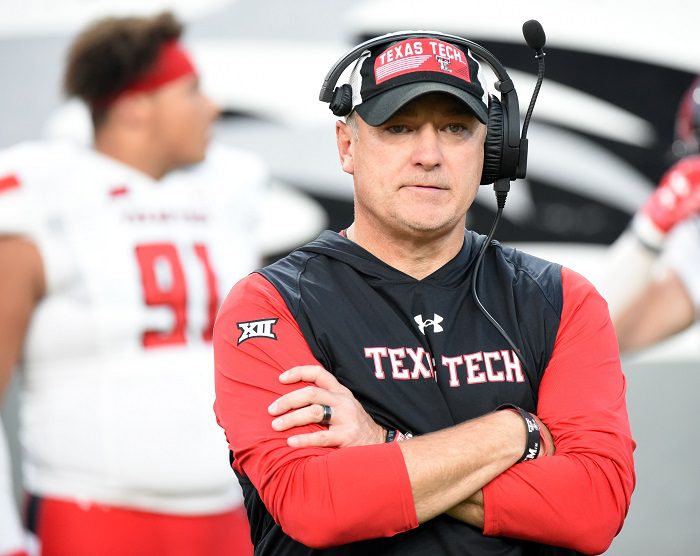 There's no doubt that beating Texas in Lubbock for the first time since 2008, and probably in their last chance to do so, was massive. It was a prove-it moment for Donovan Smith, who had to be entering the game knowing after the NC State and Houston games that his leash wasn't long. He proved it. It was a prove-it moment for Joey McGuire who came under criticism for some questionable decisions against NC State. He quieted those by going for it eight times on fourth down and converting six. Zach Kittley had come under heavy criticism for the offense in the games against Houston and NC State, he saw those mistakes and was able to pick apart Kwiatkowski's defense late on, after they stifled the Tech offense for four drives in the middle of the game.
For a team that's played three straight ranked opponents without their starting QB, and won two, it'd be easy to think their schedule may lighten up, but that's not the case. This week they go to the better Manhattan, to take on a ranked Kansas State team that's fresh off a win in Norman. Not to mention they've dropped their last six to the 'Cats, and haven't won there since 2008. Then before they get into the bye week they'll have a trip to Stillwater for a current top 10 Oklahoma State team. Tech has just one win in Stillwater since 2001, though they have outscored them in their last three meetings there. CBS still doesn't have Texas Tech making a bowl game, and there's a good case they'll only be favored twice the rest of the way. So as Joey McGuire ended his postgame speech with the team "what's next?"
Is This Texas Tech Different From the Previous Decade?
The previous decade has been rough on Texas Tech fans. In my four years there, they played 14 Big 12 teams at home, not named Kansas, and went 1-13. They've doubled that win total in their last three Big 12 home games, being over a touchdown underdog in all of them. When Houston took the lead with under 30 seconds left, it seemed like another home letdown, but they responded, even converting a 4th and 20 with the game on the line. When Texas drove down the field to tie the game on Saturday it seemed like it could follow a path all too common with Texas Tech fans. But as soon as Tech won the coin toss in overtime it seemed like there was a different feeling in the stadium. Sure enough, Krishon Merriweather put a hit on a running back that never fumbles, until he did, and Reggie Pearson was there to jump on it. A Sarrodrick Thompson run, and Trey Wolff kick later, Tech had found a way to pull it out again.
These are games past Texas Tech teams hadn't been able to pull out, and moments where past Texas Tech teams had wilted. Just look at the 2020 collapse vs Texas, and the letdown against Kansas State last year. There appears to be a much different culture in Lubbock with this team, and it's certainly paying off in the wins and losses columns thus far.
How Far Can Texas Tech Go
Is this a Texas Tech team that can win the Big 12? I'd be shocked if they did that. But if they can get a split in these two road games against Kansas State and Oklahoma State, there's plenty of reason to believe they can hang around in the Big 12 race well into November. According to ESPN's FPI, Tech has a 50.8% chance of going through this stretch 0-2, a 41.1% chance of going 1-1, and an 8.1% chance of going through it 2-0. If they get through that stretch 1-1, the schedule could be favorable after the bye week. They get West Virginia at home, which is one of the two games they should be favored in the rest of the way. After that, it's Baylor at home, which since being switched away from a neutral field in 2019 has had three straight one-score games.
If Tech hangs in the race after those two they'd start November with a five-hour road trip to Fort Worth for TCU, but DFW is a massive hub for Tech alumni that could make it a friendlier environment. Following that is a home game against Kansas, which is a much-improved team, but you'd still expect Tech to take that. A trip to Ames would be difficult, but by no means impossible. Depending on how Texas Tech does in the five games before it, this trip to Ames is definitely where I could see their hopes of a trip to Arlington dashed. What if they don't, what if they hang in a league full of parity they're 6-2 or maybe even 5-3? It's a home game against the Oklahoma Sooners. Texas Tech hasn't beaten Oklahoma since 2013, and hasn't won in Lubbock since 2009. But if there's a possibility Texas Tech could make their first Big 12 Title game in school history, expect a packed house and hostile environment. After the running back that never fumbles, fumbled in OT, and Tech converted a 4th and 20, the notion "weird things happen in Lubbock" that's been dormant for a decade, may just be coming back. However unlikely it is, if Texas Tech pulled off this win to make it to Arlington, you could see the fans starting demolition of the South end zone that night.
Do I expect Texas Tech to make the Big 12 title game? No. I'd give Texas Tech about a 5-10% chance of making it, but I'd give them about a 50% chance of hanging around into mid to late November, and exciting a fanbase that's been craving it. I still think Texas Tech is a year or two away from competing for conference titles, the depth and talent aren't there yet. Their recruiting rankings from 2019-2021 still average out in the 60s. But their coach has been a part of a couple of Baylor teams that have come out of nowhere to make it to Arlington in 2019, and win it in 2021. There's also certainly a chance they miss a bowl game, right now they're only favored in two more games. Should they go 0-2 on this road trip, and J.T. Daniels beats them after the bye week, Texas tech would be looking at an uphill battle to go bowling.
A Third of the Way Through the Big 12 is Unpredictable
This is far and away the most unpredictable the Big 12 has ever been, and Texas Tech is right in the middle of it. They have a defense that's played extremely well this year and have made adjustments when needed. Their offense seems to be finally coming together under Donovan Smith, with some adjustments from Zach Kittley. The difference between being a pest in this Conference Title race, and going 5-7 is going to need to be the plays like they made late against both Houston and Texas. Either way, you could be looking at the most exciting Texas Tech season in a long time, but making that reality starts Saturday in Manhattan.