featured
Brett Yormark Positioning Big 12 To Compete With Latest Moves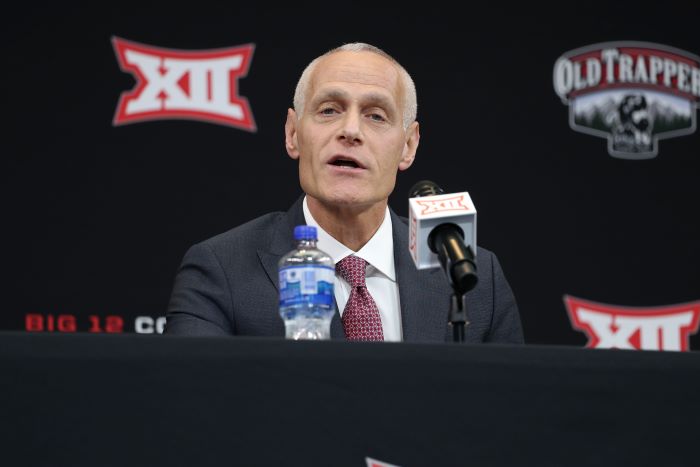 Just two months after he officially took over as Big 12 Commissioner, Brett Yormark has set a clear direction for the future of the conference. In fact, it's unmistakable.
It's not just the fact that he's doesn't appear afraid to declare his intentions to expand further out west, or that he's chatting with ESPN and FOX early about TV negotiations. It's how he's reorganizing the Big 12's administration.
He's building it to compete. He's building it to build on the identity that the 'Hateful Eight' began building last year.
Yormark's hires of Tyrel Kirkham as Chief Marketing Officer and Clark Williams as Associate Vice President of Brand Communication on Sept. 21 was a sign that he sees the shifting sands of college athletics and wants to have a staff that can move with it. Both worked previously for the Detroit Pistons. Williams actually worked for Roc Nation Sports for a time, though it doesn't appear he and Yormark overlapped.
Pete Thamel of ESPN noted that Kirkham is the FIRST chief marketing officer the Big 12 has ever had. That's sounds insane. But, if you follow the history of the Big 12, it actually makes some level of sense.
One area the league has always struggled with is defining and marketing itself. I think part of that has to do with the dominating presences of Oklahoma, Nebraska and Texas over the years. These were schools that demanded, and got, special treatment and were more interested in defining themselves than the league. The rest of the membership, while likely upset at times with that arrangement, lived with it because of the revenue it brought in.
Once Oklahoma and Texas announced its move to the SEC, the league had to redefine itself. The 'Hateful Eight,' the nickname given to the eight schools that remained, have done that in the past year, individually but also collectively. Former commissioner Bob Bowlsby helped bring in new membership, programs that were willing to buy into that vision. If we're being honest, the conference seems more cohesive than it has ever been. The 12 teams that will move forward will miss the revenue that the Sooners and the Longhorns brought in, but they likely won't miss the headaches that go with it.
If we praise Bowlsby for how he helped the membership handle expansion last year, one must certainly raise an eyebrow that Bowlsby never thought to add a chief marketing officer in his decade of leadership. But college athletics is much different than it was 10 years ago. It's becoming closer to a professional model than the collegiate one we're used to, in part because of Name, Image and Likeness (NIL) and the transfer portal.
A professional sports team wouldn't be caught dead without a chief marketing officer. If the landscape is shifting in that direction, the Big 12 needs that sort of leadership. Hiring Kirkham and Williams makes sense.
That also makes the new partnership with WME Sports and IMG Media key. Yormark said the "Big 12 is open for business" at Big 12 Media Days. A partnership like this means Yormark means it. WME and IMG will lead the Big 12's media strategy, advisory and negotiation; conference composition strategy; premier asset assessment; and sales analytics and valuation.
What does all of that mean? Well, those two entities will have a significant hand in television negotiations, potential conference expansion and driving revenue for the Big 12. Yormark should have one goal — making sure the Big 12 ends up as the third-most powerful conference in college sports. The Big 12 won't catch the SEC or the Big Ten in revenue. No one will. Right now, revenue is power. Yormark, ACC commissioner Jim Phillips and Pac-12 commissioner George Kliavkoff are all competing for that third seat at the table.
Why? When decisions get made, you want to have the ear of the SEC and the Big Ten so you're further ahead of the rest of your competition.
One piece that will interest a lot of people is WME's and IMG's advisement of the Big 12 in sports wagering, per the Big 12's release. That's a topic that's been taboo for college conferences for generations. At Big 12 Media Days, Yormark mentioned that if there were ways for the Big 12 to help with NIL that made sense, he would be open to that. Several Big 12 schools are in states that now allow sports betting. How a partnership like could take shape is anyone's guess, but many schools in states that allow gambling already have partnerships with casinos and gaming apps. If the programs can get past the taboo, why not the conference?
Yormark clearly had a mandate, whether it came from the Big 12's search committee, the league's presidents or from his own initiative. Position the Big 12 to compete, generate revenue and capitalize on the identity that the last year has allowed the 'Hateful Eight' to build.
Two months in, you have to feel good about what he's building. It hasn't yielded tangible results yet, of course. But he's building an organization that can quickly capitalize on opportunity when it comes. And in this era of college athletics, that preparation is more necessary than ever.
You can find Matthew Postins on Twitter @PostinsPostcard