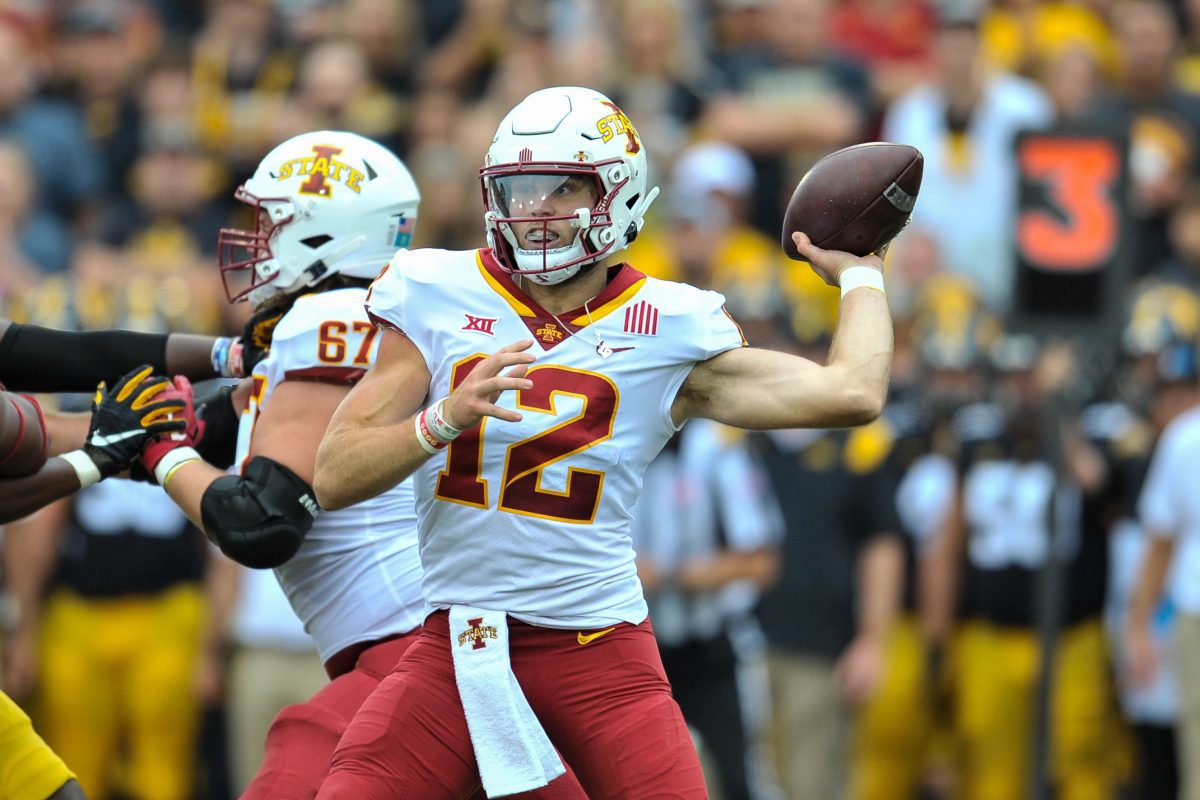 Here is everything you need to know about the upcoming matchup between the Kansas Jayhawks and the Iowa State Cyclones.
GAME INFO
Saturday, Oct. 1, 2022; 2:30 p.m. CT; David Booth Kansas Memorial Stadium, Lawrence, Kansas.
TV: ESPN2 (Brian Custer, Dustin Fox, Lauren Sisler).
Radio: Kansas: Jayhawk Radio Network; Sirius; Iowa State: Varsity Radio Network.
Records: Kansas, 4-0 (1-0 in Big 12); Iowa State 3-1 (0-1)
Last Week's Games: Kansas 35, Duke 27; Baylor 31, Iowa State 24
Rankings: Kansas: Receiving votes (AP Top 25); Iowa State: Not ranked.
Series History: Kansas leads, 50-45-6.
Last Meeting: Iowa State 59, Kansas 7, Oct. 2, 2021.
Favorite: Iowa State (-3.5)
Fun Fact: Iowa State head coach Matt Campbell is 6-0 against the Kansas Jayhawks. In fact, the the Cyclones have won seven straight in the series, their second-longest streak against a Big 12 foe (10 vs. K-State (1943-52).
KEY PLAYERS
KANSAS JAYHAWKS
QB Jalon Daniels
If you're looking for a trendy dark horse Heisman candidate, Daniels is your guy. Through four games he's rushed for 320 yards and four touchdowns and thrown for 890 yards and 11 touchdowns. He's completed more than 70 percent of his passes and has thrown just one interception. How incredible is this start for the third-year Jayhawk? Well, last season Daniels threw for 860 yards and seven touchdowns, along with 83 yards rushing. In other words, this isn't just a great start for Daniels. It's a career-making start for Daniels.
LB Rich Miller
The linebacker with the rather non-descript name leads Kansas in tackles with 31 four games into the season. Like Daniels, he appears intent on blowing his season-best numbers out of the water, though he has a ways to go. He had 79 tackles for the Jayhawks last season, as he was second-best on the team. To be fair, the Kansas coaching staff knew how to deploy him. He played for them when they were at Buffalo under Kansas boss Lance Leipold. But, after gaining some acclaim last season as an Honorable Mention Big 12 player, he's on course to earn more significant All-Big 12 accolades in 2022.
IOWA STATE CYCLONES
QB Hunter Dekkers
The young quarterback inherited a tough job — replacing the highly productive and well-respected Brock Purdy, who is now with the San Francisco 49ers. So far, Dekkers has put up very good numbers, throwing for 1,029 yards, 10 touchdowns and five interceptions. He played well in his first Big 12 test against Baylor last Saturday, throwing for 284 yards, two touchdowns and two interceptions in a 31-24 loss to the Bears. He hasn't filled those shoes just yet, but he's shown he has the ability to keep the Cyclones competitive in his redshirt sophomore season.
LB O'Rien Vance
The Cyclones' leading tackler through four games is a redshirt senior who has 22 tackles, 3 1/2 tackles for loss and 1 1/2 sacks. Iowa State lost one of its best linebackers ever in Mike Rose, who ran out of eligibility last season. Vance is one of several backers trying to help keep the Cyclones among the best defenses in the Big 12. Against Baylor he had three solo tackles, five assists, 1 1/2 tackles for loss and 1/2 sack, one of his best games this season. Injuries limited him to 10 games last season and he had just 36 tackles. He could be returning to the form that made him the Fiesta Bowl Defensive MVP in 2020.
KEY STORYLINES
KANSAS JAYHAWKS
Leipold was brought in to help rebuild the Kansas football program after more than a decade of awful football. It's not clear if anyone knew that Leipold brought accelerant with him. With four victories, Kansas now has more wins in any season since 2009, when Kansas won five games in Mark Mangino's final season as coach. What's impressive is the player development. Many of the players that have helped Kansas get off to this incredible start were with the team last season, including Daniels and Miller, and have clearly bought in to what Leipold is selling. Now, Kansas has a great problem on its hands — success. That comes with a target, and not just on the field. Leipold is likely to start getting feelers about jobs like the opening at Nebraska.
IOWA STATE CYCLONES
The Cyclones are a team in transition after losing tremendous offensive talent like Purdy, running back Breece Hall and tight end Charlie Kolar, along with Rose on the defensive side. Players like Dekkers and running back Jirehl Block have given the Cyclones an infusion of energy, while holdovers like wide receiver Xavier Hutchinson and defensive end Will McDonald IV are returning All-Big 12 players that allow Campbell and his staff to build continuity in the program. Campbell is the second-longest tenured coach in the Big 12 and he's built something sustainable in Ames.
PREDICTION: Iowa State 34, Kansas 24
At some point Kansas has to take a loss. Last season Iowa State won this game by more than 50 points. The Jayhawks are clearly much better than a season ago. This could be a game decided in the fourth quarter. Daniels' poise is real, but so is Dekkers. Watch for a late turnover to turn this game in the Cyclones' direction. But if Kansas wins this game and they're not ranked next week in the AP Top 25, well, we riot, right?
You can find Matthew Postins on Twitter @PostinsPostcard.