Kansas Jayhawks
Kansas QB Jalon Daniels on C.J. Stroud Comparison: 'It's Amazing'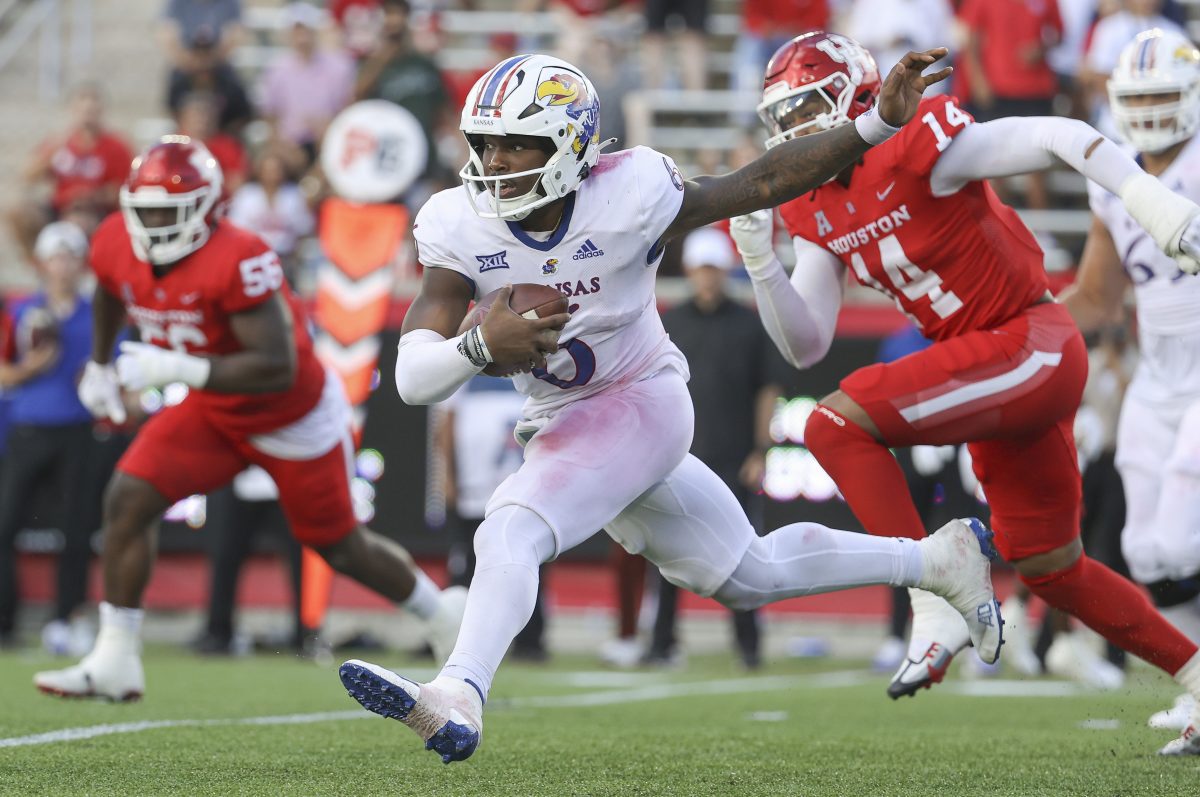 Through four weeks, Kansas quarterback Jalon Daniels has been among the nation's best at his position; a huge reason why the Jayhawks are sitting at 4-0.
At this junction, Kansas is in unfamiliar territory, at least as recent history is concerned, as Kansas hasn't been 4-0 since 2009 and is looking to go 5-0 for the first time since that same year. If they do so, it will be because of the play of Daniels.
Daniels paces the country in QBR, or total quarterback rating, with a score of 98.0. For context, there are only three quarterbacks in the nation with a QBR of 90.0 or higher: Daniels (98.0), CJ Stroud (95.4), and Hendon Hooker (90.3). The highest-ever QBR through an entire season belongs to Alabama's Mac Jones, who maintained a QBR of 96.1 in 2020. Oklahoma's Kyler Murray (95.4, 2018) and LSU's Joe Burrow (94.9, 2019) are some other notable QBR finished, ranking second and third all-time.
Daniels far exceeds those scores to this point in the season, and while there is still plenty of football to play against tougher opponents, what Daniels is doing should be recognized.
His play has recently triggered comparisons to Heisman-favorite CJ Stroud, which Daniels took as high praise.
"To see the amount of work that he's put in since he's been at Ohio State is amazing," Daniels said of his peer. "He's made a lot of plays since he's been in college and to be on the same stage as him is amazing."
Coming into the week, Daniels wasn't even listed with Heisman odds on Caesar's Sportsbooks. He opened this week at 75/1 odds and those have come all the way down to 40/1 as of Friday. When asked about his thoughts on the matter, Daniels echoed the words of his head coach.
"[I've got to] keep going in with that same mindset, you know, a 'getting one percent better' mentality every day," Daniels said. "At the end of the day, it's a team effort. I don't do this by myself. The amount of preparation that we've put in this offseason is finally paying off, and you love to see it."
Daniels is responsible for 15 touchdowns this season, 11 passing and four rushing, which ranks fifth among all FBS players this season. If he continues at his current trend, Daniels could come close to a 60-touchdown effort in 2022. Reaching 60 touchdowns would put him in rare air, as it has only been done once, by Joe Burrow in 2018. Burrow, of course, won the Heisman trophy and the national championship that year.
Those are lofty goals but at 4-0, it's safe for the Jayhawks to start dreaming about where their junior signal-caller can take them. Kansas will face Iowa State this week, their toughest test of the season to this point. That game can be previewed here and will be aired on ESPN at 2:30 p.m. on Saturday.