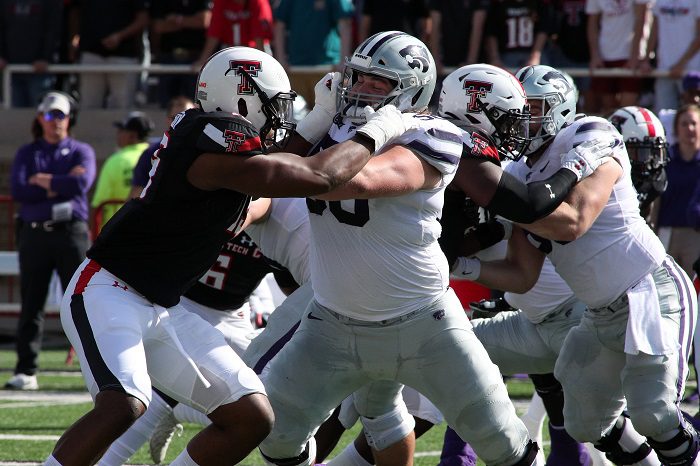 Here is everything you need to know about the upcoming matchup between the Texas Tech Red Raiders and the Kansas State Wildcats.
GAME INFO
Saturday, October 1, 2022; 11:00 a.m. CT; Bill Snyder Family Stadium; Manhattan, Kansas
TV: ESPN+ (Mark Nealy, Ryan Leaf, Shane Sparks)
Radio: Texas Tech Sports Network
Records: Texas Tech 3-1 (1-0 Big 12); Kansas State 3-1 (1-0 Big 12)
Last Week's Games: Texas Tech 37, Texas 34 (F/OT); Kansas State 41, Oklahoma 34
Rankings: Texas Tech unranked; Kansas State ranked No. 25 (AP Top 25)
Series History: Kansas State leads series 13-9
Last Meeting: Kansas State 25, Texas Tech 24 (2021)
Favorite: Kansas State (-8)
Fun Fact: Despite up and down years from both programs over the last decade, Kansas State is 9-1 in their last 10 meetings with Texas Tech. Their only loss in that stretch came in 2015 when the Red Raiders, led by sophomore quarterback Patrick Mahomes, took down K-State 59-44 in Lubbock.
Key Players
Texas Tech Red Raiders
QB Donovan Smith
Smith didn't begin the season as the starting quarterback, but he's come a long way since taking over for the injured Tyler Shough, and he had his best performance of the early season in a comeback win against Texas on Saturday. He threw for 331 yards, two touchdowns and no interceptions, while rushing for 42 yards and a score. His QBR was 75.5 compared to 25.0 vs. NC State and 29.4 against Houston. A big upgrade and now he has a big road test on his hands.
OLB Tyree Wilson
Wilson is steadily becoming one of the biggest defensive playmakers in the Big 12. The Texas A&M transfer is now in his third season in Lubbock and is shining so far this season. He ranks third in the Big 12 with three sacks this season and is Top 5 in tackles for loss with six through four games. He's also just outside the Top 10 in the league with 27 tackles.
Kansas State WIldcats
QB Adrian Martinez
What's Martinez got up his sleeve for an encore after last week's performance where he rushed for nearly 150 yards and four touchdowns in an upset of Oklahoma last week. He also finished with 234 passing yards and a touchdown, with no interceptions. It was his "Welcome to the Big 12" moment on Saturday. If he can build off of that performance, K-State is in good shape.
DL Felix Anudike-Uzomah
Anudike-Uzomah hasn't had a monster start of the season, but that means he's due for a break-out game. He has four tackles for loss and 2.5 sacks on the season. It's not a bad start at all, especially since offensive lines are focused on him, but he has a big opportunity against a bad offensive line this Saturday.
Key Storylines
Texas Tech Red Raiders
The Red Raiders need to protect Donovan Smith. The offensive line is a weakness. Texas Tech has given up 12 sacks in four games, four more sacks than any other team in the Big 12 Conference so far this season. And K-State brings in a very solid defensive front that could cause havoc in the Tech backfield.
Kansas State Wildcats
K-State is home and needs to make sure it doesn't suffer from the let down game it suffered after beating Mizzou, which was followed by a loss to Tulane. The best way to avoid that is to get Adrian Martinez going early and often and build off the momentum from last week's performance. K-State leads the Big 12 in rushing yards per game at nearly 250, however this would be a good opportunity to let Martinez fling it around, as Texas Tech's pass defense has been one of the worst in the Big 12.
Prediction: Kansas State 31, Texas Tech 24
The Wildcats are on the verge of another sellout for Saturday's big match up as the team is riding high after beating Oklahoma in Norman. This match up bodes well for the Wildcats, as the weak Texas Tech offensive line won't be able to slow down K-State's front seven, and will lead to a long afternoon for Donovan Smith.