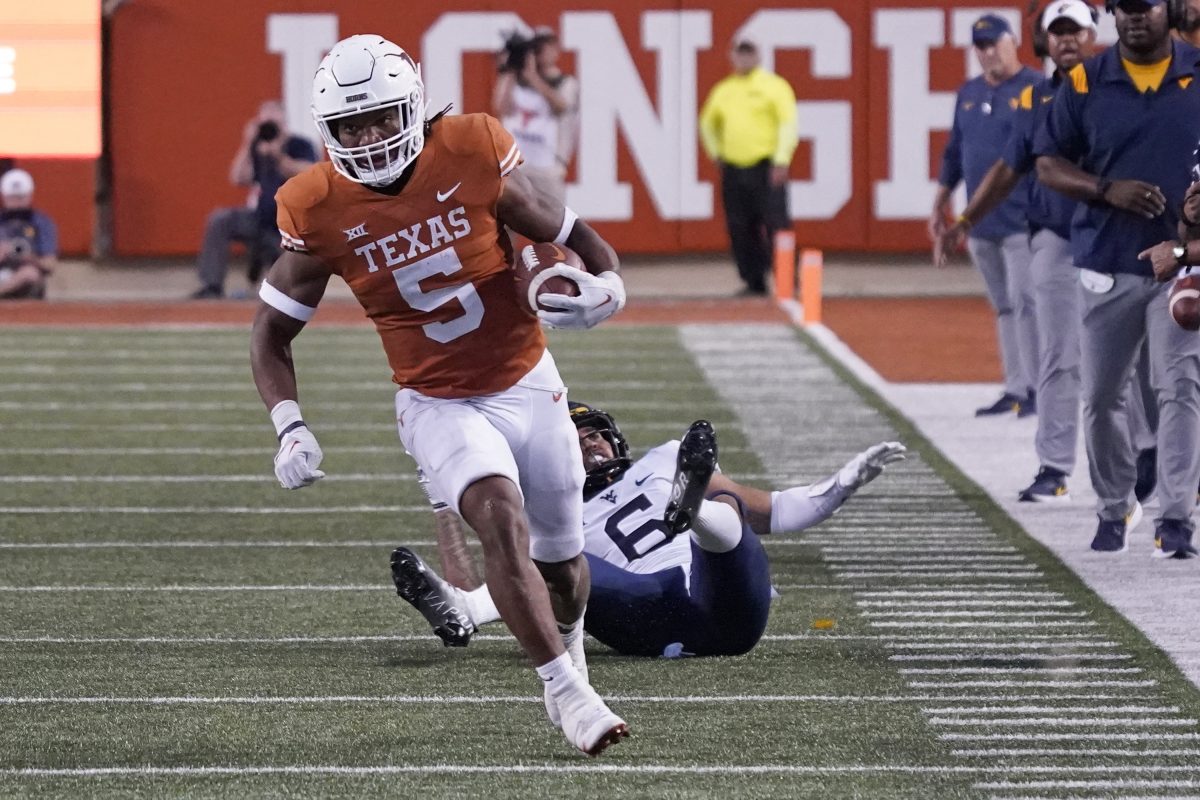 It was a wild Saturday in the Big 12 conference. We saw TCU blowout Oklahoma, Kansas stay undefeated and Oklahoma State beat Baylor on the road. Yet despite all the madness we still had one more game to go for the Big 12 nightcap.
West Virginia made the trip down to Austin to take on Texas. The Mountaineers were fresh off their big win over Virginia Tech last week while Texas fell to Texas Tech in Lubbock. Both teams needed a win and while some thought this would be a close game, Texas had other plans. Here are my four thoughts on Texas' 38-20 win over West Virginia.
1. Texas Didn't Look Ahead
I know Texas just had a heartbreaking loss to Texas Tech last weekend, but I was a little shocked to see them not look ahead to the Oklahoma game on October 8th. This would have been a perfect trap game for the Longhorns but that wasn't the case on Saturday night. From start to finish, Texas was the better team and they showed it. The offense was electric with Hudson Card having a big game and Xavier Worthy making plays. Worthy even threw a touchdown pass in this one which is something you don't see everyday from a wide receiver. Also, the defense played great and kept West Virginia in check for the entire evening which isn't easy to do. The biggest positive here for Texas was not blowing a lead. They blew a two-touchdown lead against Texas Tech and had a three score lead several times against West Virginia, but they took care of business.
2. Hudson Card Was Great
There has been some criticism when it comes to Hudson Card, and I will be the first to admit that I had my doubts. I wasn't confident that he could be a guy who leads a team to a big win, but I was clearly wrong here. Card had a great game as he went 21/27 for 303 yards and three touchdown passes. Obviously, Quinn Ewers will be the starter when he comes back but it is nice to know that Hudson Card can fill in when needed.
3. West Virginia Didn't Get Off the Plane
Has anyone seen this team? They were supposed to be in Austin on Saturday night but from what I saw it looked like they stayed on the plane or in Morgantown. The offense couldn't establish much of a run game due to the score and couldn't get much going between the lack of protection for JT Daniels and the dropped passes. Texas challenged the receivers for West Virginia and Texas clearly won the battle there. Meanwhile the defense couldn't stop Xavier Worthy and struggled to get off the field on third down. They are incredibly lucky that the score wasn't any worse than what is was.
4. Neal Brown's Seat is on Fire
I have talked about Neal Brown plenty and how much money he is will be owed if he gets fired before the new year. After this game, West Virginia falls to 2-3 overall and remain winless in conference play where he now has an overall record of 11-18. It's year four for him in Morgantown and he needs to win four more games to get to a bowl game. I am sorry to say this, but I just don't see this team winning four more games in the Big 12. They are the worst team in the conference right now which is a true shame because I thought they could do so much more this year.