Baylor Bears
Three Thoughts on Oklahoma State's 36-25 Win Over Baylor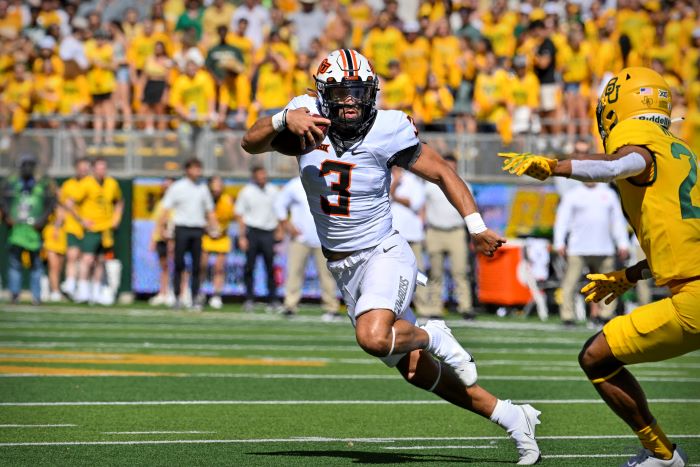 In a rematch of the 2021 Big 12 Championship Game, it was the Oklahoma State Cowboys who exacted revenge against the Bears, winning the pivotal Big 12 matchup 36-25.
In what could be a preview of another conference championship matchup, Oklahoma State jumped out to a 23-3 lead and had to weather the storm as Baylor fought all the way back to make it 33-25 going into the fourth quarter.
Here are three thoughts on Oklahoma State's victory and what it means for both teams going forward.
Spencer Sanders (Mostly) Exorcises Demons Against Bears
Last season, Spencer Sanders threw 12 interceptions all season, seven of which came against Baylor. Today, Sanders was much better, and while he threw one interception he was much more efficient running the Oklahoma State offense in Waco. Sanders went 20/29 for 181 yards and one touchdown, adding 13 carries for 79 yards and a score on the ground. In big situations, Sanders found his receivers when they needed a big play, and they delivered. One play that comes to mind was the first touchdown of the game, when Sanders threw a beautiful fade to Bryson Green in the corner of the endzone. This version of Sanders is an overwhelming challenge for opposing defenses, and will be a handful for the rest of the Big 12 down the road.
Shapen's Inexperience Shows Up in Big Moment
When Blake Shapen won the starting job this offseason, it was said that he was undoubtedly the better passer in the competition, and at times we saw that today. In the third quarter, when Baylor put up 22 points in a hurry, Shapen was brilliant. However, when the fourth quarter rolled around, misfortune found the sophomore signal-caller in two monumental drives. On back-to-back possessions, Shapen was picked off and although one wasn't his fault, it will show up that way on the stat sheet. Shapen also took a few unnecessary sacks and missed on some big throws that could've changed the game. This experience will be valuable for Shapen moving forward, but for now the loss will hurt.
Oklahoma State Puts Itself Atop Uber-Competitive Big 12
The narrative that the Big 12 is weak is no longer a thing; this conference is better than any in the country from top-to-bottom. However, the Oklahoma State Cowboys have put themselves squarely atop the Big 12 hierarchy. The combination of methodical offense and opportunistic defense in Waco today was impressive by OSU and to pick up a win in Waco is something that nobody has been able to do since 2020. Nonetheless, Mike Gundy and the Cowboys went on the road, dominated the first half, and made the plays necessary in the second half to stay ahead. Take notice: it appears the Big 12 runs through Stillwater in 2022.