Big 12 News
Wisconsin, Nebraska in Potential Competition for Lance Leipold: Report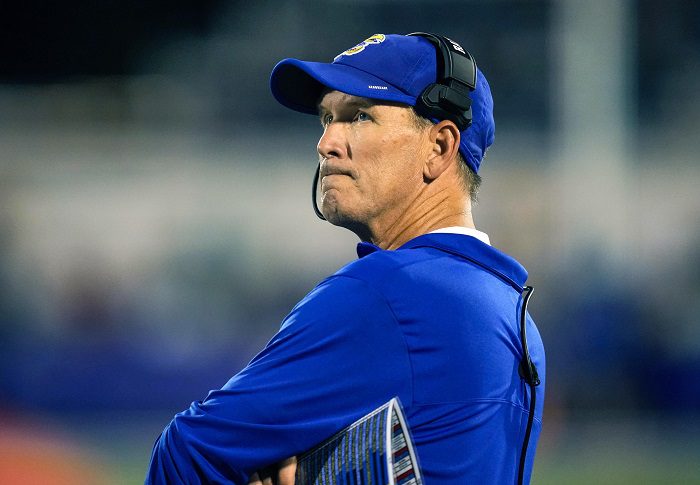 The Kansas Jayhawks are off to their best start in well over a decade, as KU is 5-0 (2-0 Big 12), ranked 19th in the latest AP Top 25 Poll, and is set to host College Gameday this week when No. 17 TCU comes to town.
The architect of Kansas football's resurrection, Lance Leipold, has done an incredible job turning things around in Lawrence, and that has not gone unnoticed.
Over the weekend, Wisconsin fired long-time head coach Paul Chryst five games into the 2022 season, which was a bit surprising. For now, defensive coordinator Jim Leonhard has stepped into an interim role, and could win the job given some success down the road. However, Leipold's name is already being connected to the job, on top of already garnering interest for the Nebraska job as well.
Leipold's name made it on Tom Fornelli's shortlist for the Wisconsin coaching vacancy, and had this to say about the second-year Kansas coach.
"Leipold did a wonderful job building a Buffalo program with little history into a program contending for MAC titles, and he already has Kansas ranked in the AP Top 25 for the first time since 2009 in his second season there. But before Leipold did all that, he led Division III Wisconsin-Whitewater to six national titles while going 109-6 in eight seasons. Leipold is a Wisconsin native, and there's some thought that one of the reasons Wisconsin made a move on Chryst this early was because it wanted to make a run at Leipold before Nebraska could — or before Kansas could lock him up with a new deal. If it's not Leonhard, I'd choose Leipold as the most likely candidate."
It sounds as if Fornelli expects a bidding war to break out for Leipold's services, but to this point, Leipold has remained firm that he is happy where his feet are in Lawrence. That sentiment will need to continue if the Jayhawks are to keep their head coach.
That, or get into the bidding war, which I'm not sure is something Kansas wants to do with Nebraska and Wisconsin in the ring.