Baylor Bears
Big 12 Football Mailbag: Red River Pillow Fight, Pain in Ames, 'Farmageddon' Trophy Idea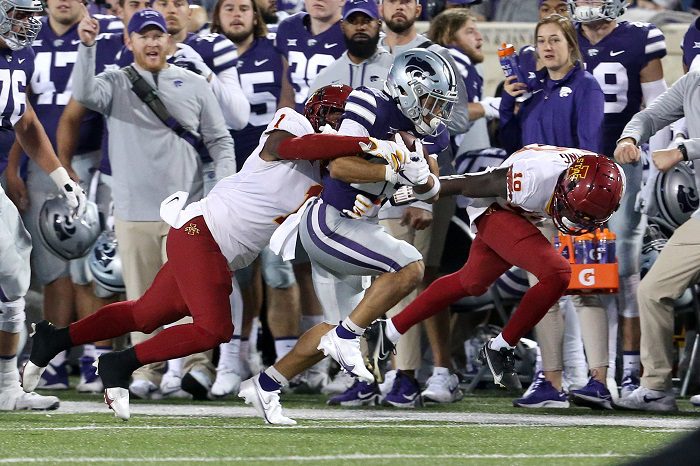 Welcome to the HCS Big 12 mailbag. This mailbag is for all you football junkies out there who root for a Big 12 school who not only have questions about your team but other teams in the conference as well. So, join me, grab a cold brew or your favorite drink and relax as I answer all your Big 12 questions in my mailbag. I want to thank each one of you who submitted a question this week and for tonight's drink of choice? You'll just have to see for yourself. Cheers!
@RCJGraves asks: With the Red River Pillow Fight moving to a lesser conference, should the premier rivalry game of the Big 12 season, Farmageddon, be moved back to a neutral site like Arrowhead?
Duke: Absolutely not. Unless there is history there for a neutral site game then I am not really a fan of doing that. For instance, the pillow fight you just mentioned is at the Cotton Bowl in Dallas during the Texas State Fair. It's always the second Saturday in October. You wouldn't move that game to Austin or Norman. The same applies the other way around as Farmageddon is played in Ames or Manhattan. The atmosphere is always great, and I am in favor of having games played on campus if possible. Also, nice jab at the SEC. I hope Paul Finebaum is reading this but he's too busy spying on Nick Saban's every move.
@tracks182 asks: Can you make the Iowa State pain stop?
Duke: I am sorry for your pain, but I am no miracle worker here. I am simply just a lazy Big 12 blogger. As for Iowa State, they have some problems. They can't run the ball at all which is putting a ton of pressure on first-year starting quarterback Hunter Dekkers. He needs some help on offense and right now the run game isn't working. The Cyclones have had a total of 82 rushing yards in their last two games which isn't going to cut it. They have to get the ground game going if they are going to be successful on offense. Also, Jirhel Brock getting hurt is just going to make things worse. Oh, and I can't forget about the horrible special teams. Until those issues get fixed, Iowa State will be an inconsistent team from week to week.
@elderscience asks: What are the chances that we can rename the RRR to The Benedict Arnold Bowl?
Duke: You can call it whatever you want man. What is funny is that when I looked at the schedule for this weekend in the Big 12 there was only one game that didn't feature a ranked team. And of all games, it turned out to be the Red River Rivalry game. I didn't think I would be saying that before the season but here we are. At this point, I don't really care what we call it. This very well could be the last time these two meet as Big 12 teams. Honestly, I would be okay if they put this one on the SEC Network on Saturday because neither team deserves a big stage with the way they have played this season.
@Shroudedllama asks: How do you feel about Dave Aranda's way of coaching? I'm speaking specifically about the 4th down tries on offense. Do you think it pays off more than it hurts them?
Duke: I would say it just depends on the scenario and how the game is going. It seems like more teams are willing to take chances which I am fine with it if it makes sense. When I look back at the Baylor/Oklahoma State game the Bears went 3/5 on fourth down. The first failed attempt was in the second quarter with Baylor down by six. It was a fourth and one on the Oklahoma State seven-yard line. I had no issue with going for it there.
The second failed attempt was much more head-scratching. I know Baylor was down 30-17 but going for it on fourth and two from your own 33-yard line seems a bit much for my taste. The same can be said when they did convert a fourth down from their own 14-yard line later in the game. I am totally fine with taking smart gambles, but the second failed conversion didn't make sense to me, and it did hurt them a little.
@ReclaimLegacyKS asks: Does Farmageddon need a trophy, and should it be named after two trailblazers in ag? Jack Trice was an Ag major intent on helping southern black farmers. Veryl A. Switzer remained in farming, founded KBAF, and has a foundation for youth AG camps.
Duke: If the two schools can agree with this then I am totally on board. I would be happy if this game has a trophy because this game deserves one. Once Texas and Oklahoma are gone, one can make an argument that this is the best rivalry game in the new Big 12. Honestly, I would be fine with a tractor trophy but if I were you, I would contact someone at both schools to see if they have an interest in making this happen. I absolutely love this rivalry and adding a trophy would be a really fun thing to do especially if it is named after Jack Trice and Veryl A. Switzer.