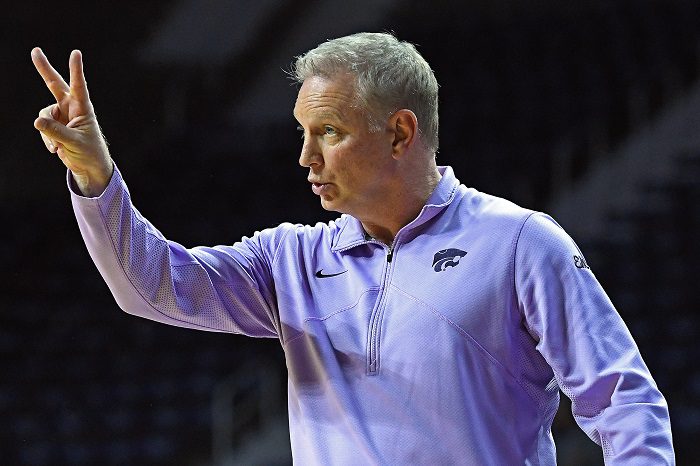 Leading up to the opening of the 2022-23 Big 12 women's basketball season Heartland College Sports will analyze each of the Big 12 women's basketball rosters. Today it's the Kansas State Wildcats.
2021-22 Season-Ending Roster: G Savannah Simmons, G Cymone Goodrich, G Jaelyn Glenn, G Serena Sundell, G Brylee Glenn, G Malene Lind Pedersen, G Rachel Ranke, F Laura Macke, G Rebekah Dallinger, F Heavenly Greer, G Jada Moore, G Emilee Ebert, C Taylor Lauterbach, C Ayoka Lee.
No longer at Kansas: Simmons (eligibility), Goodrich (eligibility), Pedersen (transferred to Wyoming), Ranke (transferred to UCF), Macke (eligibility), Moore (transferred to FAU).
2022-23 Season-Opening Roster: F Sarah Shematsi (6-2, Sr.), G Ja'Mia Harris (5-8, Fr.), G Jaelyn Glenn (6-1, So.), G Serena Sundell (6-1, So.), G Brylee Glenn (6-0, So.), G Mikayla Parks (5-9, Fr.), G Gabby Gregory (5-11, Sr.), G Rebekah Dallinger (5-9, Jr.), F Heavenly Greer (6-3, So.), F Eliza Maupin (6-3, Fr.), G Mimi Gatewood (5-6, Fr.), G Emilee Ebert (6-0, Sr.), F Gisela Sanchez (6-3, So.), C Taylor Lauterbach (6-7, Jr.), C Ayoka Lee (6-6, Sr. – out for season after knee surgery).
How The Wildcats Are Built
Returning Players (8): Jaelyn Glenn, Sundell, Brylee Glenn, Dallinger, Greer, Ebert, Lauterbach Lee.
Transfers (3): Shematsi (transferred from LSU), Gregory (transferred from Oklahoma), Sanchez (transferred from Arizona).
Freshman/Recruiting Class (4): Harris, Parks, Maupin, Gatewood.
Potential starting lineup: Jaelyn Glenn, Brylee Glenn, Sundell, Ebert, Lauterbach
Why?: Even with Lee's knee surgery ending her season, the Wildcats return four of their leading scorers from last season — the Glenn sisters, Sundell and Ebert. But without Lee, it's difficult to know how head coach Jeff Mittie will approach how to replace the player the Wildcats played through last season. Lauterbach offers a player of similar height, which would mean fewer alterations to his current system. But she only played seven minutes per game last year. He could go smaller with Greer, Shematsi or Gregory. He has options. But none will truly replace Lee, who will return to K-State in 2023-24. Sundell and the Glenn sisters will lead this team offensively, and their shooting volume will be key to the Wildcats' early success.
The bench: Shematsi, Gregory, Greer, Dallinger, Sanchez
Why? The Wildcats didn't have much of a bench last season. In fact, only 10 Wildcats scored last season, and two are out the door. Shematsi and Gregory, both of whom have experience at other Division I schools, will get a chance to contribute this season. Greer, Dallinger and Sanchez are players Mittie hopes grew up in the offseason.
The wild card: Maupin. They need help inside with Lee out for the season. Maupin is the one incoming freshman that can do that. She was a Top 75 player nationally. How fast can she transition to the Division I game?
You can find Matthew Postins on Twitter @PostinsPostcard.