Big 12 News
Oklahoma State Leads Big 12 With Odds to Win College Football Playoff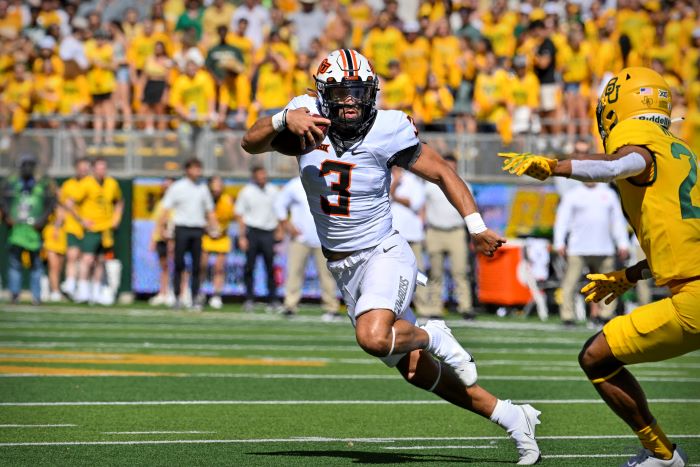 The Oklahoma State Cowboys have officially been announced as having the best odds to win the 2022 CFB Championship out of the Big 12. The Cowboy's 36-25 Win over the Baylor Bears in Week 5 helped to jump TCU, Kansas State, and Kansas and give the Cowboys the best shot at the title.
In an updated list from BetOnline, the Cowboys have been listed with 50/1 odds to win the 2023 NCAA College Football Championship. They are the clear odds favorite of any Big 12 team with TCU holding 100/1 odds, and both K-State and Kansas sharing 300/1 odds.
The odds change comes after Oklahoma State's 36-25 Win over Baylor which brought the Cowboys' odds from 100/1 odds after Week 4, to 50/1 odds after Week 5. The 7th-ranked Cowboys have a matchup this Saturday against Texas Tech which should be a fairly routine outing for Oklahoma State.
As it sits currently the only four teams in the Big 12 with a chance of winning the College Football Championship are the Oklahoma State Cowboys, the TCU Horned Frogs, the Kansas Jayhawks, and The Kansas State Wildcats. Look for these odds to drastically change next week as TCU and Kansas meet in a Top 25 matchup in Lawrence this weekend.
Key matchups to watch heading forward in Week 6 are listed below.
Kansas vs TCU (-7), Oct. 8th, 11 am.
Texas Tech vs OSU (-9), Oct. 8th, 2:30 pm.
Iowa State vs KSU (-2), Oct. 8th, 6:30 pm.