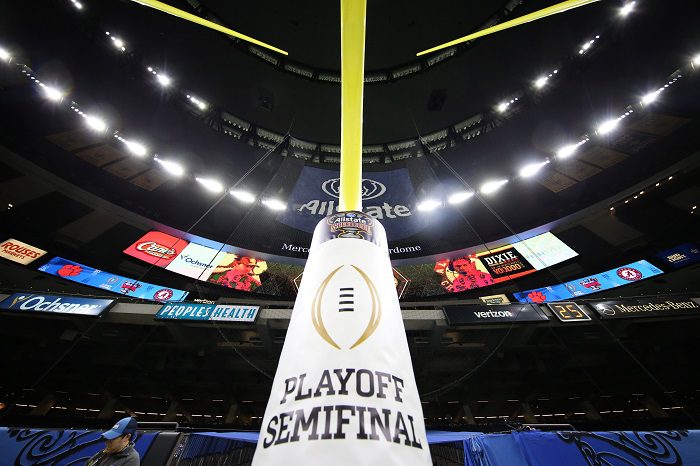 Even though we are just five weeks into the college football season, that doesn't mean we can't look ahead to what the future may hold. There are still plenty of important games to get through and a whole lot of season left but it is never too early to start thinking about the postseason.
Jerry Palm from CBS Sports recently released his latest college football bowl projections. It is always interesting to see how things change from week to week but here is what he currently has listed for the Big 12.
Sugar Bowl
Oklahoma State vs Tennessee
It took just a few weeks, but Oklahoma State has now claimed the top spot on the bowl list for the Big 12. This is a huge upgrade from where they were projected to be just a week ago in the Cheez-It Bowl. As much as I love Cheez-Its, the Sugar Bowl reigns supreme. This would be huge for Mike Gundy to get back to a NY6 bowl game in back-to-back years.
Alamo Bowl
Oklahoma vs USC
There are a lot of great bowl matchups on this list, but this is one of the few I would pay to watch. Obviously because of all the connections these two programs have. Lincoln Riley has USC 5-0 and in control of the Pac-12. Meanwhile, his former team in Norman already has two losses on the season. Of course, USC having Caleb Williams is just fuel to the fire as well. If the Sooners can go without losing a few more games, I would beg the Alamo Bowl to make this game happen if USC is available.
Cheez-It Bowl
Baylor vs Pitt
I am not really sure how I would feel about this game, but I do know that it would be a hard-hitting matchup. I still think Baylor can climb up another spot or two on the bowl list but going to play in the Cheez-It Bowl isn't a terrible thing although I am not really a huge fan of traveling to Orlando.
Texas Bowl
Texas vs Texas A&M
Out of all the bowl games, the Texas Bowl would be my favorite. I never thought in a million years I would say that but here we are. These two schools haven't played each other since 2011 when they both were in the Big 12. With Texas going into the SEC soon, I doubt we see this game happen until both of them are in the same conference. Keep in mind that the SEC picks who goes to what bowl game.
Liberty Bowl
TCU vs LSU
This seems like it would be a very interesting game here and would give TCU a chance to win a game over a big time SEC program. Plus, I am all for clowning Brian Kelly so I would hope TCU crushes the Tigers and Kelly's fake southern accent.
Guaranteed Rate Bowl
Kansas State vs Wisconsin
Wisconsin just fired their coach so who knows who will be the head coach in Madison by the time bowl season comes around. Could it be Lance Leipold or Chris Klieman? Who knows but what I do know is that this will be one physical game between teams who love running the football.
Birmingham Bowl
Iowa State vs South Carolina
Each and every week Iowa State is falling further and further down the bowl list. Now they find themselves in an odd yet winnable matchup against former Oklahoma quarterback Spencer Rattler and South Carolina. In the battle between the Clones and Cocks, give me the Clones.
First Responder Bowl
Kansas vs UCF
While I am excited to see Kansas in the bowl projections (I am not used to it), I feel like there is a little bit of disrespect here. Kansas is 5-0 already and having them in this bowl game seems like a slap in the face. This team will win a few more games to position themselves in a better spot.