Kansas Jayhawks
Kansas, TCU are Two of the Biggest Betting Surprises of College Football Season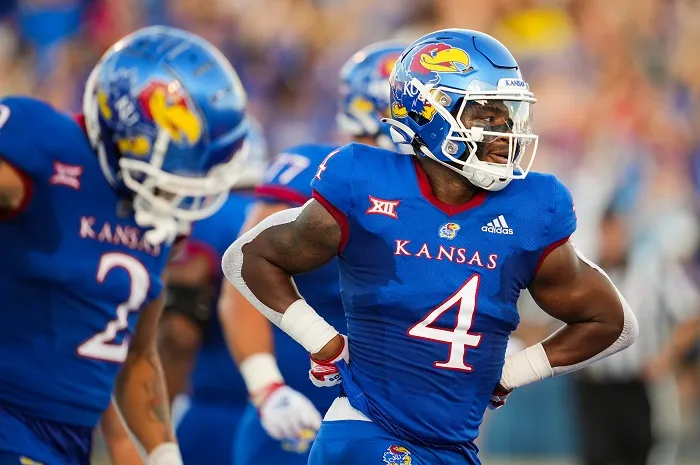 As we approach the halfway point of the 2022 college football season, it is a great time to look back at the predictions made at the beginning of the season to check their accuracy and see how teams are performing compared to expectations before the year started.
Now that we have seen who some of the true contenders are in the Big 12, and those who might not be as good as we believed, it is easy to pick out who might've been overrated or underrated coming into 2022.
BetKansas.com took things a step further and went back to look at some of the win totals at the beginning of the year to see what teams might have overachieved at this point in the season and two teams in the Big 12 are among the nation's biggest surprises.
The Kansas Jayhawks, who are listed as the biggest surprise for 2022, had a win total of 2.5 games coming into the season but have already doubled that as KU is currently 5-0. What Lance Leipold and company have done in Lawrence to this point is extremely impressive and has certainly garnered some attention from other programs.
The 19th-ranked Jayhawks are joined on the "Biggest Surprise" list by their opponent in Week 6, the TCU Horned Frogs. TCU's win total on the year was set at 6.5 wins, and at 4-0, it is a safe bet that the Horned Frogs are in good shape to exceed that total. A lot of that will depend on the outcome of this weekend's matchup and TCU is currently favored by seven points in that game.
Here is a look at the list of biggest surprises, courtesy of BetKansas.com.
Biggest Surprise CFB Teams in 2022
1. Kansas Jayhawks – Preseason Win Total: 2.5 wins, Current Win Total: 5 wins
2. Syracuse Orange – Preseason Win Total: 5 wins, Current Win Total: 5 wins
3. James Madison Dukes – Preseason Win Total: 6.5 wins, Current Win Total: 4 wins
4. TCU Horned Frogs – Preseason Win Total: 6.5 wins, Current Win Total: 4 wins
5. Ole Miss Rebels – Preseason Win Total: 7.5 wins, Current Win Total: 5 wins
6. Tennessee Volunteers – Preseason Win Total: 7.5 wins, Current Win Total: 4 wins