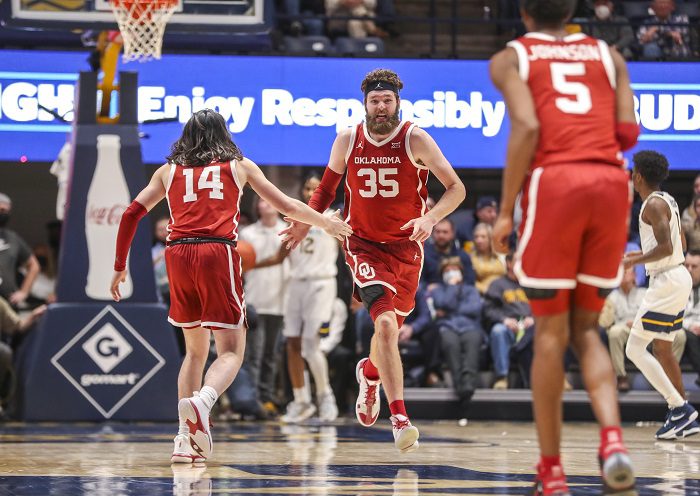 Leading up to the opening of the 2022-23 Big 12 Men's basketball season Heartland College Sports will analyze each of the Big 12 men's basketball rosters. Today it's the Oklahoma Sooners.
2021-22 Season-Ending Roster: G Jordan Goldwire, F Jalen Hill, G Umoja Gibson, G Alston Mason, G Marvin Johnson, F Akol Mawien, G Bijan Cortes, F Ethan Chargois, C Rick Issanza, G C.J. Noland, G Jake Moser, F Jacob Groves, F Tanner Groves, G Blake Seacat, G Elijah Harkless.
No longer at Oklahoma: Goldwire (eligibility), Gibson (transferred to DePaul), Mason (transferred to Missouri State), Johnson (eligibility), Mawien (transferred to Sacramento State), Chargois (eligibility), Issanza (transferred to Loyola Marymount), Harkless (transferred to UNLV).
2022-23 Season-Opening Roster: G Benny Schroder (6-7, Fr.), F Jalen Hill (6-6, Sr.), G Otega Oweh (6-5, Fr.), G Joe Bamisile (6-4, Jr.), F Sam Godwin (6-10, Jr.), F Yaya Keita (6-9, So.), G Milos Uzan (6-4, Fr.) G Bijan Cortes (6-3, So.), G C.J. Noland (6-2, So.), G Grant Sherfield (6-2, Sr.), G Jake Moser (6-3, So.), F Jacob Groves (6-9, Sr.), F Tanner Groves (6-10, Sr.), G Blake Seacat (6-4, Sr.), C Luke Northweather (6-11, Fr.)
How The Sooners Are Built
Returning Players (7): Hill, Cortes, Noland, Moser, Jacob Groves, Tanner Groves, Seacat
Transfers (4): Bamisile (transferred from Virginia Tech), Godwin (transferred from Wofford), Keita (transferred from Missouri), Sherfield (transferred from Nevada).
Freshman/Recruiting Class (4): Schroder, Oweh, Uzan, Northweather.
Potential starting lineup: Bamisile, Hill, Jacob Groves, Tanner Groves, Sherfield.
Why?: You know what you're getting with the Groves brothers and with Hill. Tanner Groves averaged 11.6 points and Jacob Groves only averaged 4.6 points, though the latter got much more playing time at the end of the season. He should be a more productive part of the offense from the start. Hill averaged 9.1 points. Hill and Groves were the Sooners' top rebounders last year. With Bamisile and Sherfield, the Sooners are getting two polished scorers. Bamisile averaged 16.3 points and Sherfield averaged 19.1 points. Sherfield averaged more than six assists per game last season, so he slides into Goldwire's point guard role. The lineup still needs more rebounding help, though. Hill and Tanner Groves only combined for about 11 boards per game last season.  
The bench: Cortes, Godwin, Keita, Noland
Why? Cortes is the backup point guard. Godwin is 6-10 and the Sooners need more rebounding depth in the frontcourt (but he only averaged 3.1 boards last season). Noland's growth was becoming clear at the end of last season, but he's not a scorer at Bamisile's or Sherfield's level yet. Keita's status is entirely dependent on his health. His season ended in February last season.
The wild card: Schroeder. He's a true wild card. He was considered ESPN.com's top international prospect in the 2021 Class, and he averaged 26.7 points per game in Eurobasket. He was a part of three national championship teams with Bayern Munich. How will that translate in Division I college basketball? Who knows. But, if it translates just a little, he poses a matchup problem because he's an extremely efficient shooter.
You can find Matthew Postins on Twitter @PostinsPostcard.