Iowa State Cyclones
Can The 'Dust Bowl' Join 'Farmageddon' as the Next Great Rivalry in the New Big 12?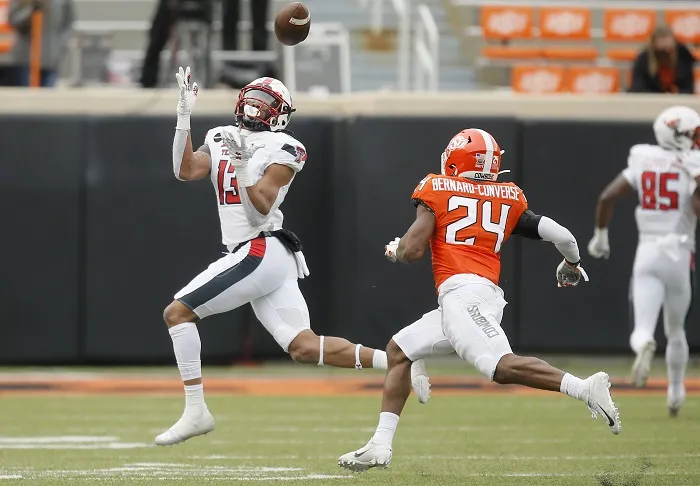 It's Red River Rivalry week in the Big 12, but that's probably not the best rivalry game in the Big 12 this weekend. Now it should be an interesting one, Texas has played spoiler to Oklahoma on multiple occasions as of late, but this time it's Oklahoma trying to save their Big 12 title hope, against what looks like a good Texas team. But the best rivalry in the Big 12 this week would have to be Farmageddon, in prime time between Kansas State and Iowa State. Iowa State's strength is its run defense, and Adrian Martinez's legs along with Deuce Vaughn will be a great matchup to watch. But is there another new rivalry brewing in the Big 12 this week, that could follow Farmageddon's footsteps? Maybe Texas Tech at Oklahoma State in the unofficially named "Dust Bowl."
History of Farmageddon
This Saturday will mark the 106th consecutive year that Iowa State and Kansas State face off, but it wasn't always considered a rivalry. Despite being in the same conference since 1913 when Kansas State joined the then Big Six conference, and their shared history of land grant schools, it used to be no more than a conference game. But in 2009 that changed with Iowa State being a struggling program for decades and Kansas State, excluding the Bill Snyder era, being the same way, both administrations came to an agreement to try to push it into a rivalry to increase interest and revenue. In 2009, and 2010 the game was played at Arrowhead Stadium in Kansas City, much like Texas-Oklahoma, and Texas Tech-Baylor. It wasn't quite the success many would have hoped, there were less than 41,000 in attendance at both games, which isn't a horrible showing but not the level of Kansas and Missouri in the same stadium. 
Since then though the rivalry has really heated up, despite Kansas State winning 10 straight from 2008-2017. For Cyclones fans that 2017 one probably stings the most after starting 6-2 they'd lose two of their next three entering Farmageddon, but still had legitimate hopes of finally ending the skid against the Wildcats. However, those hopes were dashed when Skylar Thompson took the Wildcats on an 87-yard, 1:55 drive, culminating in a last-second touchdown pass to win by one. Beating the Cyclones in their best season since 2000, and extending their dominance over the 'Clones to ten straight. However, the Cyclones would bounce back winning three of the next four, including a 45-0 beatdown in 2020, where they'd make it to the Big 12 title game for the first time ever. What started as a made-up rivalry that failed to compare to the Border War, has now turned into a heated one. With Kansas State and Iowa State fans arguing relentlessly about their head coaches, and agricultural things such as wheat vs corn. Even if its beginnings may not be the most natural start, it's quickly become one of the most important games for both teams and has garnered a primetime slot this week, even during a crowded Big 12 schedule.
History Between Oklahoma State and Texas Tech
Two schools that could easily follow Farmageddon would be Oklahoma State and Texas Tech. For Oklahoma State, their hated rivals in Norman are leaving, and it's already been announced the rivalry won't continue. Texas Tech had already lost the school they hated the second most in Texas A&M, and with Texas on their way out it seems they'll be left without games against either for the first time since 1956. With Baylor and TCU already being each other's primary in-conference rivals, it would make sense for both Oklahoma State and Texas Tech to promote their games as a rivalry, much like Iowa State and Kansas State did.
The two teams haven't been playing each other nearly as consistently as Iowa State and Kansas State, but Saturday will mark their 50th all-time meeting, and 27th straight. They first played in 1935, with Texas Tech winning each of the first three meetings in consecutive years. They'd play throughout World War II from 1940-1946, with Oklahoma State winning four, Texas Tech taking two, and one tie. After that meetings became more spread out with meetings intermittently through the fifties, sixties, and seventies, Texas Tech would win six, Oklahoma State would take three, and two ties over that span. After the 1975 meeting, it wouldn't be until 1988 that the two would meet again, when they'd take the series to Tokyo, Japan. It was a fruitful day for the Pokes for a couple of reasons. First, they'd get the win 45-42; secondly, Barry Sanders would win the Heisman that morning. The following year the two would meet as non-conference foes for the final time as Texas Tech would get the 31-15 win in Stillwater.
In The Big 12
The history of the two schools and notions of becoming rivals didn't just start recently either. In fact, their first meeting as a conference matchup was played at a neutral site in Texas Stadium. Texas Tech would take that one and win six of the first seven meetings in the Big 12. They'd then trade wins through the 2008 game where Texas Tech came in undefeated and ranked No. 2, and Oklahoma State entered with one loss and ranked No. 8. It was an extremely hyped game, being played in primetime on ABC. It wouldn't live up to the hype though as Texas Tech ran away with it 56-20, a redemption of sorts following their painful loss to Oklahoma State in 2007 where Crabtree dropped a would-be game-winning touchdown on fourth down. However commanding the 2008 win was, the feeling for Texas Tech fans in the series wouldn't last long.
Until 2009 Texas Tech held a commanding lead in the series but the Cowboys would go on to win the next nine meetings and tie up the series in 2017 for the first time since 1945. There were some especially ugly wins in that time, namely that great Oklahoma State team in 2011 that slaughtered Tech 66-6 in Lubbock. While the next year wasn't as bad in comparison they did deliver a massive 59-21 beatdown the following year in Stillwater. The games would tighten at the end of the run with Texas Tech dropping the 2016 game on the road 45-44, because of a late missed extra point. In 2017, Oklahoma State entered a packed Jones AT&T Stadium ranked No. 15 to take on a 3-0 Texas Tech, and won a thriller 41-34.
After tying the series in 2017, the meetings would move from streaks by teams to chaos. In 2018 it looked as if Oklahoma State would take the series lead for the first time, they entered as heavy favorites and it was at home. But that wouldn't happen, and in fact, the opposite did. Alan Bowman would have one of his best games as a Red Raider and would get a blowout 41-17 win in Stillwater. In 2019 Oklahoma State entered as a touchdown favorite, but again the Red Raiders would shock them taking a 45-35 win. 2020, was a wild game that included a surprise Tech onside kick in the 3rd quarter with the lead, resulting in an Oklahoma State kick return touchdown. Texas Tech would fight back from a 50-31 deficit, with four minutes to go but come up short losing 50-44. Last year the game went more according to the script, with a great Oklahoma State defense dominating Donavan Smith who was just making his second career start, to tie the series up once again.
Could it be a Rivalry?
Whether you'd want to call this the Dust Bowl or Red Dirt Rivalry is still up to you, but there are many cultural similarities between the two schools. Both cities are massive contributors to the Red Dirt scene, and both schools have had to play second fiddle to other schools in their states. While Texas Tech has been down for a decade they're making major investments to their facilities much like Oklahoma State did with Pickens. Add in Texas Tech fans regularly call them Xerox U for mirroring their traditions, this could be a great future rivalry in the New Big 12.