Kansas Jayhawks
Rob Riggle Named Celebrity Guest Picker for College Gameday in Lawrence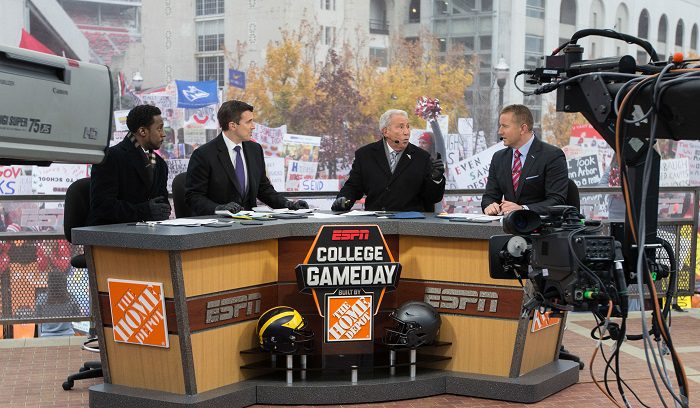 There are a lot of good things going on in Lawrence, Kansas, this Saturday and among those is ESPN's College Gameday which showed up in town yesterday to set up for college football's premier pregame show.
The No. 19 Kansas Jayhawks are set to host the No. 17 TCU Horned Frogs in a battle of ranked and undefeated Big 12 foes. With Gameday in town for the big matchup, the tradition is to have an alum or famous fan of the host school to appear on the show as a celebrity guest picker to make selections near the show's conclusion.
This week's guest: actor and comedian, Rob Riggle.
Riggle, who has starred in films such as Step Brothers, 21 Jump Street, and The Hangover, is a Kansas alum and die-hard Jayhawks fan. In addition to being a well-known actor and comedian, Riggle also served as an officer in the United States Marine Corps, and retired in 2013 after 23 years of service.
With Riggle among the cast, there will be at least one of the members of tomorrow's cast selecting the Jayhawks but I would be surprised if there aren't more after how KU has played to this point in the season.
College Gameday will start at 8:00 a.m. CT, with TCU-Kansas kicking off at 11:00 a.m. CT.