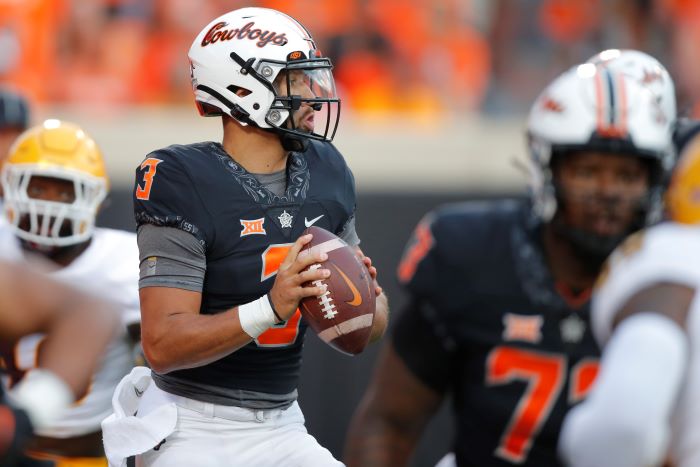 Here is everything you need to know about the upcoming matchup between the Texas Tech Red Raiders and the Oklahoma State Cowboys.
GAME INFO
Saturday, October 8, 2022; 2:30 p.m. CT; Boone Pickens Stadium; Stillwater, Oklahoma
TV: FS1 (Eric Collins and Devin Gardner)
Radio: Texas Tech Sports Network (Brian Jensen, John Harris, Chris Level);Cowboy Radio Network (Dave Hunziker, John Holcomb, Robert Allen)
Records: Texas Tech 3-2 (1-1); Oklahoma State 4-0 (1-0)
Rankings: Texas Tech unranked; Oklahoma State ranked No. 7 (AP Top 25)
Last Week: Texas Tech 28, Kansas State 37; Oklahoma State 36, Baylor 25
Series History: Series Tied 23-23-3
Last Meeting: Oklahoma State 23, Texas Tech 0 (2021)
Favorite: Oklahoma State (-9.5)
Fun Fact: In the new-look Big 12, Texas Tech and Oklahoma State could become one of the most contested rivalries in the conference and is the only pairing of teams in the Big 12 to have a tied all-time series record heading into this week. Despite winning 11 of the last 13 games, Oklahoma State has never led in this series.
KEY PLAYERS
TEXAS TECH RED RAIDERS
QB Donovan Smith
Texas Tech's success this year follows the play of quarterback Donovan Smith and how well he takes care of the football. Last week, Smith threw two costly interceptions against K-State and the Red Raiders went down 37-28 in Manhattan. The week before, Smith was turnover-free and Texas Tech pulled off the upset over Texas. In this game, Smith will need to be smart with the football and make good decisions, because giving this Oklahoma State offense extra possessions right now is not a good recipe for success.
LB Tyree Wilson
If you aren't aware yet, one of the premiere pass rushers in not only the Big 12 but in the country, resides in Lubbock with Tyree Wilson. Wilson is tied for sixth nationally with five sacks and also has a forced fumble to his credit as well. An imposing athlete on the edge at 6-7, 275 pounds, Wilson can get after the quarterback in plenty of ways and will need to do so against Oklahoma State if they are to find any success in slowing down the Cowboys' attack.
OKLAHOMA STATE COWBOYS
QB Spencer Sanders
The 2021 Big 12 Offensive Player of the Year has picked up right where he left off last season, as Spencer Sanders leads one of the best offenses in the Big 12 with 15 total touchdowns. Sanders has completed 66.1% of his passes for 1,097 yards through four games and looks to be in command of the offense even more than he was last season. If Sanders can continue the trend that he has set so far, Oklahoma State is going to be tough to stop.
S Jason Taylor II
Jason Taylor has been a rock in the Oklahoma State secondary to this point in the season, and his steadiness and experience is a calming presence amongst a lot of change on that side of the ball in Stillwater. Taylor had a huge interception late in the game against Baylor last weekend and it will be important that he continues to be a playmaker for the Pokes going forward. He will certainly be busy this week with Texas Tech and Zach Kittley's Air Raid scheme coming to town.
KEY STORYLINES
TEXAS TECH RED RAIDERS
Can Texas Tech's passing scheme give Oklahoma State enough fits to pull off the upset? The glaring issue for Oklahoma State to this point in the year has been the passing defense, which ranked 122nd nationally with 285.2 passing yards surrendered per game. Texas Tech will air it out like nobody Oklahoma State has seen to this point, and if they can connect on some deep shots, it could turn this game into a boat race that Texas Tech could hold up in.
OKLAHOMA STATE COWBOYS
Oklahoma State's offense ranked fifth nationally with 47.8 points per game, and should feel good about where that side of the ball is right now. Defensively, the Pokes showed some resolve late in the game against Blake Shapen last week, sealing a Cowboys' win with two late interceptions. Can they replicate that against Donovan Smith and the Red Raiders, or will they have to turn to Spencer Sanders to win the game for them in a shootout?
PREDICTION: OKLAHOMA STATE 44, TEXAS TECH 38
Remember when these two teams were the pace cars for high-powered offenses in the 2010s? I think we will get a glimpse of that in this game as a barn burner breaks out in Stillwater. Oklahoma State and Texas Tech will exchange blows in a thrilling back-and-forth game that seemingly has no end. However, the Oklahoma State defense will rise up as it did late against Baylor and pick off Donovan Smith to seal a victory for Oklahoma State, giving Oklahoma State the lead in this series for the first time ever.