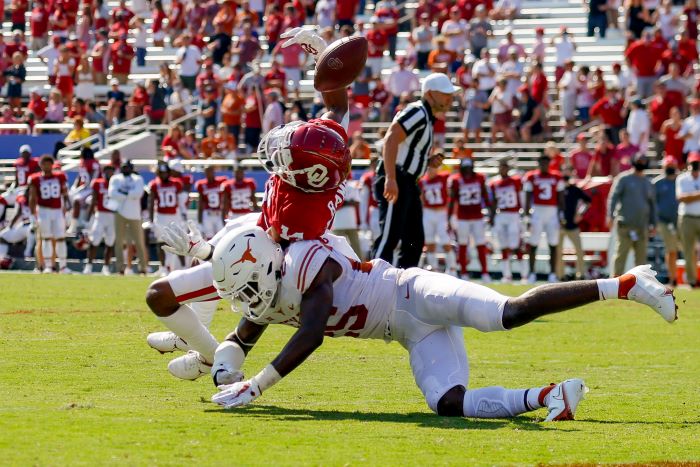 Here is everything you need to know ahead of the upcoming matchup between the Texas Longhorns and the Oklahoma Sooners in the Red River Showdown.
GAME INFO
Saturday, October 8, 2022; 11:00 a.m. CT; Cotton Bowl Stadium; Dallas, Texas
TV: ABC (Joe Tessitore, Greg McElroy, Katie George)
Radio: Longhorn Sports Network (Craig Way, Roger Wallace, Will Matthews); Sooner Sports Network (Toby Rowland, Teddy Lehman, Gabe Ikard, Chris Plank)
Records: Texas 3-2 (1-1 Big 12); Oklahoma 3-2 (0-2 Big 12)
Rankings: Texas unranked; Oklahoma unranked
Last Week: Texas 38, West Virginia 20; Oklahoma 24, TCU 55
Series History: Texas leads 62-50-5
Last Meeting: Oklahoma 55, Texas 48 (2021)
Favorite: Texas (-6.5)
Fun Fact: Oklahoma ranks 126th out of 131 FBS teams this season in average time of possession (25:22) and has not held a time-of-possession advantage in any of their five games. Texas ranks 123rd with an average TOP of 26:11. Its only game with a TOP advantage was in its second contest of the season against No. 1 Alabama (30:44-29:16).
Key Players
Texas Longhorns
QB Quinn Ewers
The time has come for Quinn Ewers to make his return to the football field for Texas and it will be against a reeling Oklahoma defense that has given up points and yards in bunches over the last couple of weeks. It's a good chance for the Longhorns to build some major momentum going into the teeth of their schedule and breaking the Sooners' four-game winning streak would be a great place to start. Ewers showed what he was capable of against Alabama a few weeks ago, and if he can play to that level against OU, he could have a career day.
LB Jaylan Ford
One of the emerging leaders for Texas defensively has been linebacker Jaylan Ford. The junior out of Frisco, Texas, has tallied double-digit tackles in all four games that he has appeared for Texas thus far. With 52 total tackles, Ford ranks 14th national in stops, and with 31 solos, he comes in at seventh nationally. He will be busy on Saturday as Oklahoma will likely have a heaving running attack with the likelihood that Oklahoma will be without its starting quarterback.
Oklahoma Sooners
Oklahoma QB
For the time being, it is probably safe to assume that Oklahoma quarterback Dillon Gabriel will miss Saturday's contest against Texas while dealing with concussion protocol. With Gabriel out, the Sooners are in a tough position in the backfield, as it will be forced to start either Davis Beville for the first time, or General Booty or Nick Evers, neither of which has ever started in an FBS game. Without Gabriel in the game, Oklahoma's playbook will be extremely limited against Texas, which is not a good thing for a team coming off back-to-back losses.
DE Reggie Grimes
Oklahoma's defense has struggled mightily in each of the past two games, and a lot of that has been the disappearance of the Sooners' pass rush. Defensive end Reggie Grimes looked to be on his way to one heck of a season through three games but hasn't recorded a sack or tackle for loss since the Nebraska game. In fact, Oklahoma was tied for fourth nationally in sacks heading into Week 3 but has not recorded a single sack since then. If that continues against Texas this week, things could get ugly in Dallas.
Key Storylines
Texas Longhorns
Can Texas shake Oklahoma's stranglehold on this rivalry game as of late? The Longhorns haven't won back-to-back conference games in over a year, but seem to have the Sooners over a barrel going into this game. With Oklahoma down its starting quarterback and its defense struggling to give any sort of resistance to opposing offenses, now is the time for the Longhorns to pounce on Oklahoma and get a much-needed win. Steve Sarkisian and the Longhorns remember what OU did last season, when it posted an amazing comeback for the ages, so the motivation to win this game will be at no shortage in Austin this week.
Oklahoma Sooners
How will Oklahoma score points, let alone defend Texas? There were blown assignments and missed opportunities left and right against TCU, and with the team reeling right now, it feels like OU has its back firmly against the wall. Davis Beville was 7/16 for 50 yards last week, which will not get it done in the Cotton Bowl. Defensively, Oklahoma has to find a way to keep Texas from piling up points. The Sooners gave up 668 yards of offense and 55 points to TCU last week, and the Horned Frogs called off the dogs mid-way through the third quarter in that game. Wholesale changes will need to be made for the Sooners if they hope to make this game competitive.
Prediction: Texas 41, Oklahoma 24
Yes, this is the Red River Rivalry. These games are always crazy close and competitive to the end. However, Oklahoma has several injuries to key players and even before losing them last week, OU looked out of sorts. I expect the Sooners to keep this game close for a half, but Texas' offense finds its stride after the halfway point and a dejected Sooner defense crumbles as the Longhorns pour on points. Without Gabriel, OU will struggle to keep up in the end and Texas leaves the Cotton Bowl donning the Golden Hat for the first time since 2018.