Big 12 News
Who are the Big 12's 2023 NFL Draft best prospects?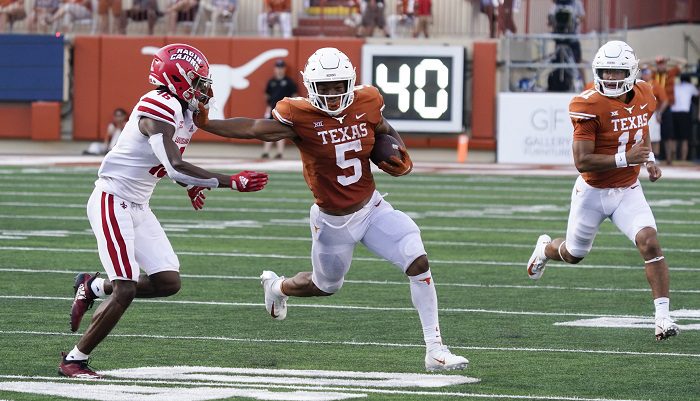 From professional NFL to amateur college organizations, football is consistently on top of the sports streaming trends in the US. It gets exhilarating for college football players striving to turn pro as the annual NFL draft draws nearer. While spring is several months away, lists of the best candidates are constantly being created, discussed, and revised. Here are three of the top Big 12 prospects for the 2023 NFL draft:
Quentin Johnston, TCU Horned Frogs
This could be a big year for the wide receiver from Temple, Texas. At 6'4'' and weighing 215 lbs, he has an ideal build for the sport. Formerly a basketball player and track star, Johnston successfully translated his athletic talents into football. He was rated a four-star recruit and, coming from high school, received offers from Oklahoma and Texas. On the field, Johnston is a formidable threat to his opponents thanks to his quick reactions, a blend of burst, explosiveness, and physicality. As a sophomore in 2021, he had 33 catches and six touchdowns in nine games and was selected for the All-Big 12 First team.
Tyree Wilson, Texas Tech Red Raiders
Born in Henderson, Texas, Wilson is a 6'6'' 275 lbs outside linebacker powerhouse. Starting at Texas A&M, he transferred to Texas Tech in 2020. Wilson amassed 38 tackles, seven sacks, and 13 tackles for loss across 13 games in the last season.
His large frame and arm-length advantage make him a true force on the field. He boasts great speed, exceptional acceleration, and massive strength. Wilson's performance earned him recognition as the game's defensive MVP after making two sacks for loss in the 2021 Liberty Bowl and an All-Big 12 honorable mention.
Bijan Robinson, Texas Longhorns
Robinson is a 6'0'' 220 lbs running back from Tucson, Arizona. Another four-star recruit, he was offered plenty of scholarships upon finishing high school. Last year, he appeared in 10 games and rushed for 1,127 yards, averaging about 5.8 yards per carry, with 11 touchdowns. Due to his outstanding performance, Robinson is no stranger to receiving honors.
After his stellar freshman year, the running back was placed on the preseason watch list for the Doak Walker Award and the Maxwell Award. He was also voted for the All-Big 12 First Team after the 2021 season and named the Big 12 Offensive Player of the Year. Robinson recently made the Earl Campbell Tyler Rose Award watch list. Considered an elite running back, Robinson has an impressive skillset that combines speed, power, and balance. Robinson has established himself as one of the top NFL prospects since his freshman season, and it is predicted that his name will appear in the upcoming draft.
The 2023 NFL Draft class is loaded with excellent young prospects, and all eyes will be on them in the coming months. The event generates tremendous interest each year and counts millions of viewers nationwide. Many fans are excited to see the newly drafted players who will join their favorite teams. It is a culmination of years of dedicated hard work and perseverance for the college stars. The whole weekend is bound to be filled with anticipation and emotional reactions.