Kansas Jayhawks
Bill Self on College GameDay: 'We're a Basketball School and We'll be a Football School!'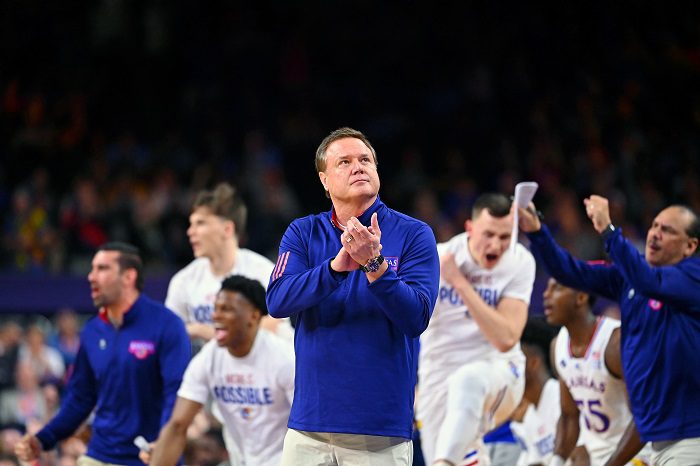 One of the highlights of College GameDay in Lawrence on Saturday was Bill Self's interview as he discussed how Kansas football has come along under Lance Leipold.
At one point, after Self got fired up by Pat McAfee, Self got the crowd going when he said, "You know we are a basketball school… AND we'll be a football school! I don't know why we can't be both. It's been done here before… It's been great offseason. We love our ball here. And now everyone can see we love a football winner as well. This is good for basketball."
Here's the video of Self's comments.
Self also shared the first advice he gave Lance Leipold when he was hired as the head coach, saying, "The thing I told him is, there's been a lot of people come here since 2008, who really haven't done as well, and I would take my time, no short cuts. People will love you here if you take your time."
Kansas football has been arguably the worst team in the Power 5 for the last 10 years, as Lance Leipold has been the sixth coach since Mark Mangino was fired in 2009.
But things are turning around faster than anyone could have predicted in Lawrence, as KU is 5-0 for the first time since 2009, although they finished that season 5-7.
Kansas is hosting TCU on Saturday in a battle of undefeated Top 25 teams in the Big 12.