Big 12 News
Brett Yormark's College GameDay Interview Highlights: 'Ratings are Up, Attendance is Up'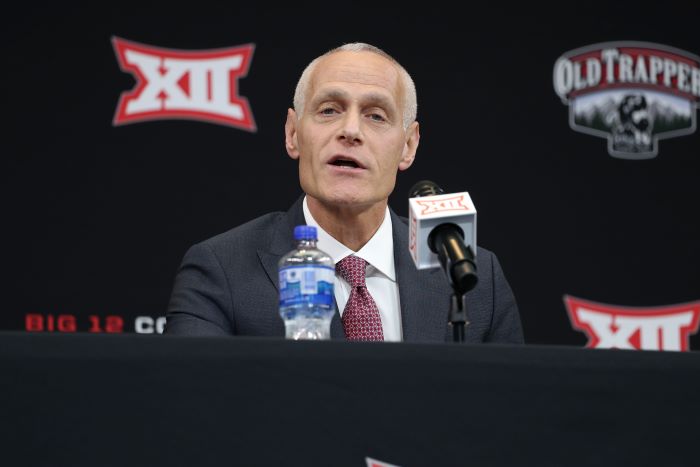 College GameDay was in Lawrence, Kansas on Saturday ahead of the Kansas Jayhawks and TCU Horned Frogs match up and new Big 12 commissioner Brett Yormark sat down for an interview with ESPN's Pete Thamel.
The conversation began with the parity in the league, to which Yormark said, "When you just think about the season, the parity, ratings are up, attendance is up. Today, three of our four games we have ranked opponents competing. It's just a great time for this conference and we're excited about where we are going."
A swipe at the Red River Rivalry, perhaps? Oklahoma vs. Texas is the only game in the Big 12 in Week 6 that does not feature at least one ranked team.
Yormark went on to hype up the quality basketball in the conference as well, telling Thamel, "And when you look over our shoulders (at the Kansas fans), we're the best basketball conference in America, starting here in Kansas, and we're just getting better and better and better."
There's no doubt the Big 12 is having arguably its most-exciting season ever as the Big 12 has been as unpredictable as its ever been, and more unpredictable than any conference in America this season. In fact, the underdogs are 7-2 straight up in nine conference games this year.
And it's not mediocre parity either. Advanced metrics show the Big 12 Conference has been the neck-and-neck with the SEC as the best college football conference in America so far this season.
These are exciting times for the Big 12 Conference and the league is fortunate to have Brett Yormark leading the way into the future.
Here's video from Yormark's interview as well.