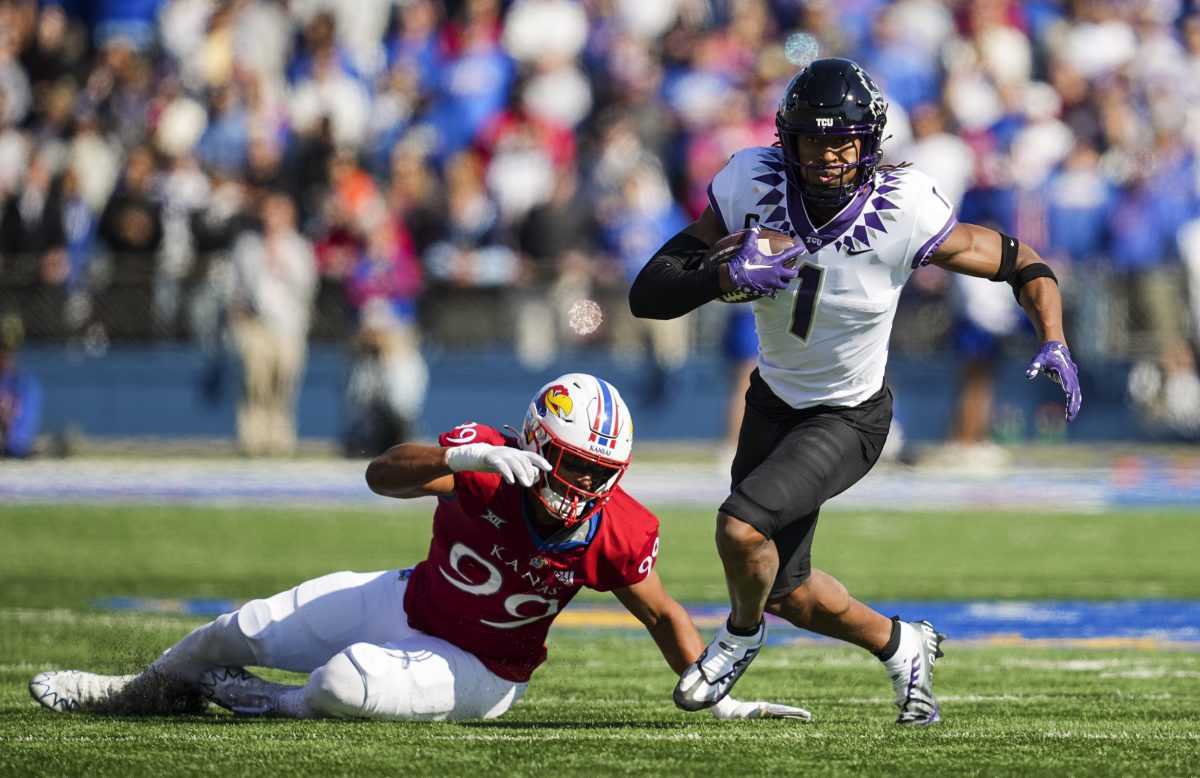 Another weekend of Big 12 football is upon us and what a day it is going to be. There are plenty of big-time matchups in the conference including the Red River Showdown however, there was a top 25 matchup in Lawrence, Kansas today.
With College GameDay there and a battle between two undefeated teams, you just knew there was going to be plenty of drama and there was. Here are my four thoughts on TCU's 38-31 win over Kansas.
1. Welcome Back Quentin Johnston
Coming into the season, I thought TCU wide receiver Quentin Johnston would have a monster year. He finished the 2021 season with 612 yards and six touchdowns, and I expected him to easily get to 1,000 yards this year. After a slow start in his first four games, Quentin had a breakout performance against Kansas as he caught 14 passes for 206 yards and a score. Prior to today's game, Johnston had a total of just 12 catches for 114 yards and a touchdown and he just had more yards against Kansas than he has all season combined. Welcome back Quentin Johnston and TCU needs to keep finding ways to get him the football.
2. TCU is a Contender with Max Duggan
Nobody (including myself) was talking about TCU heading into the season. I was unsure of the quarterback situation and I had even more questions surrounding the rest of the team. Now this team sits at 5-0 and 2-0 in conference play with a win over Oklahoma and a top 25 Kansas team. That Oklahoma win may not be as impressive as it was a week ago but still, there is a lot to like about this team. They are tough and I don't think there is any question about who the quarterback is moving forward. This is Max Duggan's team, and he had another great day throwing for 300 yards and three touchdowns. With him playing like he has been this season, this TCU team is for real.
3. Kansas Made Mistakes
If there was one big reason why Kansas couldn't get the job done against TCU it was because of turnovers. Jalon Daniels fumbled the ball at the goal line in the first half and then Jason Bean threw an interception in the red zone late in the third quarter. Plus, kicker Jacob Borcila missed a 31-yard field goal in the same quarter. The Jayhawks definitely left some points on the table that could have helped them win the game.
4. Keep Your Head Up Kansas
Despite suffering their first loss of the year, there is still so much to like about this team. The offense struggled in the first half and even when star quarterback Jalon Daniels went out with an injury, Jason Bean came in and did a fantastic job. Bean threw a whopping four touchdown passes in the second half and was arguably one bad no-call pass interference away from possibly tying the game at 38 late in the fourth quarter.
Still, through six games this team is 5-1 and just got done hosting College GameDay. There is still plenty of buzz surrounding this team and this program right now. Kansas is just one win away from becoming bowl eligible for the first time since 2009. They still have a lot to play for and I am sure Lance Leipold knows that as well.