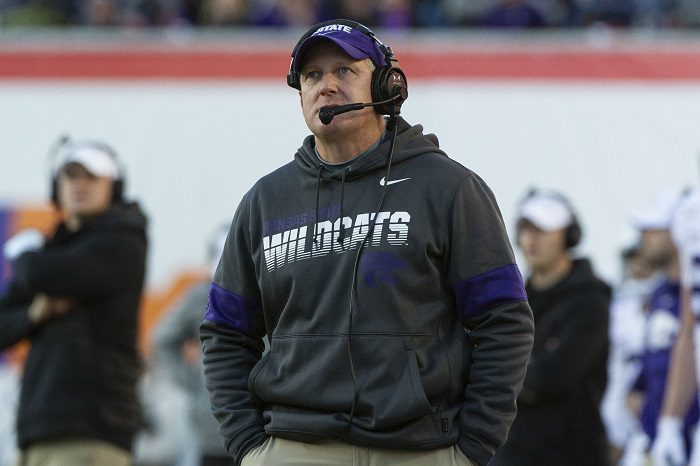 What a day of football it was in the Big 12. We had College GameDay in Lawrence for the Kansas/TCU game, and we also had the Red River Showdown earlier on Saturday. Those two games were followed up by a high scoring Oklahoma State/Texas Tech game before the nightcap in Ames.
As good as the other games were, it's hard to beat the Kansas State/Iowa State rivalry known as Farmageddon. It was the 106th meeting between the two schools and of course once again it came down to the wire. Here are my three thoughts on Kansas State's 10-9 win over Iowa State.
1. Kansas State Found a Way to Win
Sometimes winning doesn't have to be pretty. As long as you win, it doesn't matter how it looks. That was the case for Kansas State on Saturday night in Ames. The offense made a big play early when Adrian Martinez found Phillip Brooks for an 81-yard touchdown. Unfortunately, that would be the only touchdown we would see the entire game between both teams. The Kansas State offense had a tough time against the Cyclones defense but luckily their defense also played great. They kept Iowa State's offense in check and really buckled down when they needed to most. When it was third or fourth down, this defense found ways to get key stops and without those, Kansas State would not have won the game.
2. Iowa State's Offense is Lost
If anyone reading this can find Iowa State's offense, please call Matt Campbell. I really am not sure what to say about this offense other than it has been extremely tough to watch over the last two weeks. Hunter Dekkers doesn't look comfortable out there as he is missing some throws and the run game is still not where it should be. This offense has yet to rush for more than 80 yards over the last three games and has scored just one touchdown in their last eight quarters of football. The execution isn't there and I do believe that there should be some blame on offensive coordinator Tom Manning. It's a shame that this offense is this bad because this defense is good enough to compete for a Big 12 title.
3. Kansas State is a Contender
Speaking of competing for a Big 12 title, say hello to the Kansas State Wildcats. I know the loss to Tulane is a bad blemish on the resume, but this team is now 3-0 in the Big 12. The defense is rock solid and can keep them in almost any game, but the question will be the offense. I would like to see more from the offense but when Adrian Martinez and Deuce Vaughn are running the ball watch out. There is still plenty of football left and the schedule really starts to pick up after their bye week. Their next four games are against TCU, Oklahoma State, Texas, and Baylor. We are going to find out a lot more about this team in late October and early November, but they belong at the top right now alongside TCU and Oklahoma State.