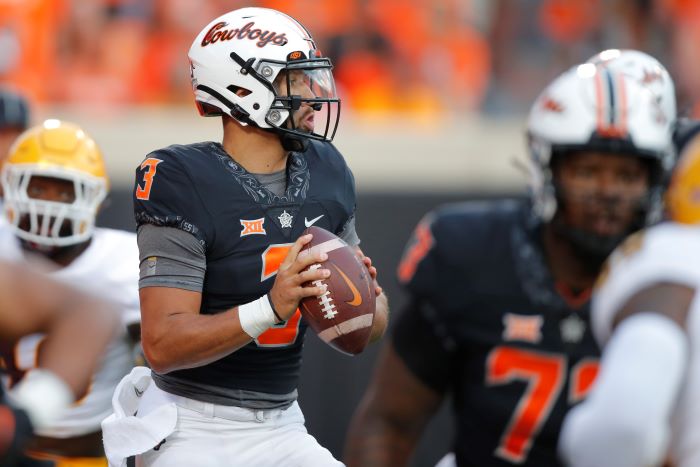 The Oklahoma State Cowboys welcomed the Texas Tech Red Raiders into Stillwater on Saturday for the Dust Bowl. The Pokes were fresh off a road win against Baylor, while the Red Raiders lost last week in Manhattan to K-State.
The Cowboys went on to win the game 41-31 to improve to 5-0 on the season, while the loss drops Texas Tech to 3-3. Oklahoma State will remain in the Top 10 come Sunday's Top 25 AP Poll and will be at least tied for first place in the Big 12 Conference.
Here are three thoughts on the game.
1. Welcome to the Show, Behren Morton
Redshirt freshman and former four-star recruit Behren Morton got the start due to an injury to Donovan Smith and he proved why he was worthy of being in the quarterback race against Tyler Shough and Smith. Morton came out slinging and never stopped throughout the afternoon. He's certainly not the reason his team lost, even if his second half interception led to the points that put the Cowboys up late in the third quarter.
Behren finished his first career start going 39/62 for 379 yards, two touchdowns and one interception. There's no doubt that Texas Tech has shown it has the deepest quarterback room in the Big 12 Conference this season. Maybe McGuire can lend one of them to the Sooners… for a price?
2. Oklahoma State Spent Plenty of Time in the Tech Backfield
As expected, Oklahoma State's front seven spent much in the Texas Tech backfield. The Cowboys defensive line had a huge advantage over the Tech offensive line. Look at these numbers for Oklahoma State's defense: four sacks, 14 tackles for loss and 12 quarterback hits against Behren Morton. Brock Martin led the Pokes with two sacks and three tackles for loss on the afternoon.
This was what I expected to happen in this game, but Texas Tech's offense did outgain Oklahoma State's, putting up more than 500 yards thanks to a passing game that was effective in getting the ball out early. However, Oklahoma State did have a bend-but-don't-break defense most of the afternoon that was very effective.
3. The Dust Bowl Continues to Get Better
This was another great game between these two teams that came down to the last few minutes. Oklahoma State and Texas Tech have played each other to within 10 points in five of their last eight match ups.
And you can always bank on this game lasting four hours and the "over" hitting. I'm not big on forcing rivalries, and I'm not suggesting it's a rivalry that will get national attention, but as the new Big 12 starts to find itself in the coming years, this is a game that should continue to be one of the better ones in the league.
And when you throw in Mike Gundy and his style and combine it with Joey McGuire, who continues to prove he will go for it on 4th down when many others wouldn't, this match up continues to have a chance to only get better and crazier.