featured
Three Thoughts on Texas' 49-0 Win Over Oklahoma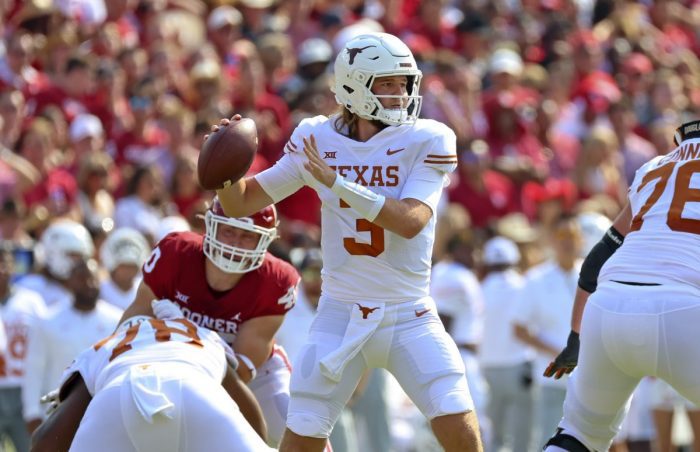 The Red River Showdown has been one of the most dramatic and hard-fought rivalries in college football over the years, but that was not the case in Dallas today as it turned into a Red River Rout with Texas blowing out the Oklahoma Sooners, 49-0.
Today was a great day to be wearing Burnt Orange and yet another embarrassing day to don the Crimson and Cream, as the Longhorns took it to Oklahoma from the opening whistle.
Oklahoma's offense was completely inept without Dillon Gabriel available, but perhaps even more frustrating for Sooner fans was the OU coaching staff's unwillingness to make any changes at the quarterback position.
To the delight of Texas fans everywhere, that made this game an easy victory for Steve Sarkisian's squad. Here are three thoughts on the game and what it means going forward.
Texas With Quinn Ewers is a Big 12 Contender
As bad as Oklahoma looked today, the Longhorns' offense under Quinn Ewers looked like something that the rest of the Big 12 needs to take heed of. Ewers was 21-31 for 289 yards and four touchdowns on Saturday, but did have one errant throw that ended up being an interception. Nonetheless, Ewers played a terrific game against an Oklahoma defense that has made the last three quarterbacks its played look like Heirman contenders. Texas moves to 4-2 (2-1 Big 12) after the huge victory and will welcome Iowa State to Austin next weekend. The way that Texas played today, both offensively and defensively, should have the rest of the Big 12 at least keeping an eye on what is going on in Austin now that Quinn Ewers is back in the fold.
Longhorns' Defense Shuts Out OU for First Time Since 1998
While we knew that Oklahoma's offense without Dillon Gabriel would be bad, it was historically bad today and Texas made sure that Oklahoma felt this one. The Sooners hadn't been shutout since 1998 against then Big 12 foe Texas A&M, but that streak ended today as UT held the Sooners to 0 points and just 195 yards of offense. Oklahoma quarterback Davis Beville was 6-12 for 38 yards and an interception today, but credit the Longhorn defense who tallied three sacks, 11 tackles for loss, and held Oklahoma to just 3.3 yards per play. Look for Texas to build off of this defensive performance next week, and if they can do so, should be a team to look out for down the stretch of the Big 12 race.
Oklahoma Has Historically Bad Performance in Cotton Bowl
Oklahoma didn't just play a bad game today, it was one of the worst performances in OU's history. The Sooners didn't score an offensive touchdown in the game, the first time that has happened since it faced Nebraska in 2009. It was shut out for the first time since 1998, and that is also the last time that Oklahoma last three consecutive games. It is clear that the Sooners had a lot to work on before this game, but now questions will start to come from every direction about where OU goes from here. This is headed towards being a complete and total disaster of a season in Norman after Texas just handed the Sooners their worst shutout loss in school history. It doesn't get much worse than it has been for Oklahoma over the last few weeks, as Oklahoma has now lost back-to-back games by 30 or more points for the first time ever. There were a lot of firsts today for OU, but unfortunately, none of them were positive.