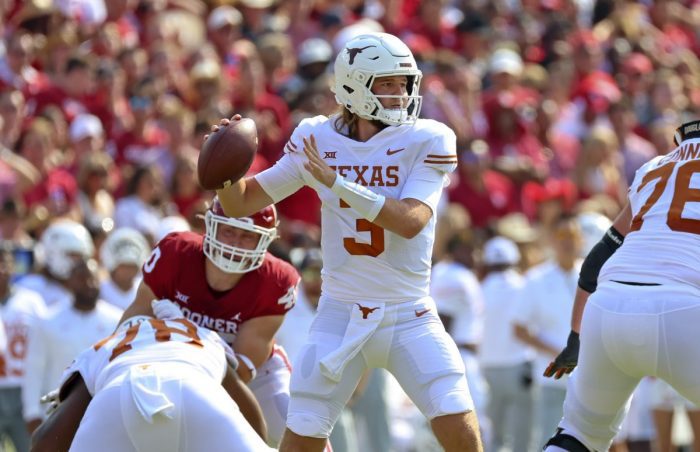 Another week has come in gone in the Big 12 Conference. After a great Saturday of games, there is always plenty to discuss. The race for the conference title is in full swing as the Big 12 remains wide open. Here is the good, the bad, and ugly from Week 6 in the Big 12.
The Good
Texas (Beat Oklahoma 49-0)
I know Oklahoma was down, but Texas played their best game of the season on Saturday. They truly played a full four quarters of football. Quinn Ewers was excellent as he threw for four touchdown passes on the day. Combine that with Bijan Robinson's 130 yards and two scores and you have yourself a big game offensively which is what happened against Oklahoma. Defensively, they completely dominated and shut down whatever the heck Oklahoma was trying to do on offense. From start to finish, they kept their foot on the gas and never put the brakes on unlike other games. Congrats to Steve Sarkisian and this team for taking care of business. They look extremely good with a healthy Quinn Ewers, and they have a chance to make some noise in the Big 12 this year.
TCU (Beat Kansas 38-31)
The Frogs didn't even play their best game, yet they walked out of Lawrence with a win over a Top 25 Kansas team. Max Duggan had a great second half, but this game was all about wide receiver Quentin Johnston who had a breakout party. Johnston had 14 catches for 206 yards and a touchdown which is more than he had in his first four games combined. Even when their defense struggled to get stops in the second half, this offense carried them to a big win on the road. I am serious when I say that this team with Max Duggan at quarterback should be in the Big 12 title mix.
Oklahoma State (Beat Texas Tech 41-31)
What a fun throwback Big 12 game this was. There was plenty of offense to be found in Stillwater on Saturday afternoon and Oklahoma State certainly brought theirs. Spencer Sanders didn't have his best day, but he certainly made some plays with his legs as he scored twice on the ground. It was also a big day for wide out Bryson Green who had a career day with 155 yards and a touchdown. I was really impressed with Oklahoma State winning by double digits because they had so many injuries in the game and still, they find themselves at 5-0 on the season.
Kansas State (Beat Iowa State 10-9)
It wasn't pretty at all, but Kansas State found a way to win the game on the road. Adrian Martinez hit Phillip Brooks for an 81-yard score early and that turned out to be the only touchdown of the entire game. Luckily, Kansas State relied on their defense to win the game as they kept Iowa State in check all game long. They got off the field when they needed to and buckled down when Iowa State crossed the fifty-yard line. Say what you want about Kansas State, but they are now 3-0 in the Big 12 and are a true threat to win a Big 12 title.
The Bad
Kansas (Lost 38-31 to TCU)
For the first time all season, Kansas makes my bad list. I thought it would have been much sooner than this, but they proved the entire country wrong this year. Whenever Jalon Daniels was out of the game, I didn't think Kansas would stand a chance against TCU. Yet, backup quarterback Jason Bean threw four touchdown passes in the second half. Much like their opponent, the offense ended up carrying the load. The problem for Kansas was that they made too many key mistakes. The offense had two red zone turnovers (including one right at the goal line) and a missed field goal. They left a lot of points off the board in those three drives which could have easily won them the game. Despite the loss, I am still impressed with the way this team fought and shoutout to the Kansas fans for packing the stadium and being rowdy on College GameDay.
Texas Tech (Lost 41-31 to Oklahoma State)
It was yet another tough road loss for the Red Raiders. However, they made the switch to Behren Morton at quarterback and for his first start, he did some good things. He showed off his big arm early and kept battling throughout the game. Morton ended up with 379 passing yards in his first career start and to do that on the road against a team like Oklahoma State isn't easy. Also, he had some tremendous help from receivers Jerand Bradley and Trey Cleveland. Unfortunately, the defense had trouble stopping Oklahoma State.
The Ugly
Oklahoma (Lost 49-0 to Texas)
I am rarely left speechless at times, but Oklahoma made me feel that way after that loss to Texas. They still look lost defensively as they gave up 585 yards and let Texas convert 10 of their 15 third down attempts. As bad as the defense continues to be, the offense was much worse. I understand Dillon Gabriel was out and that Oklahoma wasn't going to be the same. However, I am not sure that continually letting Davis Beville play quarterback was ever going to be the answer to the problem. The Sooners let five players throw passes in the game (including a fake field goal pass from Michael Turk). One of them was an ugly jump pass from running back Eric Gray which I didn't understand. Why not just leave Brayden Willis in run north/south?
This ended up being the first time Oklahoma has been shutout in a game since 1998 and this is their first 0-3 start in Big 12 play since 1998. It was also their largest loss to an unranked team in school history. It is safe to say that Oklahoma isn't going to be in Arlington this season and will someone please buy this man a beer?
Iowa State (Lost 10-9 to Kansas State)
I want to start by saying that the Iowa State defense doesn't belong here. They played well enough to win the game (again) and deserve to be supported by a better offense than what they have. As for that offense for Iowa State, they are a complete mess. They still have trouble running the football and Hunter Dekkers looks a little rattled right now. He's in a bit of a funk and the lack of a strong run game isn't helping at all. I know everyone is upset with offensive coordinator Tom Manning and I do believe he deserves some blame, but Iowa State missed some opportunities as well which falls on the players. With Iowa State not scoring a touchdown in this game, that means the Cyclones offense has just scored one touchdown in their last eight quarters of football. I don't care how good your defense is because the offense can't even find the end zone right now.