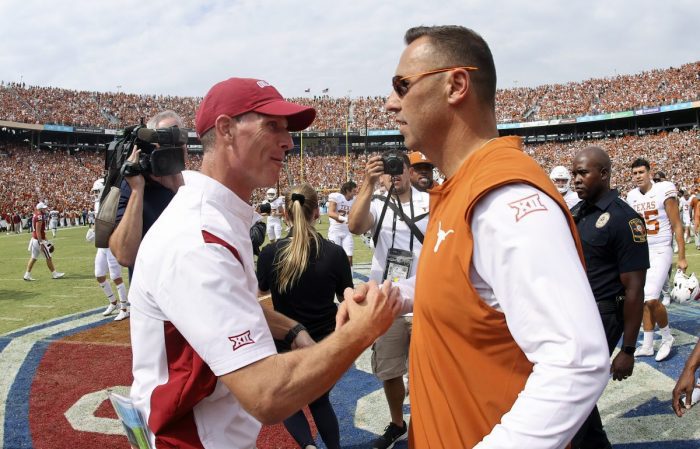 Week 6 of the Big 12 football season is in the books as conference play is fully underway across the league. There were four games on Saturday, and once again, there was history made, thrillers down to the wire, College GameDay in Lawrence and more. Texas shut out Oklahoma 49-0, TCU beat Kansas 38-31, Oklahoma State got by Texas Tech 41-31 and K-State beat Iowa State 10-9.
So with another wild week in the books, here are the five biggest takeaways from Week 6 in the Big 12 Conference.
1. A Historic Red River
Just how bad was the 49-0 beat down in the Red River Rivalry? It was the most lopsided defeat in Oklahoma/Texas history, and Oklahoma's most lopsided shut out ever as Texas scored the most points it has ever scored against Oklahoma. Also, this game marks the first time OU has failed to score in a game since its 29-0 loss to Texas A&M on Nov. 7, 1998. Meantime, the loss was Oklahoma's worst since it fell to Nebraska by a score of 69-7 on Nov. 1, 1997.
Needless to say, there's an entire generation of Oklahoma fans who have never experienced what OU is going through right now as Brent Venables also became the first coach in Oklahoma history to lose his first three conference match ups. Venables took the obvious blame after the game, saying, "I've not done a great job." That may be an understatement, especially on defense. OU is now giving up over 48 points per game in three Big 12 games and over 1,700 total yards of offense through three games against Kansas State, TCU and Texas.
It's ugly in Norman.
2. Kansas Finally Gets Picked Off
College GameDay was awesome, but as for the game itself, Kansas lost for the first time this season, falling to TCU 38-31. But to me, this game was more about a TCU team that we are all probably overlooking.
Max Duggan looks as comfortable and confident as he has in what feels like 10 years at TCU. He finally has an offensive-minded head coach and that's showing. Duggan went 23/33 for 308 passing yards and three touchdowns. He also rushed for 55 yards and a score to lead the Horned Frogs on Saturday. Quentin Johnston was an absolute beast on Saturday with 14 catches for over 200 yards as the Horned Frogs moved to 5-0 with a great Top 20 match up on deck next week against the Oklahoma State Cowboys.
As for Kansas, the fact that they nearly won this game after starting QB Jalon Daniels went down with an injury is once again proof that Lance Leipold is building depth within this program. That was evident on Saturday.
3. Behren Morton Could be Texas Tech's Best Quarterback
The Red Raiders started their third quarterback of the season on Saturday, as redshirt freshman Behren Morton played for the injured Donovan Smith in a 41-31 loss to Oklahoma State. And Morton, the former four-star prospect, could very well be the best quarterback on the team. Behren finished his first career start going 39/62 for 379 yards, two touchdowns and one interception. While his one interception resulted in Oklahoma State going up 34-31 late in the third quarter, he is far from the reason the Red Raiders lost. In fact, I would argue he's one of the few reasons they were still in the game when they were.
His accuracy on his deep balls were impressive for a guy making his first career start.
And when you factor in how much pressure Morton (4 sacks, 12 quarterback hurries) was under, if Texas Tech can keep him upright, he might be there best bet the rest of the season.
4. Quinn Ewers Changes Texas' Outlook this Season
Speaking of accurate quarterbacks, Quinn Ewers was throwing dimes all over the field for Texas on Saturday against OU. I realize the Sooners have one of the worst defenses in the Big 12, but these throws from Quinn Ewers on Saturday were things of beauty.
Here's just one example.
If Ewers keeps up how he looked in one quarter against Alabama, and then a full game on Saturday against OU when he went 21/31 for 289 yards and four touchdowns, the Longhorns can absolutely win the Big 12 Conference this season. And if you think about it, is Texas 6-0 this season if Ewers doesn't get injured against Alabama. There's a strong case to make for it, and we'd be talking a lot differently about Texas than we are right now.
5. The Most Farmageddon Game Ever
10-9. Classic.
My prediction was 20-13 Kansas State, but obviously I was expecting a barn burner. This game had flashbacks to the 2017 game that also ended with a one-point victory for the Cats (20-19). There was one touchdown in this game as Adrian Martinez hit Phillip Brooks for an 81-yard score in the first quarter. Outside of that, it was field goals and punts, lots of punts.
But with the win, Kansas State is now 5-1 and is a clear contender in the Big 12 Conference. Meanwhile, Iowa State is a darn good team, or at least a darn good defense, but is now 0-3 in the conference. This league is just brutal. And it doesn't get any easier as the Cyclones travel to face Texas next week in Austin.
BONUS: Kansas Showed Well on College GameDay
What a great showing for Kansas on the biggest stage in college football. KU had never hosted College GameDay for a football game and the Jayhawks and their fan base played the part well.
Lance Leipold joined the show and made the Kansas football program proud. And of course, Bill Self joined the show for an entertaining interview with Pat McAfee where he declared Kansas as a basketball school, but added, "We will be a football school!"
The crowd, the hospitality, the backdrop of the hill. It all went as planned, or even better, as a viewer and fan of the Big 12. Kansas should be proud of how things went and, oh, find Lance Leipold his raise ASAP.