Baylor Bears
Baylor vs. West Virginia: Preview and Prediction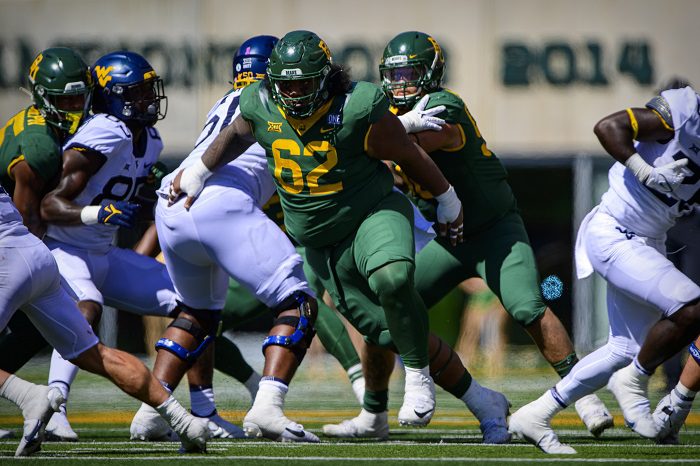 Here is everything you need to know about the upcoming matchup between the Baylor Bears and the West Virginia Mountaineers.
GAME INFO
Thursday, October 13, 2022; 6:00 p.m. CT; Milan Puskar Stadium; Morgantown, West Virginia
TV: FS1 (Noah Eagle, Mark Helfrich)
Radio: Baylor Sports Network (John Morris, J.J. Joe, Ricky Thompson); Mountaineer Sports Network (Tony Caridi, Dwight Wallace, Jed Drenning)
Records: Baylor (3-2, 1-1 Big 12); West Virginia (2-3, 0-2 Big 12)
Rankings: Baylor unranked; West Virginia unranked
Last Week: Baylor (BYE); West Virginia (BYE)
Series History: West Virginia leads 6-4
Last Meeting: Baylor 45, West Virginia 20 (2021)
Favorite: Baylor (-3.5)
Fun Fact: The home team has dominated in this series, with an outright record of 9-1, West Virginia being 5-0 in Morgantown and Baylor 4-1 in Waco.
KEY PLAYERS
Baylor Bears
QB Blake Shapen
After the bye week, can Baylor quarterback Blake Shapen take another step and become the quarterback that he needs to be for the Bears to remain in the thick of the Big 12 hunt? To this point in the season, Shapen is 97-140 for 1,118 yards and nine touchdowns with three interceptions. To be frank, a 3:1 TD-INT ratio isn't going to get it done. Shapen needs to be among the best in the Big 12 if Baylor wants to return to Arlington in December.
LB Bryson Jackson
Baylor senior linebacker Bryson Jackson has found a way to make an impact in games for Baylor this season and he will also need to do so on Thursday. Somehow, Jackso leads the Bears in sacks with two on the year, which is a bit of a surprise given how deep Baylor's front seven is. Jackson has also forced a fumble this season (which he recovered), and will probably need to make an impact play of some sort if Baylor hopes to pick up a win on the road.
West Virginia Mountaineers
QB J.T. Daniels
While he has been far from perfect in 2022, J.T. Daniels has been good enough for West Virginia to win some games this season, but the team needs more production from him to get back in the Big 12 race. Daniels is completing around 64% of his passes and has 1,209 yards on the year, but he has thrown just eight touchdowns (and two interceptions) on the year. He has taken better care of the ball as of late, having not thrown an interception since Week 2 against Kansas. That will have to continue if WVU is to pull off the upset on Thursday.
LB Lee Kpogba
West Virginia junior linebacker Lee Kpogba has emerged as a leader on the West Virginia defense and paces the team in tackles on the year (31). Baylor freshman running back Richard Reese has emerged as a potential star in the Bears' backfield and will be Kpogba's responsibility on Thursday night. If he can use his lateral speed to counter Reese's suddenness, it would go a long way in helping West Virginia stick around in this game long enough to win it.
KEY STORYLINES
Baylor Bears
Can Baylor take care of business on the road after a bye week? The Bears have been a bit disappointing to this point in the season and could use a statement win on the road this week in Morgantown. They will need a complete effort from their offense and defense to become the first Baylor team to ever win in Morgantown. Don't be fooled by West Virginia's 2-3 record, the Mountaineers are more than capable of making things difficult for Blake Shapen and company, but if BU is Big 12 Championship material, it will need to show it on Thursday.
West Virginia Mountaineers
How will West Virginia generate big plays on the ground without CJ Donaldson? The freshman running back (tight end) suffered a concussion against Texas two weeks ago and will not be available this week. That leaves Tony Mathis Jr. as the primary back to take on a stout Baylor front that is giving up less than 100 yards per game on the ground. If they don't find a way to run the ball effectively, it could be a frustrating night for the Mountaineers' offense.
PREDICTION: Baylor 30, West Virginia 27
I expect another close, down-to-the-wire Big 12 game on Thursday night, with Baylor getting the slight edge over West Virginia in the end. At the end of the day, I think Baylor's rushing attack will have more success than West Virginia will, and that will allow them to control the clock in the second half, eventually leading to a close win. Baylor will move to 2-1 in Big 12 play and keep them in striking distance of the Big 12 Championship, while West Virginia will fall to 0-3 and join Oklahoma and Iowa State in the basement.