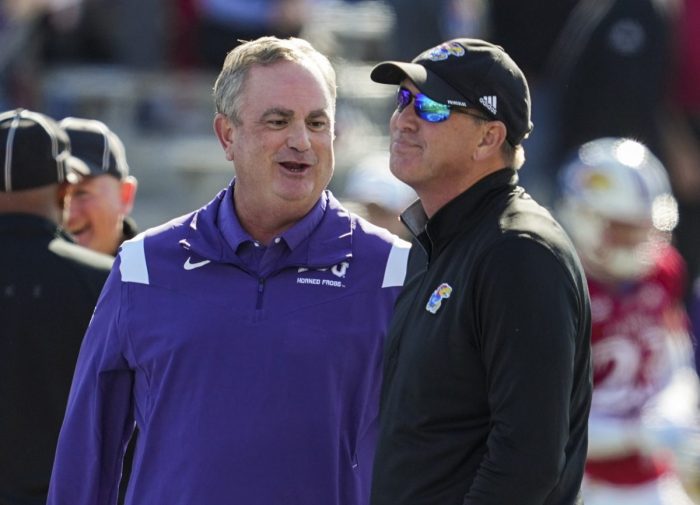 The 2022 college football season wrapped up Week 6 and the Big 12 is officially in conference play. There were four games this weekend, including a College GameDay appearance in Lawrence, Kansas. TCU beat Kansas on the road, Texas demolished the Oklahoma Sooners, Oklahoma State held off Texas Tech and K-State won Farmageddon against Iowa State.
So now it's time for our Big 12 Power Rankings. Here's a reminder on how I've done this for years: It's about how your team looked and how it played, not always about if your team won or lost. And last week's rankings have little impact on this week's. That's what makes this fun. These are also not predictions for the way the season will end, just a Power Rankings based on the most recent performances.
So with that being said, here are our Week 6 Big 12 football Power Rankings.
1. Kansas State Wildcats (Last Week: 2)
Kansas State edges out TCU for the No. 1 spot this week after winning on the road in Ames, which is always a tough thing to do. The Wildcats are now 3-0 in Big 12 play, which is one more conference game than TCU has played thus far. Kansas State's defense played a great game against the Cyclones, while the offense did enough against what looks like the best defense in the league. For now, K-State is enjoying, and should enjoy, No. 1! However, last time we had them in this spot, the Tulane game followed…
2. TCU Horned Frogs (Last Week: 4)
The Horned Frogs did beat the No. 1 team in the rankings last week in Kansas, however, with one fewer Big 12 game on their schedule thus far, TCU lands at No. 2. Max Duggan looks more confident than he has in any of his years at TCU and the offense is clearly finding itself after putting up 38 points at Kansas, including 14 catches for over 200 yards for star wide receiver Quentin Johnston. The secondary is elite and can help carry the defensive side of the ball the rest of the season.
3. Oklahoma State Cowboys (Last Week: 3)
Oklahoma State beat Texas Tech, but I'm keeping them at No. 3 since the two teams ahead of them had more impressive wins on the road, while the Pokes were at home against the Red Raiders. As solid as Oklahoma State has looked so far this season, we will learn MUCH more about this team over the next month as they take on four ranked teams in a row in TCU, Texas, Kansas State and Kansas.
4. Kansas Jayhawks (Last Week: 1)
Well, the Jayhawks lost for the first time this season against TCU at home on Saturday. But here's the positive spin if you're a Kansas fan: 1) College GameDay was outstanding in Lawrence on a Saturday and a huge boost for the program and 2) Jalon Daniels went down with an injury and back up QB Jason Bean nearly led them to a win. That just shows you the depth this program continues to build under Lance Leipold.
5. Texas Longhorns (Last Week: 7)
49-0. Historic. That's how ugly the Red River Rivalry was on Saturday as Texas won its most lopsided game ever against Oklahoma. Quinn Ewers completely changes the outlook for this team. What you've seen from him in one quarter against Alabama and four quarters against Oklahoma has been really impressive and suddenly makes Texas one of the front runners in a wide-open Big 12.
6. Baylor Bears (Last Week: 5)
The Baylor Bears get bumped down one spot after not playing in Week 6. Texas deserves to be a spot above them after their performance on Saturday. Baylor travels to take on West Virginia on the road on Thursday night.
7. Texas Tech Red Raiders (Last Week: 6)
Texas Tech lost to Oklahoma State in their second-straight Big 12 road loss of the season. Now while we mentioned Oklahoma State having a relatively easy schedule thus far, Tech just played its fifth-straight ranked team and went 2-3 over that stretch. And if Joey McGuire is smart, he will keep Behren Morton at quarterback moving forward.
8. Iowa State Cyclones (Last Week: 8)
The Cyclones fell to 0-3 in Big 12 play after losing 10-9 to K-State. However, just like with the Kansas game, Iowa State was this close to winning the game. Iowa State is a couple of plays away from being 5-1 on the season. That being said, it is still a rebuild year and the Big 12 is even better than we expected. Frustrations with the offensive production is more than fair, but let's not forget how far this program has come and look at the big picture in Ames, not just the last couple of weeks.
9. West Virginia Mountaineers (Last Week: 9)
The Mountaineers were off this past week, but thanks to the No. 10 team, there is no reason to move West Virginia off the No. 9 line. But of the Mountaineers get a big home win over Baylor on Thursday, this season will look different than it does as of today.
10. Oklahoma Sooners (Last Week: 10)
Wow. This is as ugly as its been in 25 years in Norman. Brent Venables is the first Oklahoma coach to ever lose his first three conference games. Yes, OU is rebuilding, by their standards. But this is not a team that, based on its talent, should be giving up 48 points per game and over 1,700 total yards of offense in three Big 12 games. And if they lose to Kansas and fall to 0-4 in conference play, yikes. It won't get better in Norman.