Oklahoma Sooners
Colin Cowherd on Oklahoma Football: I Would Move on From Brent Venables and Hire Matt Rhule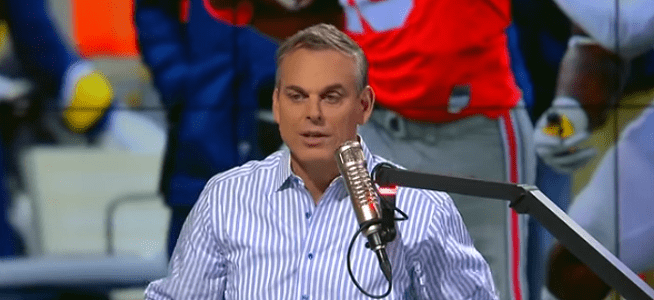 The Oklahoma Sooners fell to 0-3 in Big 12 play after getting blown out by Texas on Saturday in the Red River Rivalry. Combine that with the Panthers firing former Baylor coach Matt Rhule and you already have some speculation starting as to what could happen next for both parties.
During his show on Monday, FOX Sports' Colin Cowherd said, during his "Where Colin was right? Where Colin was wrong?" segment, that Oklahoma has "whiffed" on Venables and that the program should move on from their first-year head coach in favor of Rhule.
Cowherd went on to say:
"When Brent Venables got the Oklahoma job, my takeaway was, 'Well, Oklahoma almost always gets the coach right. And he's an Oklahoma guy. And he was good at Clemson. That's a solid choice.' Not only is it not a solid choice, I would move on at the end of the year and get Matt Rhule. It is a disaster. He is not a head coach. When you can't get your side of the ball right, 49-0 to Texas, its' a whiff. By the way, it's OK. Some people are born to be vice presidents. Some people are born to be CEO's. It can't look like this. Tackling, Coverages. It's a disaster. And with the transfer portal now, don't be patient. Kids will move on in a second. The Sooners will get cherry-picked. By the end of the season, they will lose 20 players, especially offensive players."

Colin Cowherd, FOX Sports
Here's the video of his take.
He's right about the defense, which has given up over 48 points per game in Big 12 play and over 1,700 total yards against K-State, TCU and Texas.
Brent Venables stated the obvious after the game, saying, "Obviously, I've not done a great job," adding, "Really disappointed with how we coached and played today. Hats off to Texas."
And to put this into historical perspective, this is the worst shutout loss ever for Oklahoma (regardless of opponent), along with being the first time ever Oklahoma has lost two games in a row by at least 30 points, according to ESPN Stats and Info.
Oklahoma hosts Kansas on Saturday and is currently a 7-point favorite, but if things go sideways against a much-improved Jayhawks program, this conversation will only pick up more steam.