featured
Overreaction Monday: Kansas a Fraud, Texas is Different with Quinn Ewers, OSU vs. TCU Showdown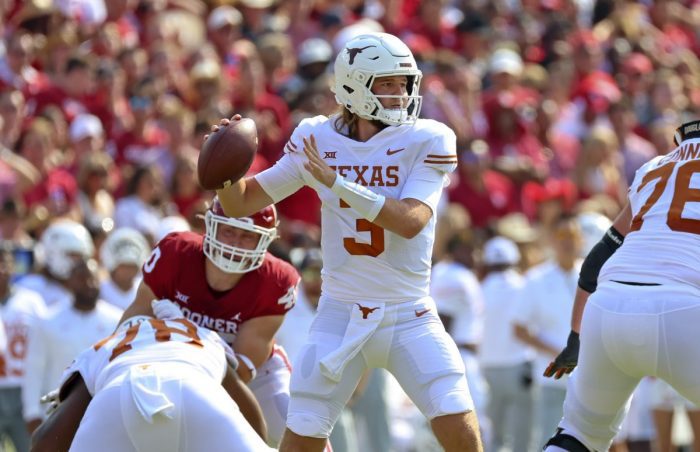 Every Monday during the college football season, fans of teams across the country return to work and discuss the events of the weekend with their coworkers. Around the water cooler or coffee machine, overreactions are born as suddenly one team is now a national title contender (they're not) and another's season is over after a tough loss (it isn't).
Let us sift through the rumors, false allegations, and straight-up nonsense for you this season with overreaction Monday, where we tell you whether you need to cool the jets or you legitimately have something to worry about.
Kansas Was a Fraud and Is Not a Big 12 Contender.
Overreaction. I said last week that Kansas would need to beat TCU, or lose a close game, for me to see them as a true Big 12 contender. Well, I sit here on Monday extremely impressed with Kansas' resolve and fight, even without quarterback Jalon Daniels on the field. I would even go as far as to say that the Jayhawks win that football game if Daniels stays healthy. Despite him being out with a shoulder injury, KU nearly tied the game late in the fourth but ended up coming up short, 38-31. The offensive line is much-improved which makes the running game much more effective and the defense is opportunistic. Kansas is legitimately good enough to win the Big 12 in 2022. I'm bought in.
Texas is Undefeated With a Healthy Quinn Ewers.
Not an Overreaction. The Texas team that we've seen with Quinn Ewers vs. without him is vastly different. Against Alabama and Oklahoma, Ewers looked like an elite collegiate quarterback, and with him under center, the Longhorns have looked like they could be one of the top teams in the country. Texas is extremely talented on both offense and defense, and their play along the offensive and defensive lines has only gotten better as the season has worn on. If Ewers stays healthy, there's no reason to believe that Texas can't be one of the two teams left standing in the Big 12 Championship at season's end. Could they find themselves in the College Football Playoff at year's end even with two losses? Potentially. An Ewers-led Texas team is different, and a one-point loss to Alabama was the first indicator of that.
The 2022 Season is Lost For Oklahoma.
Not an Overreaction. None of the expectations that the Oklahoma football program had at the beginning of this season are attainable at this point. The Sooners are 3-3, and although they aren't mathematically eliminated from the Big 12 Championship just yet, they are not a Big 12 Championship-caliber team. Hell, they might not even be a bowl-caliber team after what we have seen from them in the last three weeks. Oklahoma has been physically dominated in each of its last three games, and that isn't something that can be fixed over one week of practice. There are deeply seeded issues in the Oklahoma program right now, and Brent Venables needs to shift his focus from the 2022 season to the future. As difficult as it may be, OU's season is lost through six weeks, and it's time to start making decisions that will benefit 2023's squad.
Oklahoma State vs. TCU is the Biggest Game of the Season Thus Far.
Not an Overreaction. The upcoming battle between Oklahoma State and TCU in Fort Worth might be an early play-in game for the Big 12 Championship. The Cowboys and Horned Frogs are the lone undefeated teams left in the Big 12 and each of them come into this week with identical 5-0 (2-0) records. Both teams have faced a bit of adversity in Big 12 action thus far, but neither of them waivered and shrugged off their opponents to find big wins. Now, with both teams coming off of competitive games against Texas Tech and Kansas respectively, it will be a monumental clash of high-scoring offenses in Fort Worth on Saturday, with the winner moving to 3-0 in Big 12 play. Any way that you stack it, these two teams sit in the Top 3 of the Big 12 Power Rankings and that will likely continue to be the case even after this week. The winner of this game has a leg up if things come down to the wire in the Big 12, and that could be massively important a month from now.