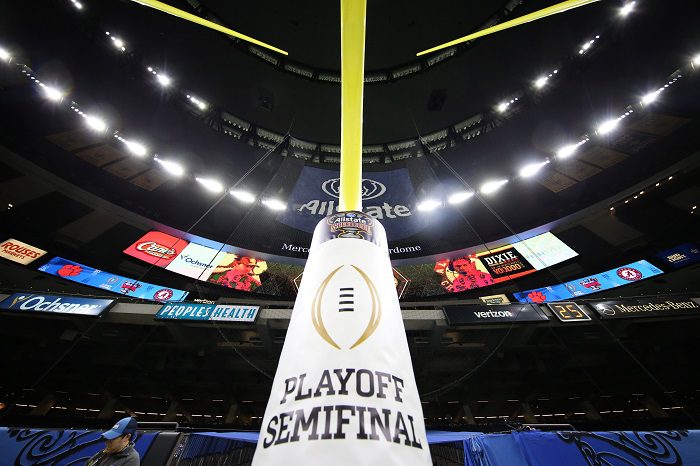 Even though we are just six weeks into the college football season, that doesn't mean we can't look ahead to what the future may hold. There are still plenty of important games to get through and a whole lot of season left, but it is never too early to start thinking about the postseason.
Jerry Palm from CBS Sports recently released his latest college football bowl projections. It is always interesting to see how things change from week to week but here is what he currently has listed for the Big 12.
Sugar Bowl
Oklahoma State vs Tennessee
Once again the Cowboys take the top spot on the bowl list. A date with Tennessee would be fun down in New Orleans. Mike Gundy on Bourbon Street? Make it happen now!
Alamo Bowl
Texas vs UCLA
I feel like Texas has played in the Alamo Bowl a dozen times in the last ten years. Ok, that didn't make sense, but you know what I mean. If there was a second home for Texas it would be the Alamodome.
Cheez-It Bowl
Baylor vs Pitt
If you like a hard-nosed physical matchup, then this may be the bowl game for you. Both Baylor and Pitt love to run the football and bring a smashmouth mentality to each game. Sign me up.
Texas Bowl
TCU vs Texas A&M
An old Big 12 school meeting a new one in a bowl game? I NEED this game. Anytime the Big 12 gets a shot at the SEC I am all for it but especially when it is two schools from the same state.
Liberty Bowl
Kansas State vs South Carolina
Much like the Cheez-It Bowl matchup, this one would be another great physical matchup. However, don't be surprised if Kansas State starts climbing their way up this list.
Guaranteed Rate Bowl
Kansas vs Wisconsin
We should just call this the Lance Leipold Bowl. Everyone knows Wisconsin is interested in the Kansas head coach and I say the winner gets him!
Birmingham Bowl
Iowa State vs Mississippi State
Mike Leach playing Iowa State in a bowl game? We have seen it before down here in San Antonio, but this is different because he is at a different school and this bowl is in Alabama. Anytime you can get Mike Leach talking before a bowl game I am all for it.
First Responder Bowl
Oklahoma vs Iowa
I don't care what bowl game this is because these two teams deserve each other as they are both extremely painful to watch. Can either offense score in this game? The first one to ten wins!