Baylor Bears
Big 12 Football Mailbag: Iowa State's Offense, Re-Evaluating Preseason Picks, and is Texas Back?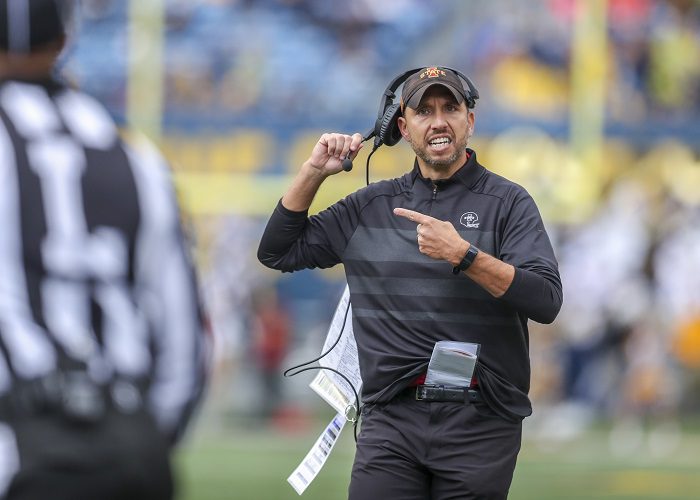 Welcome to the HCS Big 12 mailbag. This mailbag is for all you football junkies out there who root for a Big 12 school who not only have questions about your team but other teams in the conference as well. So, join me, grab a cold brew or your favorite drink and relax as I answer all your Big 12 questions in my mailbag. I want to thank each one of you who submitted a question this week and for tonight's drink of choice? You'll just have to see for yourself. Cheers!
@mat_with2ts_ asks: After the Farmageddon game, do you believe the difference between Kansas and Iowa State is small?
Duke: It is truly crazy how different these tow programs feel right now. Kansas State is 3-0 in the Big 12 while Iowa State is 0-3. The difference we saw on Saturday between the two teams is fairly small in my eyes. However, the big thing for me is that Kansas State can run the football and Iowa State can't. When things aren't working in the passing game for Kansas State, they have been able to run the football. In fact, over the last three Big 12 games Kansas State has averaged 249.6 rushing yards while Iowa State is averaging just 56.6. That has been the difference between the two teams.
@Schmitty27 asks: People still be seem to be on the Texas is back train but there best two performances have been against Alabama and Oklahoma which are the two easiest games to get up for. Why should I believe that they'll beat the other teams in the conference this season when last year they couldn't?
Duke: You are right about the Oklahoma game. An Oklahoma team without Dillon Gabriel isn't very good and any team in the Big 12 could have beaten that Sooner team last Saturday. However, the Alabama performance was impressive and the difference between this season and last season is Quinn Ewers. He looks like the real deal despite only seeing him for five quarters so far this season. When Texas has a healthy Quinn Ewers, I genuinely believe that Texas can be a Big 12 title contender. Without him, they look like any other team in the conference.
@ABear91 asks: Does Baylor get over the Morgantown hump this year on Thursday?
Duke: I actually looked back and I had no idea that Baylor has yet to beat West Virginia on the road. Ever since the Mountaineers joined the conference back in 2012, Baylor is 0-5 in Morgantown. That is one crazy stat but there is some good news. The streak will end on Thursday, and I feel confident in saying that. West Virginia is on a complete downward spiral right now and I don't believe it can be stopped at this point. Meanwhile, I really like Baylor quarterback Blake Shapen and the way they are able to run the football with Richard Reese. On top of that, West Virginia has the second worst third down defense in the league. I am not saying Baylor will blow them out by any means, but the Bears shouldn't have much trouble on Thursday.
@b_phillips21 asks: Do you think Iowa State should move on from Manning as OC?
Duke: After Saturday night's loss to Kansas State, my immediate reaction was for Iowa State to potentially explore other options. Iowa State has scored one touchdown in their last eight quarters of football. However, when I go back and think of the game there are so many things that come into play. First off, the run game like I mentioned in a previous question is non-existent. That is putting a ton of pressure on first year starting quarterback Hunter Dekkers and right now, it's obvious that he is flustered out there.
Without a strong run game or a safety blanket of a tight end (like Charlie Kolar), Dekkers has been heavily targeting Xavier Hutchinson who had two key drops in the Kansas State game. If he catches both of those passes, then things may look a little different today. There are just so many little things this offense isn't doing right now and maybe they need to open it up a little more and let Dekkers play looser. With that said, if Iowa State continues to struggle then maybe a change is needed after the season.
@RPTexan asks: Midway point in the season means you need to pull out your preseason picks and show us where you were right and wrong!
Duke: Robert is calling me out folks! But no worries, man because this season has been a total cluster you know what trying to figure out the Big 12. It's been a crapshoot this year and my preseason rankings will show that. Here is what I had back in July.
#1 Oklahoma, #2 Baylor, #3 Oklahoma State, #4 Kansas State, #5 Texas, #6 Iowa State, #7 West Virginia, #8 TCU. #9 Texas Tech, and #10 Kansas.
The good news is that I had Oklahoma State, Kansas State and Texas in my top five which is accurate at the moment. I still feel like Baylor will work their way up as well. However, I was completely wrong about Oklahoma, TCU, and Kansas. I am not sure if anyone saw the collapse of Oklahoma coming and who saw Kansas being 5-1 in their first six games? As for TCU, they are a good team, but I am still a little unsure about them, but we will find out more on Saturday when they face Oklahoma State.