Big 12 News
Kansas Gets Top College GameDay Viewership of 2022 Season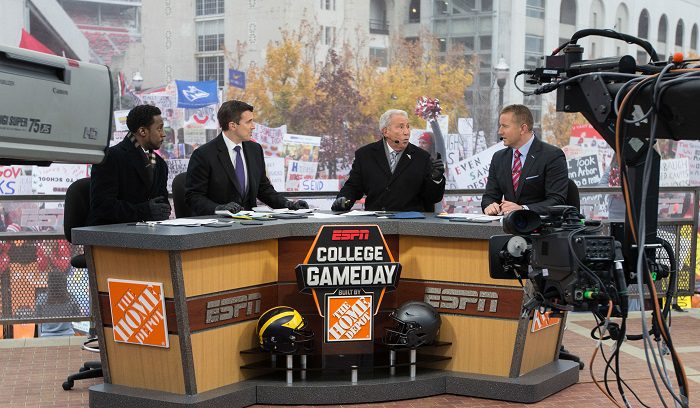 On Saturday in Lawrence, the College GameGay crew took the stage surrounded by a massive crowd of Jayhawks fans. Following suit with the mass amount of people at the show, the number of fans tuning in to see College GameDay from Lawrence was the highest of the 2022 season thus far.
With 2.3 million average viewers, the broadcast was up 22% from Week 6 of the 2021 season when the No. 6 Oklahoma Sooners clashed with the No. 21 Texas Longhorns ahead of the Red River Rivalry.
This report comes from ESPN PR on Twitter, you can check out the tweet below.
In Saturday's College GameDay Broadcast the total number of average viewers climbed to 2.3 million for the full duration of the broadcast. This is the best pre-November show since the 2010 season and the sixth-best episode since the show's expansion in 2013.
The final hour of the broadcast averaged 2.98 Million viewers with a peak viewership of 3.5 million. With GameDay receiving numbers this high for a Big 12 broadcast, it's very possible the crew could make an appearance again in the Big 12 before the end of the season.
If we may suggest: TCU plays Oklahoma State this weekend, and if the Horned Frogs win, they will be 6-0 and welcoming in a 5-1 Kansas State team next week for a Top 20 match up. It may not be the sexiest brands, but neither is Kansas football, and look how that went for ESPN this past Saturday.