featured
Tirade Tuesday: Iowa State, Oklahoma Fans Not Doing Well After 0-3 Start in Big 12 Play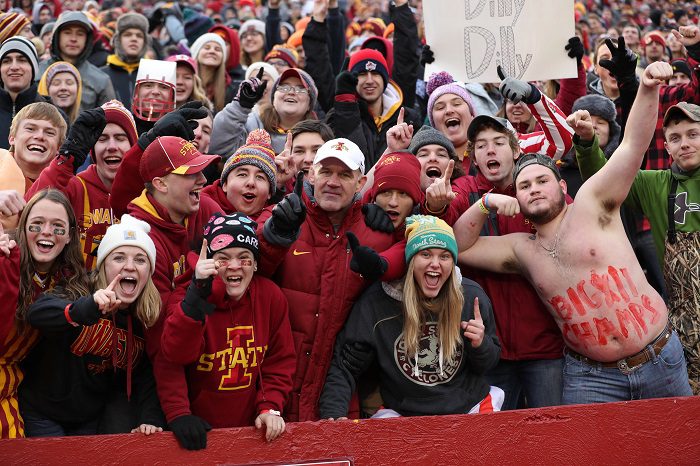 Another week, another tragic loss for half of the schools in the Big 12. It's a harsh reality, but half of the schools in league play lose every week. That's just simple math. However, there are plenty of fanatics out there that believe, whether justified or not, that their school should've been above losing in a given week.
There are times where it might be reasonable to question a loss, like Kansas fans who had to stomach a blatant no-call on a pass interference that ended their winning streak against TCU this weekend.
There are other times when fans just don't know how to go on anymore, like those in and around Norman who just had to watch the Sooners get beaten to a pulp by Texas, 49-0 (more on this later).
Two fan bases in particular are having a hard time coping with their latest losses, and that will be our focus for today. Welcome to Tirade Tuesday: Iowa State and Oklahoma fans.
Iowa State Fans Are SICK and TIRED of Tom Manning's Shenanigans
Iowa State dropped "Farmageddon" at home to Kansas State, 10-9, and that has left some in the Iowa State community feeling some type of way about Matt Campbell and his offensive coordinator Tom Manning.
After another one score loss, several of the Cyclone faithful went to the message boards to take out their frustration. If you ask them, it's high time that Manning, and anyone that supports him, to see the door.
Iowa State's inability to finish drives against Kansas State resulted in just nine points on the day, and it seems like that loss was the final straw for Iowa State fans, who even got the #FireTomManning fired up on Saturday evening.
Hopefully, I can help Iowa State fans find a bit of solace in this: at least you scored points in your rivalry game this weekend. Oklahoma is paying Jeff Lebby nearly $2 million a year, and his unit couldn't even do that.
Oklahoma Fans Reaching New Lows Every Week
*The Sound of Silence by Simon and Garfunkel plays in the background*
Oklahoma has become a mainstay on Tirade Tuesday, as the Sooners have now lost three straight games for the first time since 1998, which was also the last time they were shut out (until Saturday).
Unfortunately for the Sooners, their problems weren't just on offense, but on defense as well. It might just be time for OU to move on after six games under Venables if you ask the message board regulars.
I'm afraid that Texas' scout team gave them a better run this week than the Sooners did, and it's just about more than Oklahoma fans can handle.
We've crossed the bridge from angry posts to deep, philosophical reasons why OU is losing at an alarming rate. Actually, never mind. There are definitely still angry posters out there.
I'm afraid they can't handle much more of this before OU fans start to enter the transfer portal, like Stevenths78 did this week #GoVols.