Trending Now
Brett Yormark: The Big 12 is 'Off to the Best Start' it's Had in Years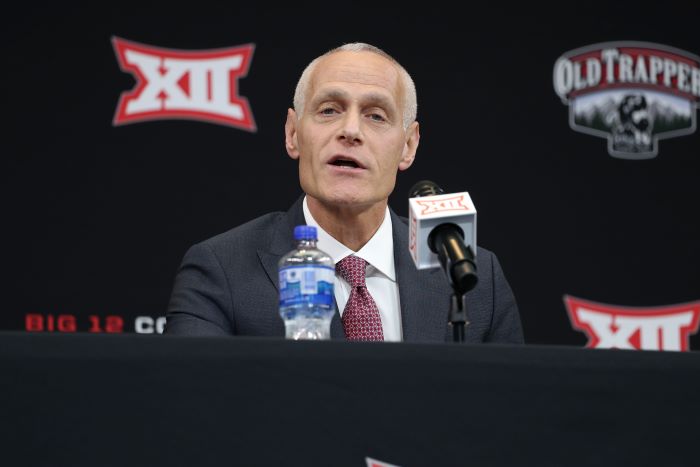 Big 12 Commissioner Brett Yormark appeared as a guest on ESPN's Get Up on Wednesday morning and discussed several topics concerning the job he took less than three months ago.
With Oklahoma and Texas leaving the Big 12, a narrative formed that the conference might crumble, but that hasn't seemed to be the case thus far in 2022. The Big 12 has five teams ranked in the AP Top 25 poll this week, plus Baylor right on the outside, receiving 91 votes in the poll.
Through six weeks, the Big has looked very much like the deepest conference in football. That is something that has certainly caught the eye of the country and Yormark spoke of that Wednesday morning.
"From a conference perspective we're off to the best start that we've had in years," Yormark started. "The parity, attendance is up, 60% of our teams are in the top 25. Obviously, losing Texas and Oklahoma is something we're dealing with, but this conference is much bigger than two teams. We're excited about our future and when you think about expansion and the four teams coming in July [2023], Cincinnati, UCF, BYU, [and Houston], we've got a huge opportunity here, and we're very excited about it."
Here is an excerpt from the interview that the conference shared on Wednesday, plus a link to see the interview in its entirety.
Yormark also dropped a hint about College Football Playoff expansion and some potential news coming in the next couple of weeks towards the end of his interview.
"I think that [College Football Playoff] expanison is something that we're all enthusiastic about," Yormark said. "There's a lot of work that still needs to be done, but I'm very optomistic. Hopefully, within the next couple of weeks, we can drive towards a definitive answer, but I'm very optomistic."