Trending Now
Kevin Warren on Big Ten Expansion: 'I Don't Think I've Pushed Pause on Anything'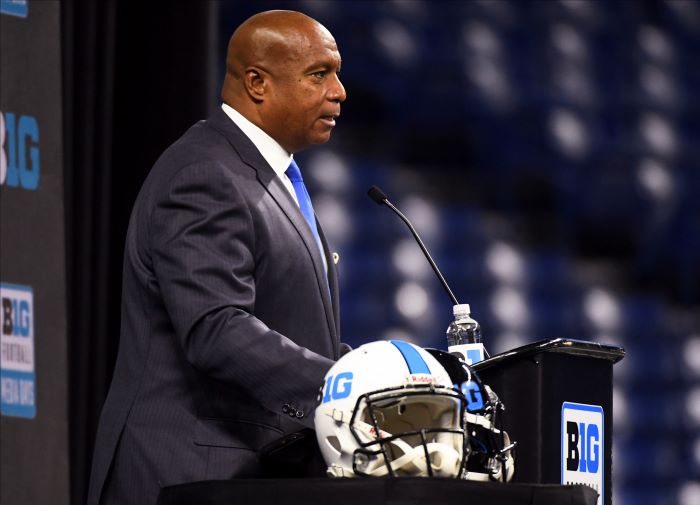 Expansion across the landscape of college football has been a topic of conversation since Oklahoma and Texas made the decision to leave for the SEC in the Summer of 2021, and it heated up again a few months ago when USC and UCLA shocked the world and headed east for the Big Ten.
The Big Ten conference has been the focal point of expansion discussions for weeks on end, and just about every time that the talking starts to quiet down, a new report surfaces that remind us that Kevin Warren and the Big Ten likely aren't done.
Recently, in an interview with The Athletic, Warren did just that yet again.
"I'm always mindful of what's going on at different conferences and the different markets and what's happening. But right now, we've got to make sure we take care of our business. I don't think I've pushed pause on anything. Ever. I'm a big believer in taking care of what you have, taking care of these new opportunities. USC, UCLA, and our new partners and CBS with basketball and football and NBC. And then making sure that you're prepared when things happen," Warren told The Athletic.
It's not particularly clear when or where they will strike next, but Warren made it clear that his conference is focused on making decisions that "make sense" for the programs already there, plus their newest additions with USC and UCLA.
"We're analyzing what makes sense. We've got to be smart. Also, are there opportunities for future potential corporate partners to help us kind of shoulder some of that responsibility from a financial standpoint? The good thing about it is once you make a determination to lead and make these decisions where you're prepared, it puts you in a position where you can be creative and do certain things," the Big Ten commissioner said.
As the SEC and Big Ten continue to explore expansion options, it appears that we are heading towards a collegiate Cold War of sorts. With both conferences set to expand to 16 teams, and potentially further, in the near future, it has become a war of attrition for the other conferences. The Big 12 is relatively well-placed, given the additions that it made after learning about Oklahoma and Texas' plans, but what about the Pac-12? What about the ACC with its atrocious television deal?
Things could get dicey if one of the two powers that be start to grab teams from other conferences for their own, and that will likely happen if you read the tea leaves. However, all we can do for now is sit back and watch the Big Ten and SEC grow fatter and fatter on lucrative media rights deals.