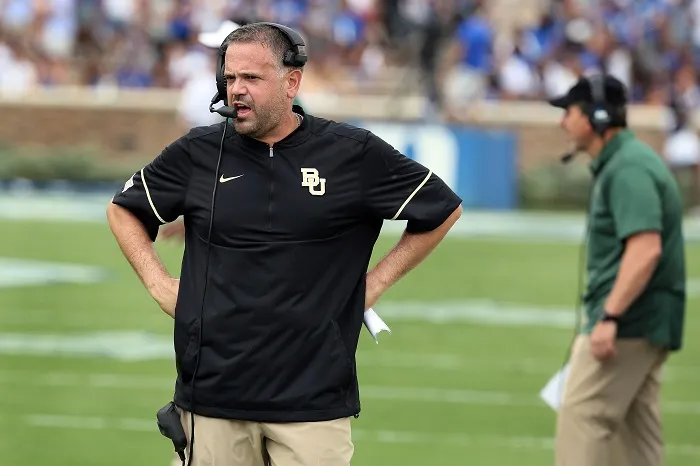 Former Panthers Head Coach Matt Rhule's time in Carolina has come to an end. While there are many jobs Rhule is said to have his eye on, BetOnline has posted odds tracking Matt Rhule's Next Head Coaching Job.
With Oklahoma currently in the midst of one of the most turbulent seasons in recent memory, the Sooners check in on this list with 12/1 odds to hire Matt Rhule. With fans calling for Head Coach Brent Venables' job in his first season as head coach for the Sooners, the odds make sense.
Joining the Sooners on the list are Nebraska (3/2), Auburn (3/1), Wisconsin (5/1), Arizona State (15/2), Colorado (8/1), Stanford (10/1), Georgia Tech (12/1), Texas A&M (16/1), and Any NFL Team (33/1).
As Oklahoma takes on Kansas this week, Sooner fans will be banging the drum to send Venables out of town in the event that the Sooners turn in another lackluster performance.
Oklahoma is coming off one of the worst losses in program history last weekend against Texas in a 49-0 loss in the Red River Showdown.
With the Quarterback position facing injuries and many other problem spots for Oklahoma, the Sooners are staring at the reality of a losing season for the first time since 1998.