featured
Fact or Fiction Thursday: Lance Leipold Stays, Texas is Back, Behren Morton is Now QB1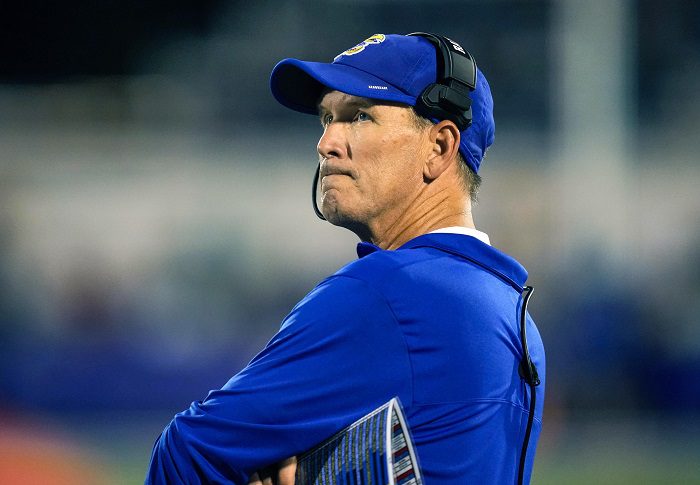 Welcome to Fact or Fiction Friday. Each Friday I give you the opportunity to ask the most intriguing questions in the Big 12 Conference and I will tell you whether they come true or if they are set to fail. With the Baylor-West Virginia game being on Thursday, I thought I would do this a day early. Let's crack it open and see what we have in store this week.
Lance Leipold will be the head coach at Kansas next year.
Fiction: I really love Kansas head coach Lance Leipold. At first, I wasn't sure of the hire, but he's just been proving me wrong every step of the way in Lawrence. The man is taking Kansas to places they haven't been in over a decade and has a legitimate chance to get back to a bowl game for the first time since 2008. The fact that he is doing so well makes him a wanted man by many programs including Wisconsin. Keep in mind that Lance is a Wisconsin native who played his college ball at Wisconsin-Whitewater and then won six national titles as a head coach there. I just have a tough time seeing him turn down an opportunity to go back to his home state and a job as big as Wisconsin.
Oklahoma will end its current losing streak this weekend against Kansas.
Fact: Don't ask me how they are going to do it, but I believe Oklahoma gets back on track this weekend. This is in large part to the return of quarterback Dillon Gabriel and the fact that they are playing in Norman. We saw what happened to the Oklahoma offense without Gabriel under center and they desperately need him to come back. I am not knocking Kansas here, but I do worry about them without quarterback Jalon Daniels. I know Jason Bean filled in nicely, but I am not sure if he can do it again this weekend. Give me the Sooners in this one.
Texas is Finally Back.
Fiction: When people say Texas is back that means they are competing at a national level, and they are far from that at the moment. Look, I think Quinn Ewers is a solid quarterback and without him, Texas is just another team in my eyes. With Quinn, they are a Big 12 title contender and that is a fact. However, they aren't ready for a primetime national stage quite yet but who knows, maybe by the end of the year, they will be. Can they prove me wrong?
Iowa State will make a bowl game.
Fact: Let's take a look at the schedule for a moment. Iowa State is currently 3-3 with six games left. They host Oklahoma, West Virginia, and Texas Tech while facing Texas, Oklahoma State, and TCU on the road. As of now, I say they would go 3-3 in those six games which would put them at 6-6. This team needs a bye week in the worst way to make some adjustments. The defense has been lights out but unfortunately, the offense has been a bit of an eye-sore. They need to run the football better which is something that is easier said than done. That will take some pressure off Hunter Dekkers who is capable of making plays with his legs as well as his arm. It's a toss-up but I say they will get to six wins.
Behren Morton Will become the permanent starter for Texas Tech.
Fact: When you look at the quarterback situation for Texas Tech, it is clear who the starter should be after Saturday. Freshman Behren Morton got the start and was extremely impressive in his first game. Morton went 39/62 for 379 yards and had three total touchdowns. That's not bad for making his first start against a top-10 team on the road. At the end of the day, he has the arm to make plays and he has the accuracy to put the football on the money. Behren is a playmaker, and it is time for Texas Tech to unleash him and make him the starter.