Baylor Bears
Five Thoughts on West Virginia's 43-40 Win Over Baylor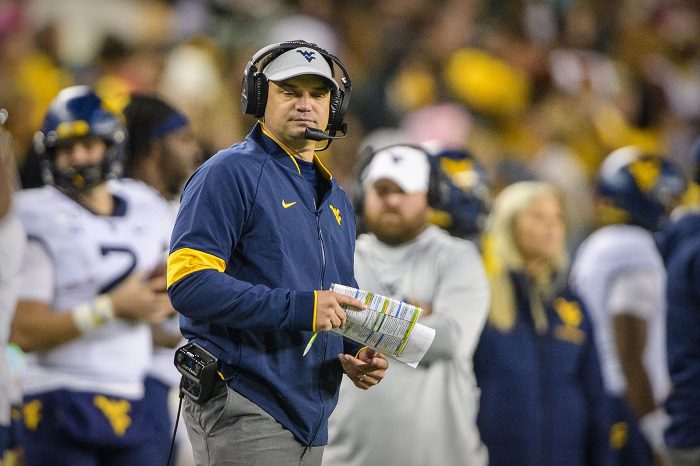 There was no need to wait until Saturday to get your college football fix. While the NFL had a sleeper of a game on, the Big 12 provided all the drama any football fan could possibly handle as Baylor made the trip up to West Virginia to take on the Mountaineers.
Since West Virginia joined the conference back in 2012, Baylor has yet to win a game in Morgantown. That streak will continue as West Virginia won a 43-40 thriller on Thursday night. Here are my five thoughts on the game.
1. What Happened to Baylor's Defense?
Coming into the season, I thought Baylor would pick up where they left off last season. I know they had some key pieces missing from the 2021 team but there was a lot to like about this defense especially up front.
However, this team is different and by different, I mean worse. The defense failed to show up on Thursday night as they gave up 43 points and 500 yards of offense. Prior to the last two games, Baylor didn't allow a single opponent to score more than 30 points in a game since the 2020 season. Now in back-to-back weeks, they have given up more than 30 points. No matter how good you think this team is, they aren't the team who won a Big 12 title last season. There is no reason to lose a game when the offense scores 40 points.
2. One Hit Changed the Game
Early in the third quarter Baylor was tied at 24. They were driving right down the field and Blake Shapen took off with the football. He gave himself up in the open field and when he slid down, West Virginia cornerback Andrew Wilson-Lamp took a shot at him. Andrew ended up getting ejected from the game and unfortunately that would be the last time we saw Blake Shapen on Thursday night. Backup quarterback Kyron Drones took over from there and while he did some good things, he also had a few key mistakes that were costly. Also, I have no idea what he was doing on the final drive of the game.
3. West Virginia Made Plays When It Mattered Most
I am not sure how, but this team found a way to pull a rabbit out of a hat and get a big win. Sure, the defense made plenty of mistakes giving up almost 600 yards of offense, but they made a few big plays to help win the game. Jasir Cox had a 65-yard scoop and score in the second quarter and the defense was able to get three more turnovers. They also scored on a blocked extra point in the fourth quarter.
Offensively, it wasn't always pretty either, but JT Daniels is a fighter. The guy keeps slinging the football everywhere but what impressed me on Thursday was the run game. Even without CJ Donaldson, other running backs stepped up. Tony Mathis Jr. had a heck of a game with 163 yards and two touchdowns. He averaged over seven yards per carry as he was running the ball with authority. I don't know what got into this offense, but it worked. Give the big guys up front some credit too because they did an excellent job in pass protection and in the run game.
4. Can West Virginia Build Off of This Win?
There were so many problems in with West Virginia prior to this game. Two weeks ago, West Virginia was getting blown out in Austin and there was nothing to smile about in Morgantown. The Mountaineers came into the game with a 2-3 record and an 0-2 record in Big 12 play. Add that to Neal Brown's 19-21 record and there was plenty of reason to believe that this could be his last year as the head coach of West Virginia. Now, they got their first conference win of the season and sit with a 3-3 record with six games left. The schedule isn't going to get any easier but if Neal Brown can win four out of his next six games that would be huge. This win may not completely get him off the hot seat, but it may cool his seat just a little.
5. This Felt Like a Classic Big 12 Game
Is it 2022 or 2012 because I honestly couldn't tell the difference. Neither defense made a ton of stops or played all that well and tackling was definitely optional in this game. Both offenses lit up the scoreboard scoring a bunch of points and there was drama at every point in the game. This took me back a bit considering the fact that the Big 12 really hasn't had many games like this in the last few years. However, things always come back around which is fine by me. I will just grab a drink, some popcorn and enjoy the firework show and you should too. This conference has been extremely fun to watch this season and is as deep as it has ever been.