featured
Texas Tech Football: Welcome to the Behren Morton Era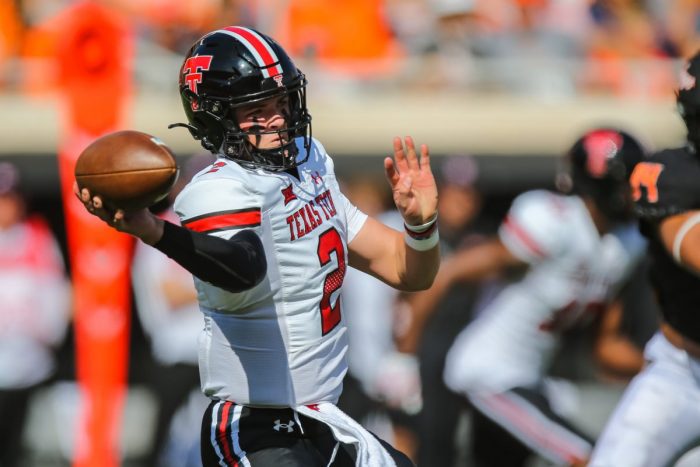 This weekend a Redshirt Freshman quarterback took all the headlines, and no it's not the one this article is about. It was Texas QB Quinn Ewers who impressed on national TV, he beat the Sooners 49-0, going 21 for 31, four touchdowns with just one interception. Ewers made national news in his first full game against a power five opponent and deservingly so. But there's another Redshirt Freshman playing for a Texas team that impressed me the most. That would be Texas Tech QB, Behren Morton. While it may seem weird to start an article talking about Behren Morton with Quinn Ewers, these two will be forever tied together.
Ewers and Morton
When Quinn Ewers entered the transfer portal three teams were linked with him: Texas, Texas A&M, and Texas Tech. TCU entered later as Texas A&M fell out (ironic I know). Give me Shough, Smith, Card, Duggan, and Morris over any of A&M's QBs, but Texas Tech was in the race. It actually seemed at one point as Ewers visited Texas Tech over the first weekend, and there was some talk he may actually go there. Texas Tech message boards will never forget the "Southlake Weed Guy" who said both Ewers and Brady Boyd were coming. Brady Boyd came, Quinn Ewers chose Austin, and it may be a good thing for Texas Tech.
Now, this isn't trying to take anything away from a very talented Quinn Ewers, or even play down what Texas can do this and next season with him. I wrote earlier this season that the Arch Manning commitment could put pressure on Ewers, it doesn't seem like the Manning commitment rattled him at all, and if he keeps playing like this he will be the starter for Texas next season. But Behren Morton was born in Lubbock, raised in Midland, played for his dad at Eastland, and is a lifelong Red Raider fan. Oh and he just so happens to be the highest-ever rated quarterback recruit for Texas Tech. He looks extremely deserving of it, through just one game.
While you don't want to overreact to such a small sample size, I'd predict both of these guys will start in the NFL, the talent is definitely there. I know there's been talk that Texas would be 6-0 with a healthy Ewers, and maybe they would. But Texas Tech fans would be right to point out two things. First, they too had their starter injured. Secondly, if Texas is still in the Big 12 next year, Texas Tech fans will be itching at the bit for an Ewers vs. Morton matchup to dispel all that talk. Texas Tech fans love a kid from a small school, they love a kid from West Texas and someone who always wanted to be a Red Raider. Behren ticks all of those boxes, is he the football version of Jarett Culver? Ewers may be more talented and may prove to be the better quarterback, but I seriously doubt there are many Texas Tech fans disappointed they didn't win the Ewers sweepstakes. If that day comes next year, when we all get to see Ewers vs Morton, I guarantee you that Texas Tech fans will enter that game happy that Morton is their guy.
Behren Showed Signs of Being Special
The better question may be what didn't Behren show? He threw balls in tight spaces, trusted his receivers, made good decisions, ran well, and gutted it out when the game was in hand and he was obviously injured. Heck, his two best throws were when he was hurt, look at that third-quarter throw to Cleveland, when Oklahoma State brought seven. The Pokes' defense did everything right, they got to Morton quick, Cleveland wasn't open, but Behren anticipated it and side-armed it in there. That is NFL stuff. Then in the fourth, he rolled to his right and threw a 40-yard dime to Bradley on the sidelines, where only his man could get it. Behren is going to play in the NFL, he's a slightly less accurate, and consistent QB than Graham Harrell, with a stronger arm, and better running. He's like Mahomes with a little less arm talent, and a bit more settled in the fundamentals, but with better running. There's a reason he's being compared to Mahomes and Manziel, no he isn't there yet but his potential certainly is.
If you want to know just how good he was, the stats may not do him justice. In the first half, Morton went 24 of 39 with 220 yards, two TDs, and a beautiful rushing touchdown on a read option. In the second half after getting injured he was less effective, but still not bad going 15 of 24 with one interception. The coaches were so high on him that they won the toss and elected to receive, he responded with a touchdown drive and several beautiful throws. After the game Mike Gundy asked what year he was, when told he was a Freshman he muttered to himself "oh that's not good." He did try to force a throw that got picked off and was costly, but those are lumps you expect from a QB making his first-ever start, especially behind a struggling offensive line, and going up against a good defense. He showed he has it all in that game: the arm talent, the legs, and the guts to keep playing hurt. Oklahoma State won the game, and deservingly so, but there'll always be that what if in Texas Tech fans' minds, on what Saturday could've been if he stayed healthy. 
Behren Morton Should Be The Starter Moving Forward
This is not a knock at all on Shough or Smith. In fact, if Shough was healthy and Smith was his successor, Texas Tech fans would feel good about the QB situation, especially with Jake Strong coming in. But Behren Morton is just different. He's clearly the future at QB with elite NFL upside, and while Shough and Smith are good, they don't do what Morton does. Now this problem may have become more clear Tuesday with indications that Shough likely won't be available to play against West Virginia, which leaves it down to Smith and Morton. Against Oklahoma State, Smith was initially rumored to be out due to injury, then the reporting changed that he was healthy, just benched in favor of Morton. Then it changed again in the postgame press conference when Joey McGuire said that he had a sore shoulder, and didn't have the zip on his throws. Whether or not that's true the toothpaste is out of the tube and the guy Tech fans have been wanting to see got his chance and exceeded expectations.
Some of Smith's struggles can definitely be attributed to the offensive line and a wide receiving corps that just struggles to find space. For the offensive line with Morton, he's able to evade the rush, get out of the pocket, throw better on the run, and seems to have a better awareness of when the pocket's collapsing. While the receiving corps is notably bad at creating space, they are good at jump balls, and Morton's the guy in this QB room most willing to take deep shots and trust his guys. Smith and Shough can both start for many power five schools, but the zip Morton has on his ball, the legs he has, and his sky-high potential just can't be matched by any other quarterback at Texas Tech. 
There's also a certain grit to his game and a chip on his shoulder. In High School after winning a big game, he posted several messages from the opposing teams or fans saying they'd lose. When the Quinn Ewers sweepstakes were going on he liked a tweet saying "Remember who wanted to be here the whole time. @TexasTechFB is going to be elite at QB regardless of who commits next week." Everything about him screams Texas Tech QB, and his play in his first start more than backs that up. He waited for his chance and proved he was ready, denying him and Texas Tech fans a chance to see him further this year would be a disservice to everyone involved.
Behren Moton's The Guy
It seems that Saturday was just the first chapter of a long, and successful book of Behren at Texas Tech. It came as a surprise to just about all Texas Tech fans, as news broke less than an hour before kickoff. It turned out to be a more than pleasant surprise for Tech fans, he was sensational. Even Oklahoma State fans I've talked to have said how great he was, and how they couldn't take their eyes off him. Mike Gundy knows it, and I'd bet McGuire and Kittley know it too. Zach Kittley has worked with Mahomes, and Zappe who were both sensational, and are well on their way to successful pro careers. While Morton will take several lumps this year if he's given the reins, he could very well be on his way to being a third NFL QB who has worked with Zach Kittley. Ewers definitely deserves all the praise he's getting, he has been sensational. But there's a case to be made that losing the Ewers sweepstakes and keeping Behren was the best thing to happen to Texas Tech football in a long time.