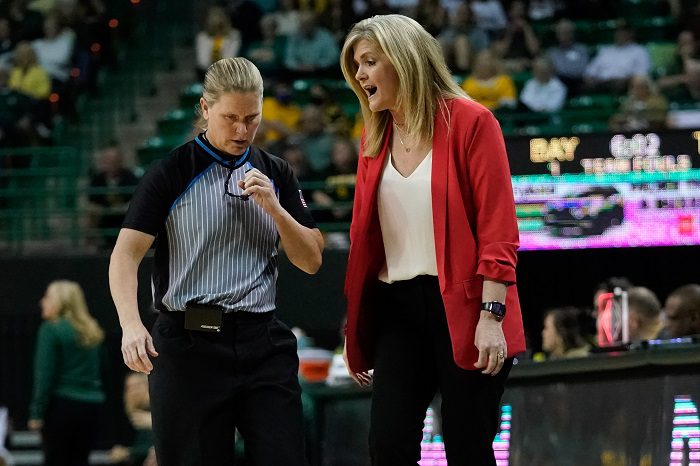 Leading up to the opening of the 2022-23 Big 12 women's basketball season Heartland College Sports will analyze each of the Big 12 women's basketball rosters. Today it's the Texas Tech Lady Raiders.
2021-22 Season-Ending Roster: G Bre'Amber Scott, C Ella Tofaeono, G Jasmine Shivers, G Lexy Hightower, G Rhyle McKinney, F Bryn Gerlich, G Saga Ukkonen, G Vivian Gray, F Lana Wenger, C Khadija Faye, F Taylah Thomas, G Tatum Veitenheimer, F Chantae Embry.
No longer at Texas Tech: Hightower (out of eligibility), Gray, (out of eligibility/turned pro), Faye (transferred to TCU), Thomas (out of eligibility), Embry (transferred to SMU)
2022-23 Season-Opening Roster: C Ella Tofaeono (6-3, Sr.), G/F Kilah Freelon (6-1, Fr.), G Jasmine Shivers (5-8, r-Fr.), F/C JoJo Nworie (6-5, So.), G Rhyle McKinney (5-9, So.), F Bryn Gerlich (6-0, Sr.), G Saga Ukkonen (5-9, So.), F Lana Wenger (6-4, So.), G Bailey Maupin (5-10, Fr.), G Bre'Amber Scott (5-11, Sr.), G Ashley Chevalier (5-7, So.), G Tatum Veitenheimer (5-8, Sr.), G/F Katie Ferrell (6-1, Sr.), C Jazmaine Lewis (6-4, Jr.).
How The Lady Raiders Are Built
Returning Players (8): Tofaeono, Shivers, McKinney, Gerlich, Ukkonen, Wenger, Scott, Veitenheimer.
Transfers (4): Nworie (transferred from College of Southern Idaho), Chevalier (transferred from Texas), Ferrell (transferred from UT-Arlington), Lewis (transferred from Houston). Note: Shivers transferred from Mississippi State shortly after the start of the 2021-22 season but was not deemed eligible to play that season.
Freshman/Recruiting Class (2): Freelon, Maupin.
Potential starting lineup: Gerlich, Lewis, McKinney, Scott, Shavers
Why?: The Lady Raiders have some significant gaps to fill, most notably the scoring they lost with the graduation of Vivian Gray. Gerlich led the Lady Raiders in assists last season and she'll run the point. McKinney should be ready to assume a starting role after coming mostly off the bench last season. Scott missed most of the season due to injury, but in the eight games she played she averaged 8.4 points per game. Shavers transferred to Tech right as last season began and had to sit out the season. She'll know the system and was considered a Top 60 player nationally coming out of high school. Lewis, a transfer, gives the Lady Raiders height inside, but she'll likely have to fend off Tofaeono for the starting job.
The bench: Chevalier, Ferrell, Tofaeono, Veitenheimer
Why? It's a mix of transfers (Chevalier and Ferrell) and holdovers (Tofaeono and Veitenheimer). Chevalier and Veitenheimer should serve as backups for the backcourt, while Ferrell and Tofaeono can find time in the frontcourt. Ferrell is versatile enough to play guard, too.
The wild card: Maupin. She won two state championships at Gruver (Texas) High School and averaged 22 points 7.5 rebounds last season. Gruver is a 2A school, which means it on the low end of enrollment. Can she quickly ramp up to the rigors of Division I basketball? If she can, she make a difference this season.
You can find Matthew Postins on Twitter @PostinsPostcard.