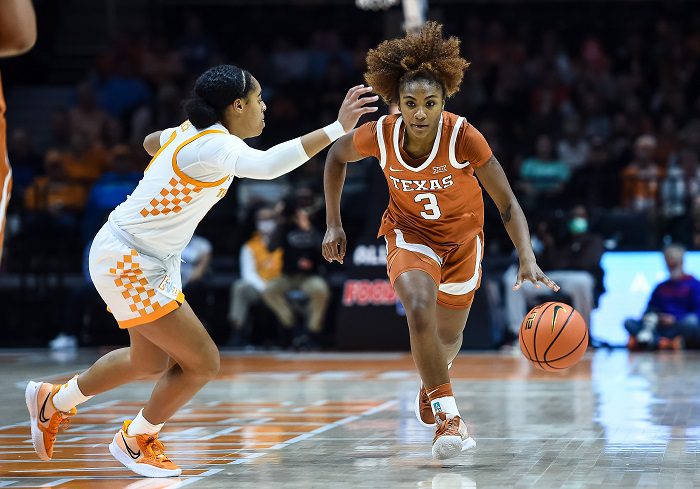 Leading up to the opening of the 2022-23 Big 12 women's basketball season Heartland College Sports will analyze each of the Big 12 women's basketball rosters. Today it's the Texas Longhorns.
2021-22 Season-Ending Roster: F Lauren Ebo, G Aliyah Matharu, G Rori Harmon, G/F Kobe King-Hawea, F Deyona Gaston, G Shay Holle, G Joanne Allen-Taylor, F Aaliyah Moore, G Kyndall Hunter, G Audrey Warren, C Femme Masudi, F Latasha Lattimore, G Anissa Gutierrez.
No longer at Texas: Ebo (transferred to Notre Dame), Matharu (transferred to Florida), King-Hawea (transferred to James Madison), Allen-Taylor (out of eligibility), Warren (transferred to Georgia), Lattimore (transferred to Miami (FL).
2022-23 Season-Opening Roster: G Shaylee Gonzalez (5-10, Sr.), G Rori Harmon (5-6, So.), G Anissa Gutierrez (5-7, Sr.), F Deyona Gaston (6-2, Jr.), G Shay Holle (6-0, Jr.), G Sonya Morris (5-10, Sr), G Jordana Codio (6-1, Fr.), Amina Muhammad (6-4, Fr.), F Khadija Faye (6-4, Jr.), G Kyndall Hunter (5-7, So.), F Aaliyah Moore (6-1, So.), G Ndjakalenga Mwenentanda (6-2, Fr.), C Femme Masudi (6-5, Jr.), F Taylor Jones (6-4, Jr.).
How The Longhorns Are Built
Returning Players (7): Harmon, Gutierrez, Gaston, Holle, Hunter, Moore, Masudi.
Transfers (4): Gonzalez (transferred from BYU), Morris (transferred from DePaul), Faye (transferred from Texas Tech), Jones (transferred from Oregon State).
Freshman/Recruiting Class (3): Codio, Muhammad, Mwenentanda.
Potential starting lineup: Gonzalez, Harmon, Jones, Moore, Morris.
Why?: If this is the lineup, it has the potential to be the most explosive in the Big 12 and, perhaps, the country. Harmon returns as the facilitator, but by the end of her freshman season, she was the straw that stirred the drink, honestly. The Big 12 Freshman of the Year and Big 12 All-Defensive selection averaged 11.4 points and 4.4 rebounds while leading the team with 180 assists and 86 steals. Moore missed time due to injury and only started nine games, but she exploded in the postseason with a 21-point game against Utah in the NCAA Tournament. She spent time playing internationally for Team USA this offseason. The other three are transfers and all were stars at their former programs. Gonzalez was the West Coast Conference Player of the Year and averaged 18.3 points, 5.9 rebounds, 4.5 assists, and 2.3 steals. Morris averaged 17.6 points last season and left DePaul No. 9 all-time in scoring. Jones averaged 12.4 points and 6.9 rebounds for Oregon State but only played nine games due to injury. The season before she averaged 12.3 points and 8.8 rebounds and led the Pac-12 in rebounding. If these three transfers play defense to coach Vic Schaefer's standards, then good luck finding a hole in this lineup.
The bench: Gaston, Holle, Hunter, Faye
Why? Gaston and Holle both started for Texas last season. With the influx of transfers, they'll probably move to the bench, but that's good depth for the Longhorns. Gaston is a physical forward who can score and rebound. Holle plays defense exactly how Schaefer likes, and she has a solid outside shot. Hunter didn't play much last year, but she was another top recruit in the same class with Harmon and Moore, and she should get more opportunities. Faye averaged 6.0 points and 5.5 rebounds in two years at Texas Tech and she should give Texas valuable minutes.
The wild card: Mwenentanda. It's a loaded incoming recruiting class and Mwenentanda is a player that can make inroads to playing time thanks to her size at the guard position. But, given the talent on that roster, playing time will be hard to find, at least at the start of the season.
Note: After the publication of this analysis, Schaefer said that Codio would redshirt due to injury and that Hunter was away from the team for personal reasons.
You can find Matthew Postins on Twitter @PostinsPostcard.