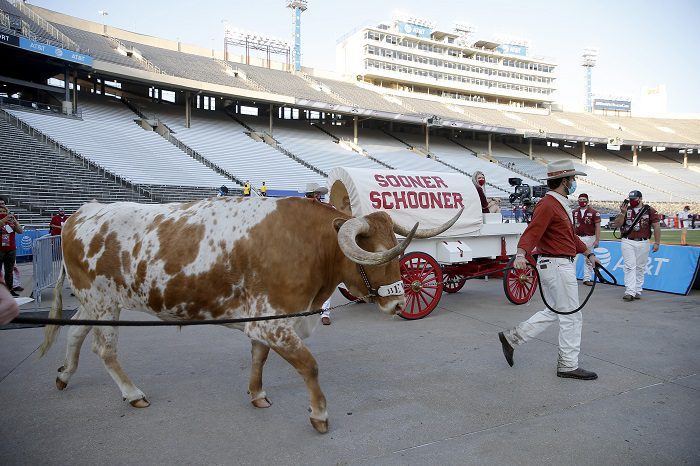 There have been rumors and speculation surrounding the timeline for Oklahoma and Texas' departure from the Big 12 to the SEC.
We have heard everything from them joining the league in 2023, to definitely gone by 2024, and both athletic directors pledging to stay until 2025.
It appears that they might not have as much of a choice in the matter if FOX has anything to say about it. According to CBS Sports' Dennis Dodd and Chip Patterson, the move isn't likely to happen prior to 2025 due to FOX losing major inventory in Oklahoma and Texas, since it doesn't have rights to the SEC brand.
"Though there was a belief that Texas and Oklahoma may have been attempting to exit the Big 12 one year early in 2024, sources told Dodd that Fox would likely have demanded a return to make its future programming whole, including a top-tier selection of games years into the future given the marquee programs would have left its airwaves early. That's beyond what would have been a potentially massive early exit fee the programs would have needed to pay the Big 12 directly."
This report coincides with a report from Sports Illustrated's Ross Dellenger that announced the Big 12 is planning to adopt a new scheduling model in 2023 and 2024 that features no divisions and protects rivalries like Oklahoma vs. Texas.
The Big 12 is expected to continue with nine conference games and a conference championship that includes the top two teams in the league.
The two-year format is set up for each team to play all others at least once. The Big 12's best rivalries are expected to be played both in 2023 and 2024. Those matchups are not yet official, according to Dellenger, but are likely to include Oklahoma-Texas, Oklahoma State-Oklahoma, Kansas-Kansas State, TCU-Baylor, and West Virginia-Cincinnati, with the latter being a regional match-up and ties back to the old Big East.
The Big 12 is expected to then drop to 12 teams for the start of the 2025 football season, although there is speculation the two could be gone in 2024. However, no matter what it looks like both teams will be in the Big 12 in 2023, as the SEC has already released its football schedule and it does not include Oklahoma or Texas.
The two schools will owe the Big 12 $80 million each when they leave the league, and to leave a year earlier would cost them an extra $100 million.