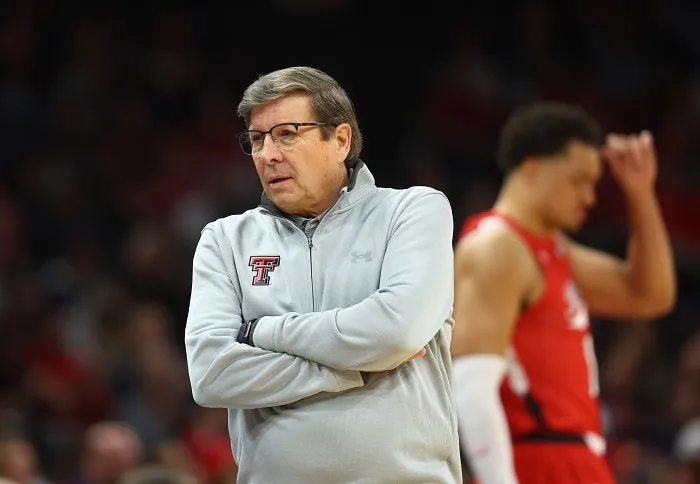 Leading up to the opening of the 2022-23 Big 12 Men's basketball season Heartland College Sports will analyze each of the Big 12 men's basketball rosters. Today it's the Texas Tech Red Raiders.
2021-22 Season-Ending Roster: F Kevin Obanor, G Terrence Shannon Jr., G Davion Warren, G Clarence Nadolny, F Daniel Batcho, G Ethan Duncan, F Bryson Williams, G Mylik Wilson, F Marcus Santos-Silva, G Kevin McCullar, F KJ Allen, F Austin Timperman, G Chibuzo Agbo, G Adonis Arms.
No longer at Texas Tech: Shannon (transferred to Illinois), Warren (out of eligibility), Nadolny (turned pro), Williams (out of eligibility), Wilson (transferred to Houston), Santos-Silva (out of eligibility), McCullar (transferred to Kansas), Timperman (not on roster), Agbo (transferred to Boise State), Arms (out of eligibility).
2022-23 Season-Opening Roster: F Kevin Obanor (6-8, Sr.), G Lamar Washington (6-4, Fr.), G Richard 'Pop' Issacs (6-2, Fr.), G D'Maurian Williams (6-3, Jr.), F Robert Jennings (6-7, Fr.), F KJ Allen (6-6, Jr.), F Fardaws Aimaq (6-11, Sr.), F Daniel Batcho (6-11, r-So.), G CJ Williams (6-1, Fr.), G Jaylon Tyson (6-6, So.), G Elijah Fisher (6-6, Fr.), G De'Vion Harmon (6-2, Sr.), G Kerwin Walton (6-5, Jr.).
How The Red Raiders Are Built
Returning Players (3): Obanor, Allen, Batcho.
Transfers (6): D. Williams (transferred from Gardner-Webb), Aimaq (transferred from Utah Valley), Tyson (transferred from Texas), Harmon (transferred from Oregon), Walton (transferred from North Carolina), Ondigo (transferred from Rice).
Freshman/Recruiting Class (5): Washington, Issacs, Jennings, CJ Williams, Fisher.
Potential starting lineup: Batcho, Harmon, Obanor, Walton, D. Williams
Why?: Texas Tech coach Mark Adams has talked about the differences in this team. First, it has more height than last year's team. Second, it has more accurate 3-point shooting than last year. This lineup takes advantage of both. Aimaq's injury opens the door for Batcho to assume a starting role, and Adams says the forward has made big strides entering this season. Obanor is the only holdover from last year's starting lineup, and he can play nearly every position on the floor. The backcourt starts with Harmon, who has Big 12 experience from his time at Oklahoma (before transferring to Oregon). Harmon has grown as a 3-point shooter, and he would be paired with a pair of guards — Walton and D'Maurian Williams — who can shoot nearly 40 percent from the arc. It's the type of starting lineup that can be competitive in this league all season.
The bench: Allen, Fisher, Tyson, Aimaq (when he returns)
Why? Aimaq described his foot injury as "month-to-month" after he suffered it in September. He's coming off a season in which he averaged a double-double for Utah Valley. If he were healthy, he would probably start. Once he returns he'll probably begin by coming off the bench and, in my opinion, ultimately supplant Batcho as a starter (unless Adams wants to go with a 'Twin Towers' alignment). Tyson transferred to Tech after starting his career at Texas last year, and he can spell Obanor or any of the guards. Allen is a solid guard with an above-average vertical who has the chance to give the Red Raiders solid minutes. Fisher is the highest-rated recruit from the 2022 Class and, chances are, he'll get a first shot at playing time.
The wild card: Isaacs. He's the second-highest rated recruit in the 2022 class, and with so little experience on the roster, there will be opportunity for playing time. Isaacs is getting some buzz in fall camp, and that buzz could lead to an early contribution.
You can find Matthew Postins on Twitter @PostinsPostcard.